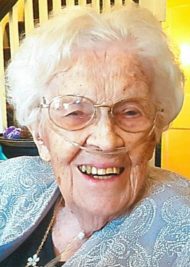 Ellen M. Aardrup Wagaman, 100
October 14, 2016
After 100 years and one week, Ellen M. Aardrup Wagaman went home to be with her family on Friday, October 14, 2016. Ellen was born in Copenhagen, Denmark to the late Lars Peter and Othilie Marie (Nielsen) Aardrup. Ellen's husband and former County Commissioner, Herbert R. Wagaman, died in 1979. She was preceded in death by her 5 siblings: Karen L. Larson, Paul Aardrup, Gerda McMinn, Mary Blakeslee and John Aardrup.
Ellen came to the USA at age 8 and resided in Lancaster City with her family. Her adult life was spent living in Lititz, 48 years at her beloved West End Avenue and the past 20 years at Moravian Manor. Ellen operated a neighborhood grocery store in her home for several years and had numerous jobs in Lititz. She was a member of St. Paul's Lutheran Church, Lititz.
Surviving Ellen are her daughter, Karen W. Hampton of Lancaster, three nieces: Diane, wife of Rev. Jack Saarela and their sons Luke and Jesse; Sue, wife of Gary Landis; Lisa Blakeslee and three nephews: Lars Snavely and sons Kent and Todd; Jeff Aardrup (husband of Mary Pat) and their son Logan and Tim Aardrup (husband of Sue) and their daughter Ashley.
Private services will be held at the convenience of Ellen's family, with burial in Machpelah Cemetery. Please omit flowers. Memorial contributions may be made to Moravian Manor's Benevolent Fund at 300 W. Lemon St., Lititz, PA 17543; or St. Paul Evangelical Lutheran Church, 200 W. Orange St., Lititz, PA 17543.
Ellen's family wishes to thank all who have lovingly cared for Ellen during her four years at the Health Center South Wing of Moravian Manor.
Leave a condolence on this Memorial Page
Condolences to the Family
October 25, 2016
We wish to extend our sympathy to the family, you are in our thoughts and prayers. Gene and Sara Kutz
October 20, 2016
Dear Karen, We were so sorry to hear of your mother's passing. She was a great lady. I still remember going to Nassau with your parents. We all had a really great time. Enjoy all the memories you had with your parents.
Love, Bill and Shirley Aurand
October 20, 2016
Dear Karen, I was so sorry to learn of the loss of your dear mother. Although we know the time is coming, it is still hard to accept the loss of one so dear. Take comfort in all the sweet memories you have of her and know she is finally at peace with all her loved ones who have gone before her. Blessings and love, Wanda Hebel

October 18, 2016
Dear Karen, I know you don't remember me, but my father, Charles Pearce, served as a County Commissioner along with your father Herb from 1956 to 1960. They became great friends and my family enjoyed visiting many times with your Dad and Mother at their home in Lititz. My mother acquired a high back chair made by either one of your uncles or your grandfather. She paid $5.00 for the chair and was thrilled to have it. She made a needlepoint cover for it and everyone remarks how beautiful it is! It sits in my living room today and everytime I look at it, it reminds me of your parents! They were both great people and your mother had a beautiful life! My sincere sympathies go out to you and your family; she is finally at peace and with your father forever! GOD IS GOOD! Sincerely, Isa Pearce Breneisen, 70 Deerfield Dr., Pequea, PA 17565
October 17, 2016
Dear Karen,
I've been thinking of you everyday. Thanking HIM for being with your sweet loving mom and with you.
My memories of your mom are from many years ago, but they are warm, pleasant, kind, caring, funny and filled with witnessing a strong love between parents and you.
How blessed you are to know feel carry a beautiful gift from GOD devoted unconditional, champion love.
Your mom is resting in HIS arms. HIS love flowing from HIM, to your mom to you your father. Accept and celebrate her presence with HIM.
My deepest, heartful sympathy, prayers are with you,
Love ya, Corey
October 16, 2016
Ellen was such a sweet soul. She will be missed so much by her family and friends.An amazing lady who always had a smile for everyone she met. She is finely home. Love, Bob and Rhonda