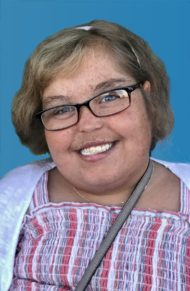 Elizabeth Jeanette Tafelski, 25
April 11, 1994 - March 16, 2020
Elizabeth Jeanette Tafelski, 25, returned to her heavenly family on Monday, March 16 after blessing us with her presence here on earth since her birth in April 1994. Born in Geisinger Medical Center after being diagnosed in utero with hyperplastic left heart syndrome – with parents who chose life – Elizabeth started out very medical. She survived and thrived in her special way and touched the souls of everyone who came into contact with her.
She is survived by her parents, Michael and Terry, and sister Kati, her soul sister whom she adored, and future brother-in-law Tyler Ostrowski. She will be deeply missed by her wonderful Aunts and Uncles – Teresa, David, Kathy, Marianne, Craig, Julie, Kim, Jeff, Kelly, Scott, John, Becky, her special friend Kelly B, and her best bud Aunt Peggy. She will also be missed by cousins- Kristen, Sean, Tasha, Matt, AJ, Spencer, Skylar, Cooper, Carter, Casey, Brady, Andrew, Emily, Hannah, Zoey, Nora, Brynlee, and her Godson Gabe. She is also survived by her grandfather Lamar Kauffman and his wife Carolyn. She was preceded in death by her grandparents Margaret Anne Kauffman, Jean and Terry Tafelski, her uncle Steve, and her cousin Blake.
Elizabeth's life was special in more than just her physical and intellectual abilities as she impacted everyone she met with her smile, her personality, her determination, and her ability to adapt. She lived by the motto that she was "Amazing just the way I am."
Everyone who met her – or even just saw her beautiful smile and the light of Christ in her eyes – undoubtedly has a story, a memory of her that hopefully will always be in their heart, bring a smile to their face, and remind them to "enjoy the day" and that "it is OK to be different, God made me different and I like it." Elizabeth loved life and took the opportunity to shine her light as an artist, adventurer, baseball player, cheerleader, altar server, church greeter and avid reader. These programs offered her the chance: Aaron's Acres, Challenger Little League baseball, UDS Cheerleading, Friendship Heart Gallery and Schreiber Pediatric Rehab Center.
She loved ice cream and adventures, whether it was exploring the 27 covered bridges throughout Lancaster County or going hiking in her wheelchair while on her RV adventures in her "home on wheels" as part of the "three amigos." She will be deeply missed as she begins her next adventure in heaven.
The family wants to thank the many wonderful health care professionals who cared for Elizabeth over the years- most notably Dr. Stephen Tift, Children's Hospital of Philadelphia (especially Dr. Cohen and Dr. Meyers), the Pediatric Advanced Care Team and Hospice and Community Care of Lancaster County.
In lieu of flowers, the family requests that you spend time remembering your favorite Elizabeth memory, write it down, and send it to the family at jdte1840@comcast.net. Her legacy will live on through her spirit and light with the sharing of such wonderful stories.
A Mass of Christian burial and interment will be held at Holy Trinity Catholic Cemetery, but consistent with the national pandemic it will be limited to immediate family only. A celebration of Elizabeth's life will be planned and announced at a later date.
Watch the tribute video
Leave a condolence on this Memorial Page
Condolences to the Family
June 02, 2021
Elizabeth was my buddy at Reidenbaugh. She was such a light and I enjoyed my time with her very much.
Meghan Bernhardt
March 26, 2020
she was a great friend and i will be missing lots of memory of her
Jessie Petersen
March 24, 2020
Michael and Terry,
Fran and I offer our sincerest sympathies. Elizabeth was a mgical young lady who left all with fond memories. Praying for you and your family. Steve and Fran Haldeman
March 22, 2020
Mike, Terry, Kate, I, along with my family, send our condolences. While I only had the pleasure of meeting Elizabeth 2 times, Mike carried her light and spirit to work everyday. In so doing I feel I had the pleasure of experiencing her gifts and spirit more than indicated by our actual interaction. For that I am extremely grateful, and hope that knowing her light touched others profoundly provides some comfort.
Camille Duchaussee
March 22, 2020
Dear Terry & Michael,
It's been a long time and I remember Elizabeth a young girl; thoughts and prayers as I'm very sorry for your loss.
Sincerely,
Bruce

March 21, 2020
Beautiful video tribute to beautiful Elizabeth. Thoughts and prayers are with your family at this difficult time. God bless all of you.
Family of Kyle Emerich
March 21, 2020
We are deeply sorry that your beautiful daughter has passed. You are in our thoughts & prayers.
Tom & Jane Burger
March 20, 2020
I will never forget the day I introduced myself to Mike Tafelski at the train station, because I had seen him and Elizabeth on TV at a charity event. I told him I was so impressed with how Elizabeth handled herself on TV. Michael and I were train friends from that day on, and I always enjoyed hearing updates on her progress, and seeing all of the family's wonderful activities on Facebook. My thoughts and prayers are with you, and God Bless you all. Rest in Peace. XO Larisa
March 20, 2020
Elizabeth's infectious smile and joy has inspired me since the first time I met her in Challenger Ball. She has motivated me to be sure my son Patrick lives his "best life". Thank you for sharing such a beautiful gift from God with all of us. My thoughts and prayers are with you.
Joelle Scholl
March 20, 2020
Terry, Mike, and Kate, our thoughts and prayers are with your family. Elizabeth smile was endless. What an ANGEL heaven has received. God bless you all.
Fondly, The Lehman Family

March 20, 2020
The smile of Elizabeth will forever remain in our minds and our hearts. We loved hanging with her during Challenger baseball and during Aaron's Acres. She was a light to us and to this world. Heaven is singing beautiful music and is much brighter with Elizabeth in it. While she will be missed on this earth, she has made an impact on more people than she ever knew. She left a big legacy of love and happiness. We loved her and we are praying for you guys. Love the Martins of East Pete.
March 19, 2020
Mr. and Mrs. Tafelski our thoughts and prayers are with you and your family. Elizabeth and Anna were in Challenge League together. Elizabeth is truly a blessing and we are forever grateful for having known her. Heaven gained an absolute Angel! Elizabeth my dear, spread your wings Angel and fly high. Anna, Denise & Jerome
March 19, 2020
Dear Mike and Terry Please accept my sincere sympathy on the loss of your dear Elizabeth. It has been a joy to watch her grow through the years and the world will miss her presence. My prayers are with you during this difficult time. Sincerely, Cathy Roth
March 19, 2020
Every so often a very special delivery from Heaven finds it's way to earth to become a gift to very special family. It is only through a deep understanding of that gift that affords it to thrive and become an instrument of Faith, Hope and Love. Elizabeth has brought so much of that faith, hope and love to you and the world around you; she and her perfect self will be truly missed. We need unconditional love such as Elizabeth gave.
God bless and comfort you and your family during this difficult time.
Kathy Nocero and Stephano
March 19, 2020
Mr. and Mrs. Tafelski, Kate, and Tyler,
We are so sorry for your loss. As we read the beautiful obituary you wrote for Elizabeth, it brought back such sweet memories of the few occassions we were lucky enough to spend with her and all of the hilarious stories Kate would share with us. You guys are such amazing and wonderful people, and that really showed through in the life that you provided for Elizabeth, so full of love and joy and laughter. She will be missed dearly by everyone who knew her. May your faith give you comfort that she is at peace with her loved ones in heaven, where she is probably already planning her next "Elizabeth is awesome" party.
Love, Tory and Drew Trocchia
March 19, 2020
Mike, a brief note to let you know that Kathy and I are thinking and praying for you, Terry and Kati. Based on my many conversations with you over the years Mike, I know that you and the family truly loved and adored Elizabeth! Blessings and prayers at this difficult time! Paul Berkebile
March 19, 2020
Mike and Terry, I work with Dave in Atlanta and he shared Elizabeth's story with me along with her obiturary. What an amazing young lady and I know you and your family were blessed to have her in your lives. It appears she touched many hearts and was also an inspiration to many. My thoughts and prayers are with you and your family.
Missy Nuss
March 19, 2020
Mike and Terry, I'm so sorry for your loss. I never had the chance to meet Elizabeth but as I read the obituary I'm overwhelmed with joy for the life she lived that you provided to her. Your whole family are in my thoughts and prayers. I wish I would have met Elizabeth as I know she would have provided a permanent positive influence on my life. Tafel and Terry God bless for your strength and courage. Dan Sorensen
March 18, 2020
Your beautiful daughter is resting in the peace of heaven surrounded by her beloved grandparents and other family members gone before her. I'm thinking of you and your family at this most difficult time. May the kindness, prayers, and outpouring of support and love of those around you sustain you during this time of sorrow.
Linda Seton Murphy
March 18, 2020
May Elizabeth's beautiful memories and God's love give you comfort.
I just see my dad waiting with open arms to give her a big hug in heaven.
Angie, Kevin, Mariah, TJ, Faith

March 18, 2020
To Mike and his loved ones:
My deepest condolences and sympathies. The smile that Mike has always had when talking about Elizabeth is only outshined by her actual beautiful smile that I've seen in so many pictures. Even a life cut so tragically short is a life well lived when it clearly was full of such joy and love.
My thoughts and prayers are with you all,
George Cho
March 18, 2020
Prayers to all her family. She is at piece now. Fly high young lady✝️🙏❤️💗🙏🌺🌸🌹🌷
Carol fals
March 18, 2020
Dear Mike and Terry,
Elizabeth will be greatly missed. Heaven definitely gained a special angel
Love,
Lisa Palmquist
March 18, 2020
We are so sorry to hear of your loss. Your family has always been an inspiration for us. Elizabeth was so loved and thriving in the life she was meant to live. May she Rest In Peace and May you be comforted by the amazing memories you all created together. Love, Don and Rosie Mann
March 18, 2020
I pray that the Good God brings you and your family peace, give you strength and comfort your hearts during this hard time. May Elizabeth's soul rest in peace.
Planthara Varghese
March 18, 2020
Be with Jesus,Elizabeth
George Garbrick
March 18, 2020
God be with you in this time of sorrow. Your faith will carry you through.

Uncle Jim and Aunt Diane
March 18, 2020
Dear Mike, Terry, Kati and Tyler: I was saddened to hear about Elizabeth's passing. My thoughts and prayers go out to you. The love emanating from your family was and remains an inspiration to those around you. Elizabeth will always be part of our BOP/OGC family as we have fond memories of our time together at baseball games and other outings from Philadelphia to Atlanta to Kansas City and beyond. May she rest in peace.
My deepest condolences,
Matthew Mellady
March 18, 2020
I'm and very sorry for your loss. May God Bless all of you during this difficult time. I did not know Elizabeth personally, but Mike always talked about her when we worked together. Please know that you are in my thoughts and prayers.
Barbara J. Cadogan, MD
March 18, 2020
Dear Mike , Terry and family…I am so sorry to hear of Elizabeth's passing. Love that you share your family photos on Facebook! Sending love, light and peace. Tina Futty
March 18, 2020
So sorry to hear of the loss of your beautiful daughter. Praying you and all who lives her will experience God's peace and comfort.
Christie Hunt
March 18, 2020
So sorry for your loss. We were blessed to meet her during challenger baseball and cheerleading. She was always smiling. Your family is in our thoughts and prayers…
linda Ulmer
March 18, 2020
I'm so very sorry for your loss. Elizabeth always had a smile on her face, took the time to say hello, and loved life. It was obvious how many people loved and adored her as you walked into church because she was always there to greet you with a beautiful smile and warm hello. Hugs and prayers for you all ❤️
Karen Meck
March 18, 2020
Dear Terry, Mike, and Kati,
We were so profoundly sorry to hear about the loss of your beautiful Elizabeth. She was a blessing and inspiration to all that she met. She touched so many lives at St. Anne's, in the Challenger Baseball League, and in the community. We pray for God's blessings and grace for you and your family during this very difficult time. Take consolation in knowing that Elizabeth is resting peacefully with the Lord. John 3:16. God Bless all of you. Nick & Jill Ferretti & Family
March 18, 2020
What a beautiful courageous girl. Loved her smile and her spirit. Heart felt sympathy to you.
Kim Miller
March 18, 2020
We were fortunate to meet Elizabeth through Jonathan's time at Aaron's Acres and Challenger Baseball. I'll always remember her as the "mayor" of camp as she welcomed everyone so warmly. Mike and Terry – Thank you for choosing life for Elizabeth so we could all be blessed by Elizabeth's beautiful smile and personality as we crossed paths with her. Your family is in our prayers as you adjust to your new life with Elizabeth in Heaven. With Love, Larry, Deb, and Jonathan Ferguson
March 18, 2020
Terry and Mike,
I am so very sorry for the loss of your beautiful daughter. May your precious memories, and knowing you will see her again comfort you.
Tracey(Hardnele)Dellinger


March 18, 2020
Our hearts go out to all of you. Elizabeth will be forever remembered. Sincerely TJ and family.
March 18, 2020
Expressing sympathy to the family (and to her friends from Challenger, Friendship Heart,and elsewhere) from our family. May you be blessed by your happy memories of her, and comforted by the thoughts of her being welcomed into heaven,and surrounded by loved ones, and the knowledge that you will one day be with her again, and the awareness that she is still with you, in your hearts, and is part of you, forever.
Carol Eshleman
March 18, 2020
May God hold her tight in His loving, warm embrace. May He also hold you and your family close in your very difficult time.
Rich Campbell
March 18, 2020
Deepest sympathies in the loss of your beautiful daughter. She is truly an angel now and will be ever present in everyone's hearts.
Jean Wright
March 18, 2020
We are blessed to have known Elizabeth. She was a beautiful young woman and always had a smile on her face. We are sad that her time on earth is over but she is flying with the angels and we will be reunited one day. Our thoughts and prayers are with your family. God Bless You All! Affectionately, Tony, Eleanor, and Stephanie Heagy
March 18, 2020
I love Elizabeth every much I know her Friendship heart Gallery UDS bass ball. Make me happy proud Amazing I am really really sorry for Lost
Emily Hartmann
March 18, 2020
Mike and Terry,
I am so sorry for your loss. I looked at the picture of Elizabeth and immediately saw likenesses of her paternal grandparents who just adored her and prayed for her regularly. How wonderful that you had her in your lives for these 25 years. You are examples of parenting that all of us should look to. My condolences.
Barry Leibowitz
March 18, 2020
We have such beautiful memories of Elizabeth from Tim's years at Aaron's Acres. So full of joy–with the most beautiful smile! She truly was a gift of God to so many. Praying for you today as you process this unimaginable loss–that you would find your hope in Christ, today, and in the days to come.
Steph Hubach
March 18, 2020
So sorry for your loss! Sending you all many thoughts and prayers during this difficult time!
Mickey Molchany
March 18, 2020
To the Tafelski family. We all send you are thoughts and prayers in the recent passing of your beautiful daughter Elizabeth. We will miss her smile and how beautiful she was. You all are amazing family. Please let us know if there is anything we can do for you all. With love joe gene Diane and briana
March 18, 2020
Mike and Terry,
We are so very sorry for your loss. Elizabeth was such a joy. It seems like so long ago that we saw her at St Anne's and LCHS. Our thoughts and prayers are with you.
Kathy & Ben Law & boys
March 18, 2020
Our hearts are broken but know she is home. We loved her and will miss her bright smile. What a beautiful soul and how she taught, by example, unconditional love. The Campbell Family.
March 18, 2020
So sorry to hear of your loss. You are in our thoughts and prayers.
Tom and Sheryl Roche
March 17, 2020
Terry, Michael and Kati –
Elizabeth was amazing and we were so blessed to have had her in our lives. She defied the odds to live a remarkable life surrounded by your loving family.
What a joyous reunion that must have been in heaven when she ran to be reunited with her grandparents. She will continue to watch over us from her most well-deserved spot above.
Rest In Peace Elizabeth – thanks for the joy that you brought to all who knew you – and until we meet again may God hold you in the palm of his hand.
Barbara and Paul
March 17, 2020
So sorry. Beautiful young lady. l still have a piece of the cast from the coming off party. Often I squeeze it to remind me no matter what I am going through it was not even close to what Elizabeth and terry and mike were going through. Truly hero's amongst us. And now one in heaven. Thank you for bringing her into this life. You are remarkable. And made a difference.
Jim
March 17, 2020
My heartfelt condolences to your family for the loss of a beautiful Angel that Our Lord called home. Wishing you Peace and Comfort in the days ahead of a New Life's Journey.
Mary Rose Durkin
March 17, 2020
Mike, Terry & the entire Tafelski family,
We are so sad to hear of Elizabeth's passing. Her heart and spirit were as bright as her smile. We wish we could offer words to help in this most difficult of times. You are in our prayers.
– Rob, Ardis & Joseph Jensen