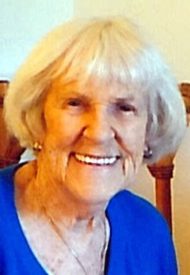 Elizabeth Charlotte "Betty" Warfel, 91
December 14, 2016
Elizabeth Charlotte "Betty" Warfel, 91, of Lancaster passed away Wednesday, December 14, 2016 at Lancaster General Hospital. She was born in Brooklyn, NY to the late William F. and Sarah (Hart) Kleine. Betty's husband of 56 years, W. Kenneth Warfel, died in 2002.
Betty owned and operated Mumma Pretzel Bakery and Baker's Basket on 4th Street and in Central Market. She was a member of the American Contract Bridge League, having achieved the status of Life Master. Betty had great common sense, optimistic outlook, and a positive spirit.
Surviving Betty are 3 children: Mary Beth Carbine (Gerry), Michael P. Warfel (Elsa), and W. Scott Warfel; 5 grandchildren; 7 great-grandchildren; and her sister Patricia Landis (Bill) and brother Peter Kleine (Pat), both of Lancaster. Betty was preceded in death by her husband, their daughter Lynda W. Green, son Donald K. Warfel, granddaughter Abby Hart Carbine, and her brother Bill Kleine.
A Celebration of Betty's life will take place 2 to 4 PM Saturday, December 17th in the Perkissimo Café in Fieldcrest Bldg. C at Brethren Village, 3001 Lititz Pike, Lancaster, PA 17606. Interment is private. Please omit flowers. Memorial contributions may be made to Milagro House, 669 W. Chestnut St., Lancaster, PA 17603.
Leave a condolence on this Memorial Page
Condolences to the Family
December 20, 2016
My deepest sympathy to you. As others wrote Betty was a wonderfully friendly, happy, skilled at bridge and loved her family. She will always be with us in spirit at the table. Becky Brown
December 18, 2016
From the moment I met Betty, she exuded a first class spirit and smile. A wonderful lady who will be missed. -G
December 17, 2016
MaryBeth, I am so sorry to hear of your loss. Mom's are special people and live in your heart forever! Much love, MaryBeth. Agnes
December 17, 2016
It was an honor to have known such a lovely lady with always an upbeat demeanor, and patience with lesser bridge players. Her friendly smile and kindness touched everyone. She was a wonderful example to all who knew her. I'm sure she's headed to "The Good Place".
My condolences,
Sandy Phillips
December 17, 2016
I was so saddened to learn of Betty's passing. She was such a kind, caring and lovely person. Always had a smile. I will miss seeing her at bridge as so many others will miss her too. Sending prayers and many healing thoughts to her whole family. I am a friend of her sister Pat and brother Pete and wife Pat. Wonderful family.
Sharing your sorrow,
Beverly Jordan
December 17, 2016
Dear Mary Beth, Michael & Scott, I have been Pat's friend since we were 12, so I knew your Mother & Dad for many years since Pearl St. Just she & I played 9 holes of golf every Tues. afternoon in a cart for 2 yrs. at Conestoga CC when I was a Realtor & she had the Bakery. We really got to know each other well. I loved Betty. As a matter of fact she & I are more alike that Pat & I. She was a great lady & loved by everyone who knew her. Please accept my deepest sympathy, know that I have all of you in my prayers. I lost my Mother 16 yrs. ago & still grieve for her, so I know this will be very difficult.
Mary Beth—I have a Mary Beth (59 yrs. old). When your Mother named you, I loved the name (never heard it before) & knew if I had another girl she would be Mary Beth. I know my daughter is like you since she would do anything for me as you have done. Your Mother talked about you often–how she loved your visits & enjoyed going to your home. Thanks for being so kind to a great lady. We had planned to see you but are concerned with the driving. God be with all of you. Love, Mary Anne Aichele—Bob, too, sends his sympathy.
December 16, 2016
I am so sorry for your lost, I trully understan what you are going trougt I just lost my mother too so I know how hard it is for you.
December 16, 2016
My deepest condolences to Betty Warful's family. I was a friend of her daughter Lynda and met Betty one time. She was a ray of sunshine. I keep in touch with her granddaughter Courtney who shares her mother's and grandmother's sense of humor. She will be greatly missed.
Cheryl Hence
December 16, 2016
My condolences to the family. She will be greatly missed by all.

-Heather Walmsley
December 16, 2016
Desde Colombia te enviamos un gran abrazo, acompañandolos en este momento tan doloroso un saludo a toda la familia, Dios los bendiga
Carlos Zuleta , Martha Gómez e hijos
December 16, 2016
One of my all-time favorite bridge players. Everyone loved Betty.

Mary Taylor
Services

Saturday, December 17, 2016
2:00 PM - 4:00 PM
Perkissimo Café in Fieldcrest Bldg. C at Brethren Village
3001 Lititz Pike
Lancaster, PA

Map and Directions