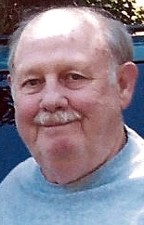 Eldon Gale Reed
Eldon Gale Reed, 77, died at his West Lampeter home surrounded by his loving family on Thursday, November 8, 2012. Born in Brookville, PA, he was the son of the late William N. and Helen I. Cable Reed. Eldon was married to Judith A. Macurdy Reed for 51 years.
A 1953 graduate of Freeport High School, Freeport, PA, he earned his carpentry certification from Stevens Trade in 1956. Eldon had worked as a carpenter for Wohlsen Construction. He enlisted in the Navy Reserves in 1954, transferred to the PA Air National Guard in 1974 and served with the 201st Civil Engineering Flight before retiring from the reserves in 1995.
An avid wood carver, he taught adult evening class in woodcarving at Lampeter-Strasburg High School and Conestoga Community Center. He was a volunteer woodcarving demonstrator at Landis Valley Museum and he belonged to the Manheim Township Woodcarvers' Association.
Surviving in addition to his wife Judith, are his daughter Angela M. Reed, of Lancaster, and his son Jason S., husband of Audrey Behrends Reed and their son William Reed of Drumore. Eldon was preceded in death by his sister Shirley Reed Hagins and his brother William E. Reed.
A Celebration of Eldon's Life will be held 5-7 PM, Monday, November 19, 2012, in the lower level of DJ's Taste of the 50's, 2410 Old Philadelphia Pike, Lancaster, PA 17602. Interment will be private. Please omit flowers. Memorial Contributions may be made to Hospice & Community Care, PO Box 4125, Lancaster, PA 17604-4125 or www.hospiceandcommunitycare.org. To send the family online condolences, please visit SnyderFuneralHome.com. Charles F. Snyder Funeral Home & Crematory 717-393-9661
Leave a condolence on this Memorial Page
I have spent much time with Eldon in the 201st. He was always one to look on the bright side of things and keep me smiling! Even though I haven't seen him for many years, as with many of the 201st members, we are all brothers.
Eldon I will miss you.
Dennis Blough
To the family of "REEDY", my heart felt loss goes out to you. I was with Eldon in the 201st RED HORSE FLIGHT and he was my NCOIC of the structure shop. Yes, he was a great mentor to our shop and trade. I learned a lot from him, a lot of tricks and short cuts. He also taught the shop to do quality and to take pride in our work. He was also good cook who was noted for his famed "SNAPPER TURTLE SOUP" that he made for our club parties and picnics. I last saw REEDY at one of our retiree picnic at the GAP, he looked great and he still remembered me. God bless the family.
On Saturday , while working in the mountains, I was using a jig for a belt sander that Eldon had made while he worked for us here at Kreider & Diller Builders, Inc. While using the jig I thought as to how Eldon had taught me many things as I observed him working in the shop, many that I later used in my many woodworking projects. Many elements in the shop were made by him as is a pair of portable saw horses that I use all the time, there's even a wrench on the table saw that has his name engraved on it. I thought as I worked that I needed to call him to see how he was doing. I was saddened when I picked up the paper when I returned home on Sunday evening that he had passed. My thoughts and prayers go out to the family. May you know that Eldon has made an indelible impact on my life and I will always have fond memories of him and his abilities.
Sincerely,
Don Diller
I meet Eldon thru his wood carving classes at LS. He made these classes feel more like friends getting together to spend some time carving and having a good time. He will be missed. My family and I are very sorry for your loss.
Jim Tolle
My condolences to Eldon's family on his passing. I met Eldon at the woodcarving classes at Lampeter Strasburg Recreation Commission. Eldon basically taught me to wood carve and how to sharpen a carving knife. We had many good woodcarving classes and I still have most of the projects we did, except for the ones I've given away. I've thought of Eldon after the classes were no longer offered. I was sorry to read of his passing in the Sunday paper.
Mark Arbogast
My thoughts are with you and your family during this difficult time.I lost my father and I know how painful it is. It just feels the world stops. God bless you and may Jesus the Great Comforter give you peace in the days to come.
Vicki Fetzer
Victoria L. Fetzer
My deepest sympathy to the Reed family. You are in my thoughts and prayers.
Diane Wolfe
My Heart goes out to the Reed family. Eldon and I served with the 201st Red Horse.I Have many fond memories of Eldon.He was a kind and patient man.And I have never tasted any thing better than his Turtle Soup.As our retired ranks grow so does our list of brothers that join our Heavenly Father. I will see you again one day, my dear friend.
Tsgt Edward Klinger (RET)