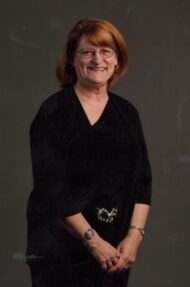 Elaine M. Sturgis, 72
June 16, 2022
Elaine Marie Sturgis, 72 of East Petersburg, passed away peacefully on Thursday, June 16, 2022 at Moravian Manor. Born in Lancaster, she was the daughter of the late Wilbur and Mary Sturgis.
Elaine graduated from J. P. McCaskey High School in 1967. She attended the Reading Hospital School of Nursing and graduated in 1973 as an operating room nurse. Her 43-year nursing career began at St. Joseph Hospital in Lancaster, then to Children's Hospital in Pittsburgh, and lastly Lancaster General Hospital where she retired from in 2014. She also served two years in the U.S. Air Force before entering the reserves.
Elaine was an active member at Lancaster Moravian Church where she served as Elder, Trustee, Christian Education Committee, Mission and Service Committee Financial Secretary, and Moravian Women Treasurer. Following her retirement, she volunteered at Moravian Center Adult Day.
In her spare time, Elaine loved shopping, traveling, cruising, and spending time with her pet cats. She had a warm heart and enjoyed helping others, always reaching out to those in need.
Elaine is survived by her 4 sisters: Cynthia A. Lambert (James), Nancy J. Sturgis, Jean E. Sturgis, and Frances A. Sangrey (Keith); 2 nieces, Stacey Lowe and Karen Kern; 2 nephews, Michael and James Lambert; and a great-niece Genna Buddock.
A memorial service to honor and celebrate Elaine's life will be held at a later date. In lieu of flowers, memorial donations can be made in Elaine's name to Lancaster Moravian Church, 227 N. Queen St., Lancaster, PA 17603; Moravian Manor, 300 W. Lemon St., Lititz, PA 17543; Hospice of Lancaster County, 685 Good Drive, Box 4125, Lancaster, PA 17604; or Moravian Center Adult Day, 227 N. Queen St.
Leave a condolence on this Memorial Page
Condolences to the Family
July 03, 2022
Nancy and family: I am sorry to hear of the loss of your sister Elaine. We had been in touch after her stoke and I saw your name on the Stroke Support group list. My condolences to all of you. Karen Fralich
July 01, 2022
Nancy and Jean I am so sorry about Elaine. I have so many fun memories of her. I am thinking of you. My deepest condolences.
June 25, 2022
To Elaine's sisters- I will always remember the fun times Elaine, Jean and I had going to the Phillies games and spring training. Elaine was always up for anything! We had so much fun over the years. I always had a great time with her at work too!! I will miss her and her infectious laugh!!!
June 20, 2022
Elaine was one of a kind! I so loved her laughter, great times together. I met her through her wonderful friend Kathy. I will always treasure the memories we have made over the years, especially our beach trips to Rehoboth! She will truly be missed by all who knew her. I know she is at peace in the areas of the Lord. My thoughts and prayers have are with her family as they have been over the past few years. Pat Dehoff
June 20, 2022
I am so sorry for your loss! I knew Elaine through the OR but know Jean. I know she will be greatly missed. I am praying for you all! Shelley H Basom
June 19, 2022
To Elaine's family, so sorry for your loss. I enjoyed working with Elaine in the OR at LGH. She was always fun to work with! Julie McMichael
June 19, 2022
My deepest condolences to Elaine's family. I have many wonderful memories of working with Elaine in the ORs of LGH and the Health Campus. We were like family there. I picture her now in heaven with flip-flops on and a Malibu Bay Breeze in her hand. Rest In Peace, dear friend. ~Helene Evans
June 17, 2022
Nancy and Jean I was so sorry to hear about Elaine. I want you to know you are in my thoughts and prayers.
You know she is at peace.
If you need anything don't hesitate to contact me. Kathy Wolff
June 17, 2022
I knew Elaine since I met Jean in first grade. She was so much fun and generous to a fault. We used to go to Phillies games and I also went on a couple cruises with her and Jean and Nancy. I guess God needed someone to talk to and organize things but He took her from us way too soon. I'm so glad she lived a full life. I will miss her. Love to all….Carol Barton