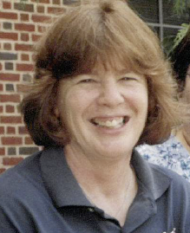 Elaine Louise "Sis" Derrish, 74
February 28, 2023
Elaine Louise "Sis" Derrish, 74, of Lititz, passed away unexpectedly on Tuesday, February 28, 2023. Born and raised in Lancaster County, she was the daughter of the late Clarence Halbach and Louise Denk. She was married to her beloved husband Barry A. Derrish for over 42 years.
She graduated from Warwick High School in 1966 and worked for RCA and the West Company for 12 years. Sis joined Lancaster General Health with the opening of the Health Campus, serving as one of the original team members of the shipping and receiving department. During her 24-year tenure with LGH she delivered over 200 packages a day, always with a smile and chatting with everyone along her path.
Sis was a social butterfly who loved to connect with people. She was blessed with the gift of gab and made friends wherever she went. Sis was hometown proud and had collected many mementos over the years. She enjoyed listening to music, dancing with her classmates, and making weekly trips to Roots Market. Sis was known for making beautiful works of art with her hands by drawing, cross-stitching, knitting, and crocheting.
Most of all, Sis cherished the time she spent with her family and grandchildren. She was extremely active in her grandchildren's lives from the day they were born. Sis especially loved cheering for the boys at sporting events and making trips to the family home in Delaware every summer. She enjoyed activities at the beach and waterpark, boating, and bike riding around the area. She was determined to keep up with her boys and would argue if she was told she couldn't or shouldn't do something. She will be affectionally known as the BEST MAMA ever!
As a two-time cancer survivor, Sis had a passion for living life to the fullest and encouraged others to do the same.
In addition to her husband Barry, Sis is survived by her son Shawn Marley (Angela), grandsons Tyler and Seth Marley, brother Michael Holiday, and niece Stephanie Moyer. She was preceded in death by her parents and stepfather, Gerald Denk, and sister Carol Seibert.
Friends and family are invited from 10-11 AM on Friday, March 24, 2023 at Lititz Moravian Church, 8 Church Square, Lititz, PA 17543. Services will begin at 11 AM. In lieu of flowers, consider a donation in Sis's name to the American Cancer Society or Relay for Life, 1818 Market St, Philadelphia, PA 19103.
A Celebration of Life will be held on Friday, March 24, 2023 at 6pm at the Lititz Shirt Factory.
Leave a condolence on this Memorial Page
Condolences to the Family
March 22, 2023
I was shocked to read this. I just saw Sis at Stauffer's a few weeks ago. We always had alot to talk about. Her Mom Louise and my Mom were very good friends. I also worked at the Health Campus where she always came to my office to say hi when she delivered packages. I will miss her and her ever cheerful attitude. Fly high Sis 🙏🙏
March 21, 2023
Sis, you were always a bright spot, in my day, at LGH. ❤️
May you rest in peace. Heaven has gained another very special Angel.🌹
March 21, 2023
I worked at the Health Campus at radiation oncology and Sis would do the relay for life with us. She always had a smile and kind words. She was a hard worker but always had time to chat. I will miss her smile.
Joanne Bender
March 20, 2023
David and I are sending prayers of strength to you Barry and your family!❤️❤️🙏🙏 David and Judy Morrisin
March 20, 2023
My condolences to Barry, Shawn, Steph and family. She was always a sweet person to be around. So sorry to hear of her passing. Blessings.
March 20, 2023
I will definately remember Sis for sheer the number of steps she got in during the day delivering items at LGH Health Campus. Sis and Karen C. kept the deliveries moving and loading dock area in order. Sis was known for often taking some people to task for not clearing items off the dock in a timely manner. Playfully among close coworkers she earned an adoring title that will not be forgotten. Since Sis's retirement the long shelves above her work desk has been bare of the M&M dispensers and the Schribers rubber duckie collections. I still can vividly recall them every time I find myself in the area. It has always amused me to this day how often I would meet Sis outside of work. Tuesday nights Roots market, I would often encounter her waiting at a favorite bakery stand to pick up a standing order of Whoppe pies. Our paths haven't crossed since her retirement but, I think of her every time I pass that particular stand. Deron
March 19, 2023
I am ever so sorry to read this news. I worked closely with Sis at LGH for years and this article doesn't even include all that she did for LGH and who she was because she was every bit this, plus! Truly a person of great character. I grew up with her husband Barry, graduated from high school with him and Angela Marley was my son Addison's principal at Denver Elemantary. It is with great sorrow that I will not be able to attend her services as my husband has a much long awaited doctor appointment on this day at this time but know that I am there in spirit and truly send my heartfelt condolences.k
Visitation

Friday, March 24, 2023
10:00 AM - 11:00 AM
Lititz Moravian Church
8 Church Square
Lititz, Pennsylvania 17543

Map and Directions

Services

Friday, March 24, 2023
11:00 AM
Lititz Moravian Church
8 Church Square
Lititz, Pennsylvania 17543

Map and Directions