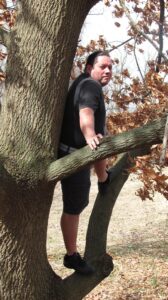 Efrain Rivera, Jr., 46
June 01, 2022
Efrain Rivera, Jr., 46, of Lititz, PA, passed away on Wednesday, June 1, 2022 after a lengthy battle with cancer.
He was the husband of Catherine Rivera, with whom he shared 18 years of marriage. Born in Queens, NY, he was the son of Efrain Rivera and Elizabeth Cardona of Puerto Rico. Efrain was a hardworking man who recently worked in the sales department of Yale Electric Supply Company for the past 10 years. Prior to this he worked every imaginable job to support his family, though his real talents were as a graphic artist. The Riveras were members of the Unitarian Universalist Church of Lancaster, where Efrain taught the teen Youth Group. An avid gamer, Efrain enjoyed all types of gaming, particularly old school gaming like Legend of Zelda, Final Fantasy, and Mario Bros. He enjoyed Dungeons and Dragons all throughout his life, and passed on his love of these games to his kids. At the end of his life, he enjoyed painting miniatures and listening to his favorite band Iron Maiden.
In addition to his wife, Catherine and his parents, he is survived by 3 daughters: Arwen, Selene and Willow; his sister, Elizbeth Rivera of Puerto Rico, and his nieces: Elian, Alondra, and Amanda Berrios; his great nieces Jelianys and Jerianne, and his great nephew Emmanuel, all of whom he loved dearly.
Friends will be received by Efrain's family on Saturday, June 11, 2022 from 9:30-10:30AM at the Charles F. Snyder Jr Funeral Home & Crematory, 3110 Lititz Pike, Lititz, PA, with a Memorial Service and Time of Sharing to follow at 10:30AM. Please consider sharing a special remembrance or story with those in attendance.
In lieu of flowers, please make contributions in his memory to For Pete's Sake Cancer Respite Foundation, 620 W. Germantown Pike, Suite 250, Plymouth Meeting, PA 19462.
Watch the tribute video
Leave a condolence on this Memorial Page
Condolences to the Family
June 08, 2022
Efrain was POSITIVITY! Though he is missed, I am glad he is now rocking it in Heaven.
Maren Morgan
June 07, 2022
My condolences and most heartfelt sympathies to the family and friends of our "Brother"-Dad Efrain. We are brothers in Christ Jesus and now he becomes a warrior for God and stands at the ready for our Heavenly Father. May he Rest In Peace and may God's love, grace, and perpetual light shine upon him.
I did not know him long, or well, but I found his strength, grace, and courage to be awe inspiring! He never stopped smiling even as he knew his time grew short. A true "Dad" to the end! He will be missed! God bless our brother! ✝️🛐☮️🙏🙏🙏😪💔🥀😇
Edward Jones
June 06, 2022
My BROTHER, it is so sad and bitter to my soul to know that in this physical world you are no longer with us, but I want you to know as I already told you that I am proud of you and that I would like one day to be half extraordinary human being that you are. You are an example of father, husband, friend, brother and finally an example in everything you did. You went through our lives marking in a positive way those who had the joy of knowing you. This dear friend is how I say good bye, ferwell my Brother, until we meet again in the sky. HAIL !!! Jorge
June 05, 2022
Greatness is not the right word. he exhuded light and it only got brighter when yall were in the room.
June 03, 2022
Efrain was a loving husband, father, son, and a beloved cousin. Always with a ready smile and a wise word of advice. You will be sorely missed.
Orlando Gonzalez-Rivera
June 03, 2022
Efraín was a friend turned into a brother forever. We could relate on so many with Conan the barbarian at our very core. Efrain was a warrior in every sense of the word. Although he was in so much pain , I always saw him smiling. When I was able to get a hug from him I could feel him fighting what ever that was trying to rob him of his peace. He was a special dad in the Lancaster League of Dads. He hosted one of our first events and raised spirits up. I would tell God to put a broad sword in this man's hands in heaven. Because he would take joy in slaying some demons! Efrain you are loved brother ! I raise my sword and promise to never forget you! We will always protect your shield maidens !
David Rivera
June 02, 2022
Efrain was a good father, son, and husband. I am sorry for the lost of such a great man. May he rest in peace.
June 02, 2022
Efrain was a good solid person in this world and devoted husband and father. My thoughts are with Catherine and the girls. It is so very obvious how much love he had for his family.
June 02, 2022
His legacy is love and commitment. His mark was made on this world and on me: Blood of my blood..heart of my heart. He had wealth unimaginable for so many. The kind that lasts, lived out in the lives of others. A contagious smile that melts the hearts of the grumpy, the downtrodden.
Get up and get it done for the family. Never giving up. Not listening to those who only point but never encourage. I will show you a man who truly "pulled himself up by his bootstraps". But the obstacles and challenges were many. I weep when I think this harsh world has lost that smile that cuts though it all. A countenance that says:" I am not going to show you how hard my life is. And oh, by the way, how can I help you today?" What the what?
A role model of generosity. I cry every time I think of the ways he and Catherine humbled me, in ways God knew I needed. How can you invite all these people to your home when you do not have enough chairs; and some of the ones you do have are broken? It hurts to think how much we need Efrain and his gentle, easy going ways in the world we are now living in.
God, my prayer is to become humbler, more generous, and more prone to smile at people. Especially those that looks discouraged. Rest easy my friend. We have work to do to pick up the baton and follow the example you set for us.

Chris

Visitation

Saturday, June 11, 2022
9:30 AM - 10:30 AM
Charles F. Snyder Funeral Home & Crematory
3110 Lititz Pike
Lititz, PA 17543

Map and Directions

Services

Saturday, June 11, 2022
10:30 AM
Charles F. Snyder Funeral Home & Crematory
3110 Lititz Pike
Lititz, PA 17543

Map and Directions