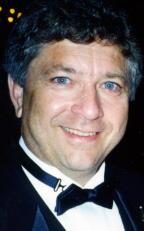 Edward W. Warfel, 60
Edward W. Warfel, 60 of Leola went to be with the Lord on Friday, February 12, 2010 surrounded by his loving wife and family. Born in Lancaster, he was the son of Pauline Rineer of New Providence and the late Albert W. Warfel.
He was the husband of Kathleen George Warfel and they celebrated their 35th wedding anniversary on September 14, 2009.
Ed was a Marketing Director for Rettew Associates for 36 years.
Ed served in the US Army. Ed graduated from Lampeter- Strasburg High School in 1967 and graduated from Paul Smiths College in 1973.
He was a member of Calvary Church and was active in their Life Ministry and taught Sunday School for many years. He enjoyed sharing his faith with others.
Flying helicopters, photography and writing about Trekles were things he loved to do.
Ed was a devoted husband, father, grandfather who loved to vacation with his family at Bethany Beach.
Surviving besides his wife and mother, are eight children: Rebecca wife of Jon MacNamara, Lancaster, Zachary Warfel, Leola, Nora wife of Nick Leidy, Akron, Leah wife of Brent Harnish, Ephrata, Kara Warfel, Joel Warfel, Micah Warfel, Seth Warfel , all of Leola, eight grandchildren: Rachel, Aaron, Joshua, Emma, Jordan, Nathaniel, Darien, and Tyrus. He is also survived by two brothers: Albert husband of Leda Warfel, Carl husband of Linda Warfel, and a sister, Wanda wife of Dawson Wynn.
A Funeral Service will be held at Calvary Church, 1051 Landis Valley Road, Lancaster, PA on Tuesday, February 16, 2010 at 11:00AM with Rev. David Allen officiating. Interment will follow in Mellinger Mennonite Cemetery, Lancaster. Friends may call at the Charles F. Snyder Jr. Funeral Home and Chapel 3110 Lititz Pike, Lititz, PA on Monday, February 15, 2010 from 6-8:00PM and at the church on Tuesday from 10-11AM. Please omit flowers, contributions may be sent in Ed's memory to Calvary Church Missionary Fund, 1051 Landis Valley Road, Lancaster, PA 17601. To send online condolences, please visit, SnyderFuneralHome.com
Leave a condolence on this Memorial Page
Our Beloved Father was a blessing from God. He had so much strength and an amazing love for his family, friends, and faith. He was a Great Loving source of Light to all. He is most admirable and a true King to his family. He was loved by God and all that knew him. He shared his love and lived a life that honored God. He is truly amazing and admirable for all his sacrifices and his love for the Lord. He was a legend, a blessing, an amazing father, and friend. He was devoted to his loving wife and shared his love of God. Edward is loyal and true, he will be missed and his spirit of God's strength will live on in eternal love. Thank you for being a great father and friend.
Kathy,
After attending Ed's service yesterday I can think of no greater honor than the words of praise given to Ed from his Children. Their remembrance of him as their Father, mentor, friend said it all. They deeply loved and respected him. I congratulate you and Ed for being such great parents and raising such fine young adults. You have so much to be proud of and so many wonderful memories to hold on to forever. My love and prayers go our to you , Ed, and your family.
Sincerely,
Hank
Ed was quite a man. He was one of my best mentors in the profession of surveying, but he was more than just a surveying mentor to me; he was a mentor for being a father, a christian and a manager. He was one of the best bosses that I ever had and he was one of the best friends that I ever had. He will be greatly missed by many and we will always remember his sparkling eyes and fabulous smile! Our prayers are with Kathy and the whole family.
Kathy:
Our hearts have been with you through this journey. We understand that Ed is now rejoicing with the God and Savior he severed all his years, but it hurts all the same to have a brother in Christ leave us. Ed has always been a loving mentor to me in the years we spent together in Lancaster. In the years we have been living in the Midwest, Ed continues to be a person that I continually look back to as some one whose life I would want to emulate. Ed has instilled in me a way to look at those who do not know our Savior personally and taught me how to proceed with love to share God's Word. He will truly be missed, but the legacy and the challenge he has left to us will always be an example of what God can do with someone totally sold out to Him.
Love:
John and Janice Leszczynski
Kathy and Family,
In one's lifetime there are a handful of people who have a profound positive influence on a person and for me, Ed was one of those, both professionally and personally. When you work so closely with someone for 38 years in many different ways you have an opportunity to grow and learn so much together. Yu shared the good times and the bad and supported each other no matter what. I nor the firm could have accomplished near what we did without Ed. When I had the good fortune to manage Ed at the beginning of our careers and most recently, it was truly an honor and a joy. My management style with "Steady Eddie" was "just stay out of his way and let him use his God given talents." In so doing, I could concentrate on other areas that enabled the firm and I to grow. I was much better because of him. Personally, his faith helped me to develop and strengthen mine. I am a better person and father because of him and I am in a good place spirituality because of him. I am an only child, but if I had a brother I would want him to be just like Ed. I loved him and will miss him. My prayers have been and will continue to be with you and your family. Our loss is Heaven's gain and "God so loved the world…."
Ron Beam
Kathy-
LuAnn and I have been praying for you and Ed and your family for months and with Ed's passing we will certainly continue to pray for your strength and encouragement. You have a great family to surround you with love and support. The next couple of days and weeks will be difficult but with the Lord's strength he will carry you through.
I have so many good memories of Ed back when we used to work in the field together and than working side by side in the office, I will truly miss him.
He was a mentor, encourager and friend and will be missed by everyone in the office.
Ron
Heaven gained a most beautiful and wonderful soul on Friday, February 12, 2010 because Edward W. Warfel was one of the kindest, most creative, fun-loving, dedicated, optimistic, faithful, hard-working, honorable, and trustworthy men I've had the honor of calling a friend. Ed once told me "I'd often be the one to take the road less traveled".I think that's how Ed fit so much living and life into the 60 years God gave him here on earth and helped make him not just a good man, but a great man. Many of us aren't brave enough, secure enough, or crazy enough to dream big, to push, or to be different, or say what we think out of fear, or fear of ridicule. I will miss that about Ed – his fearless never say never drive; and his entrepreneurial vision. Kids – if you inherited these traits from your Dad – tap into it!(responsibly). I will miss Ed's stories, and his point of view that put things in perspective for me when I was struggling to make sense of something. I will miss his laugh, and those sparkling blue eyes, that sometimes seemed to have a hint of mischievousness behind them and I couldn't be sure if he was pulling my leg or not. I will miss being called Victoria (Vic) the role I played in a skit we videoed with a group of other employees for fun about 20 years ago. Ed called me Vic ever since that hilarious day, and I called him Bucco, (his role), but now the names Vic and Bucco will cease until Ed and I meet again. I'll miss doing the YMCA dance with Ed at the company holiday parties and I'll miss hearing him tell me how great his wife Kathie looks and/or how wonderful she is (with an admiring sparkle in his eyes), and hearing Ed give the blessing over the meal and our evening together as our honorary resident "Pastor Warfel." I will forever think of Ed when I hear the YMCA song and when they play it at every holiday party, I'll try hard not to be sad, but instead envision him dancing in heaven – along with Gene Lutz, Jeff Patton, and Kim Myer – RETTEW friends who were called to heaven before him, and like Ed
I know I'm very blessed to have known Ed and to have these and other memories, and I'm grateful for the insightful nuggets of wisdom Ed shared with me during the past two decades plus we worked together. I know the void and sadness I feel only as his oollegue, so I can't begin to fathom how those he truly adored, cherished, loved, and shared his life with are feeling. So please know that my heart, thoughts, and prayers go out to Kathie – Ed's wonderful, caring, and dedicated wife, to Ed's mother, to Ed and Kathie's children and grandchildren, to Ed's siblings and all his loved ones. I pray that your strong faith, your fond memories, your loving family, and supportive, caring friends help get you through this most difficult time.
With Hearfelt and Sincere Sympathy,
Kim Liebl
Kathleen My thoughts and prayers are with you and your family.
Diane Campbell
Condolences to Kathy and his children and grand children.
Ed was truly a wonderful human being, friend, and brother-in-law. He cared dearly for his wife, his family, and those around him. He was always kind and gentle to everyone. He was instrumental in leading me back to the Lord when I was younger. I always felt a special friendship with Ed. We shared many wonderful times over the years, running, skiing, family vacations, prayers, and over the years, a few sorrows. The world is truly less without him!
My love, my heart and my tears are with you Kathleen and your family…you have been and will continue to be in my prayers.
Cindy Castaldi
To my father, my hero, and my friend! I love you SO much dad! I am so thankful for all our wonderful memories together and as a family! You mean the world to me and I truly admire you for all you have done for this family and for many others. I always looked up to you and admired you dad. You were a true Christian and follower of Christ. Throughout this time you never once complained of the journey God gave you and us. I love the sparkle you always had in your eyes and your smile and cherish every time with you. You were such an amazing man, and husband to your wife. You two had such a beautiful marriage that was so admired for the love you share, you were one just as God had intended you to be. I love you dad and miss you so much! Thank you for all you have done and the wonderful memories you left us with!
Love
your Nora Belle
To an amazing father and friend! You truly were a blessing from God to us dad, I couldn't have asked for a better father to have. You were so strong and such a fighter and never once complained about a thing! You were a true follower of Christ and are with him now. You have touched so many lives and brought so many people to the Lord! I will always look up to you and admire you you were my rock dad and I will always cherish our memories
I love you,
Kara Rose.
Ed was my best friend. He was a friend to me thru my own difficulties in life. We played racket ball and we played pitch and putt together. He took time to go out to lunch with me on numerous occasions. I was privileged to be asked by him to go on helicopter rides of which I said yes and had some amazing rides with him. We had many times we talked about the rapture prophecy and end times. We talked about how we would be raptured out of here and in the presence of Jesus. He was a man I admired and wanted to and want to be more like. He was a true follower of Christ. I will miss him and I pray that his family will be strong as I know he would want them to be. There are so many instances I can think of I would love to share but they would take too long to write and I know they are mostly special to me.
Sincerely,
Gary Baldwin
1732 Temple Ave.
Lancaster, PA 17603