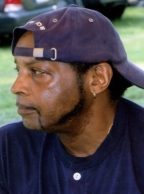 Edward R. Ward, Jr.
Edward R. Ward Jr. passed away April 11, 2009 at Hospice of Mount Joy surrounded by his family, after putting up a very brave fight with colon cancer for 2 ½ years. Born in Queens, New York, but residing in Lancaster for the last 12 years, he was the son of Iris Butcher of New York and the son of the late Edward R Ward Jr. and grandson of the late Harriet Ward.
He is survived by his partner, Deborah Blaettler of 26 years and their daughter, Shannon. Also surviving are two daughters, one son, grandchildren, six brothers, one sister, and numerous Aunts, Uncles, Cousins, and friends living in New York.
He was an avid Cowboy Fan, loved playing pool, watching DVDs, mowing his lawn and being home with his family and pets.
He will never be forgotten by all who knew him.
A funeral service will be held at Real Life Church of God, 6030 Lemon Street, East Petersburg on Monday, April 13, 2009 at 6:30PM with Rev Randy Jenkins officiating. There will be a viewing at the church from 5-6:30PM. In lieu of flowers, contributions may be made in Ed's memory to Cancer Aid of Gap, 5508 Lincoln Highway East, Gap PA 17527. Arrangements are by the Charles F. Snyder Jr. Funeral Home and Chapel. To send online condolences, please visit, snyderfuneralhome.com
Leave a condolence on this Memorial Page
I met Ed when he started working at my previous employer and it wasn't long until we were best friends. He was the type of guy that would do anything for you and was always there for you when you needed him. I have so many good memories of Ed and all the things we used to do together from cleaning our cars up to shooting pool, playing basketball, hanging out in his basement and listening to music. Anyone who met Ed knew how he would make you laugh with his unique laugh and his sense of humor. He had so many friends and left an impression with you that will always be with you. He fought his cancer like no one else and could have given up in the early rounds but he went the whole 12 rounds just like in his early days when he was a boxer. I only wish he would have had a colonoscopy a few years earlier because he wouldn't have had to go through all the pain and suffering that he did. I myself promised him that I would get one and I urge everyone who turns 50 to do the same thing. He was the best friend I ever had and I'll see him in heaven someday and we'll finish doing the things that we didn't have time do together.
Your friend Mike…
May the Lord Bless you with peacefulness as he has blessed Ed to pass on and to have no more pain. Our prayers will be with all of you that we have met and to those that we have not. Peace be with you.
Bill, Ruth and Chris Donohue
So sorry for your loss. Ed was a great guy to work with I knew him from Clipper and he was always Smiling and had a great sense of humor. He will be missed. May God be with you and your family at this time of sorrow.
Sincerely,
Sue McCarty
Clipper Magazine
Please know that all of us at Clipper Magazine are thinking of you and keeping you in our prayers…Ed always had a smile for everyone who was lucky enough to cross his path. My thoughts and prayers are with you…Ed was a wonderful man, and I'm grateful to have known him.
God bless,
Julie Gutshall
I'm very sorry to hear about Ed. I worked with him at Clipper Magazine. He truly always had a smile for everyone and was so sweet. My sincere condolences to all of his family.
Kim Geisel
My sincerest condolences on the passing of Ed. He was a pleasure to work with, and I was saddened to hear of his loss. Know that he will be missed by a great many of us who had the joy of knowing him and working with him.
I am so sorry to see that Ed has passed. He was a wonderful person. I knew him here at Clipper Magazine and had high hopes he would win this fight. He had a great heart and will be sorely missed. My deepest sympathies to your family and I hope you find peace and comfort in your memories of him.
Danielle Hoy
Ed was always pleasant to be around while at Clipper Magazine. He always had a smile on his face and would stop to talk to anyone about anything. We will miss his stories, great attitude and positiveness. He will be missed by all who knew him.
My thoughts and prayers go out to all of you. Ed was well liked by everyone at Clipper magazine and brought a smile to my face every single day. Please know you are all in our thoughts right now as you go through this difficult time
I'm so sorry to hear that Ed had passed away, my thoughts and prayers are with you and your family.
Linda Stoe (Clipper Magazine)
My husband Vin and I have been friends ,of Ed and Debbie, back when they lived in N.Y., and can not believe he's gone. He fought so hard, like the fighter that he was. I am glad that we were able to see him, a few weeks before he died, smiling and joking as always. Our thoughts and prayers are with Debbie and Shannon at this difficult time. Ed, you will never be forgotten, and we know that you're finally at peace, and free from pain. We will never forget you, and you're great laugh. Love Grace & Vinnie