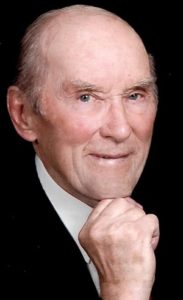 Edward D. Burke, 94
March 11, 2019
Edward D. Burke, 94, of Lancaster, passed away peacefully on Monday March 11, 2019, at St. Anne's Retirement Community in Columbia, PA surrounded by his family. Born in Mahanoy City, PA, he was the son of the late Margaret (Elliot) and David Burke.
He proudly served his country during World War II as a Technician 4th Grade in the 2nd Battalion, 544th Engineer Boat and Shore Regiment. Ed spent his working years as a plumber and pipefitter for Local 520. He retired in 1986.
In earlier years, Ed enjoyed attending his grandson's sporting events. Most of all, Ed cherished spending time with his family and friends.
Ed is survived by his daughter, Bridget Rieker (widow of Peter Rieker) of Lancaster; his two grandsons: Timothy Rieker husband of Amy (Pickard) Rieker and Daniel Rieker all of Lancaster; one Great-Granddaughter, Riley, one Great-Grandchild on the way as well as several nieces and nephews.
He was preceded in death by his first wife, Kathryn Greis in March, 1994 after almost 50 years of marriage; his second wife Mary O'Hara in May, 2017 after 21 years of marriage; and his siblings: James, William, Margaret, David and John.
Friends and Family will be received from 5PM-7PM on Monday, March 18, 2019 at the Charles F. Snyder, Jr. Funeral Home and Crematory, 3110 Lititz Pike, Lititz, PA 17543. A Funeral Mass will be held at 11AM on Tuesday, March 19, 2019 at Sacred Heart Church, 558 W Walnut St, Lancaster, PA 17603. Interment will follow at St. Joseph New Catholic Cemetery, Bausman, PA with full military honors. In lieu of flowers, memorial contributions may be made in Ed's memory to St. Anne's Retirement Community, Annual Fund, 3952 Columbia Ave, Columbia, PA 17512.
Leave a condolence on this Memorial Page
Condolences to the Family
March 18, 2019
Bridget – I have so many fond memories of you Dad. As a wonderful neighbor and friend of my parents. All the evening cocktails they shared on our side porch or yours. They really enjoyed the friendship that developed with Kitty and Ed. He was our "go-to" guy when there was a bat or bunny in the house (!) and of course, all plumbing issues! I also remember him cheering for you and your basketball team up in the bleachers… he wasn't "quiet"! After your Mom passed away, my parents became friendly with Mary, too. Your Dad was kind, a devoted husband, father and grandfather. I enjoyed his stories, the twinkle in his eye, and appreciate how he loved you all so much. I know he is in a better place – united with your Mom. Peace and love to you all as you get through this difficult time together. Always remember he is part of you and remains with you in spirit. Fondly, Susan Ketchum
March 16, 2019
To my dear old friend Bridget. How time flies. When I saw ur dad's obit I was so sad for u but then I remembered how close u were n some how that helped . U had a relationship with ur dad i always admired n wished I had with my own dad. The memory i most of him was he in the back of a new station wagon ( like a family of one child needed lol) in the way way back he bought us McDonald's which was great treat, n if I remember right you spilt ur drink.😰 Uh oh or maybe it was me but he got so mad .😵 Don't know why that sticks in my mind but then I think who let's two little girls eat in a new car lol. Think I blocked time nanny baby sat us n we went sent a live size doll down banister . Sure he was mad then too lol. We kept him on his toes when I visited. Any way I'm sorry for ur loss. Loss both my parents awhile ago n know it's a hard thing to go through. All my love n prayers r with u. Mary Kay

Visitation

Monday, March 18, 2019
5:00 PM - 7:00 PM
Charles F. Snyder Funeral Home & Crematory
3110 Lititz Pike
Lititz, PA 17543

Map and Directions

Services

Tuesday, March 19, 2019
11:00 AM
Sacred Heart Church
558 W Walnut St,
Lancaster, PA

Map and Directions