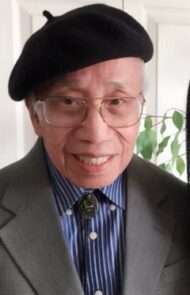 Dzung Anh Tran, 90
June 08, 2022
Dzung Anh Tran, 90, of Lancaster, PA passed away on Wednesday, June 8, 2022 surrounded by his loving family members. Born in Ha Nhuan, Thanh Hoa, Vietnam, he was the son of the late Ty Thi Nguyen and Thanh Quang Tran. He was the beloved husband to Dzu Thi Nguyen for over 67 years.
Dzung graduated from the Vietnamese Military Academy and was commissioned as a 2nd Lieutenant. He served in the South Vietnamese Army for over 22 years with training at the US Army Intelligence School, Fort Holabird, Maryland, along with US Army Institute of Administration, Fort Benjamin Harrison, Indiana. His last rank was Major serving as a Military Intelligence Officer at Cay Mai Fort and as an instructor at the Army Intelligence School in Vietnam. Dzung came to the US in 1975 where he earned his BS Degree in Computer Science. Prior to retirement he worked as a Program Analyst for Armstrong and Burle/Philips/Bosch for over 27 years. He was a member of the St. Anne's Catholic Church. He enjoyed photography and poetry. He and Dzu enjoyed traveling internationally to religious sites according to the Path of Christ in Europe and Israel.
In addition to his wife, he is survived by his children: Dzuong Tran (Cu Tran), Dzu Tran (Anh Vu), Dzuyen Nguyen (Anh Nguyen), Dzoanh Tran (Trinh Nguyen), Dzoan Tran (Ngoc Tran), Dziep Nguyen (Tu Nguyen), Dzuy Tran (Thuy Tran), Dziem Nguyen (Tim Nguyen) and Alex Tran (Linda Tran); 17 grandchildren and 6 great-grandchildren; his brother Thu Tran (Cuc Le) as well as many nieces and nephews. He was preceded in death by his siblings: Tinh Tran, Nhuong Tran, Thong Tran, Minh Tran, and Chau Tran.
Family and friends will be received from 6PM-8PM on Friday, June 17, 2022 at the Charles F. Snyder, Jr., Funeral Home and Crematory, 3110 Lititz Pike, Lititz, PA 17543. On Saturday, June 18, 2022, family and friends will be received from 9AM-10AM. Afterward, a Mass of Christian Burial will be held at 11AM at the St. Anne's Catholic Church, 929 N. Duke St., Lancaster, PA 17602. Interment will follow at St. Mary's Catholic Cemetery.
Leave a condolence on this Memorial Page
Visitation

Friday, June 17, 2022
6:00 PM - 8:00 PM
Charles F. Snyder Funeral Home & Crematory
3110 Lititz Pike
Lititz, PA 17543

Map and Directions

Visitation

Saturday, June 18, 2022
9:00 AM - 10:00 AM
Charles F. Snyder Funeral Home & Crematory
3110 Lititz Pike
Lititz, PA 17543

Map and Directions

Services

Saturday, June 18, 2022
11:00 AM
St. Anne's Catholic Church
929 N. Duke St.
Lancaster, PA 17602

Map and Directions