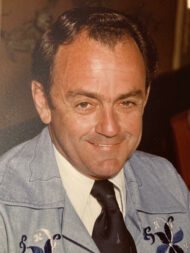 Dr. Robert F. Denoncourt, 89
November 15, 2021
Dr. Robert F. Denoncourt passed away on 15 November 2021 at the age of 89. Bob was desperately lonely after Ann, his wife of 66 years, passed last January. Although family and friends preceded him, he is survived by many of us who mourn his passing deeply. Husband, father, teacher, colleague, mentor, and just good friend, he touched many lives during his life as a teacher of hundreds of high school students and thousands of college students as a biology professor (Dr. D) at York College of Pennsylvania.
Bob began his undergraduate academic career with a Bachelor's Degree from Springfield College in Massachusetts. He added two Master's Degrees, in Chemistry and Education, and finished with a Doctorate in Zoology (Ichthyology) from Cornell University. He accepted a teaching position at York College in 1969 and was instrumental in establishing and guiding the Biological Science Department in 1971.
Accolades and appreciation can be heard from many of Dr. D's students who chose teaching as a profession. His 25 years of service to York College and its students is eloquently memorialized on a plaque in the Faculty Recognition Garden that states: "Robert F. Denoncourt, PhD [was] a widely published ichthyologist and ecologist, he involved students in his studies of fishes both locally and abroad. A popular, dynamic and inspirational instructor, his love of science captivated students who clamored to get into his classes. His legacy continues in the lives of those students."
Dr. D was also a well respected fisheries biologist, known throughout the eastern US for his expertise in Appalachian fishes. He mentored young college students interested in pursuing careers in fisheries and aquatic ecology and introduced many to the process that transforms data into peer reviewed publications and/or presentations at scientific conferences. A lifelong student, colleague and friend, Dr. Jay Stauffer, Distinguished Professor of Ichthyology at PSU, immortalized Bob's importance in his personal and professional life by naming a fish after him, Etheostoma denoncourti, the golden darter. Former colleague Ric Skinner added that "what I learned from [Bob] about serious research practices, resorting to MacGyver solutions when needed, and always questioning what I read online continues to influence [my work]."
Dr. D is survived by six children, 14 grandchildren, and 15 great grandchildren. Five of his children live in the York area: Judith A. and Paul Smith (3 children, 6 grandchildren), Charles E. Denoncourt, M. Elizabeth O'Brien (2 children), Carol L and James Kotzman (3 children, 5 grandchildren), and Robert E. and Anastasia Denoncourt (3 children). Donat G. and Suzanne Denoncourt (3 children, 4 grandchildren) live in Montpelier, VA. Marjorie (Young) Krauss joined the family from the Philippines in 1982 as an international exchange student. She and her husband Fred reside in Belmont, CA with their 2 children.
Dr. Denoncourt retired in 1995, he and Ann retired to their summer home in Conway, NH. They loved their time on Pea Porridge Pond where Bob focused on gardening, walking with canine companions, fishing, and evenings dancing with Ann at their local dance club (Mount Washington Valley Stompers) or traveling up to 3 hours with friends to square and round dances. They returned to York in 2014 to be closer to family. Ann passed on 31 January. Life without Ann has been colorless for Bob over the past 9 months. His health declined and in accordance with his wishes, Bob was made comfortable at home where he quietly passed away surrounded by family just before midnight on 15 November 2021. Do not be embarrassed by tears. Some believe that the departed are transported to heaven on the river of tears shed by loved ones. So remember Bob, Dr. D, Dad, or whoever he was to you, and shed those tears, but end with a smile for the time you were lucky to spend with him.
Cards can be sent to Judith Smith at 129 East 7th Street York PA 17404. In lieu of flowers, please make a donation to the Alzheimer's Association (act.alz.org/donate).
Leave a condolence on this Memorial Page
Condolences to the Family
December 01, 2021
Dr. D was one of my professors at YCP. As a biology major, we had wonderful adventures with him, the most memorable being our trip to French Creek on a rainy weekend with fried bologna or pb & j sandwiches for everyone. He was an excellent teacher-everyone loved his classes. And trips to his office were always fun for me b/c there were dogs covering the floor, which made me happy. After graduation I even tagged along with one of his classes to the Bahamas. Another adventure which yielded the best picture of Dr. D "burfing" in the water behind the boat! What a great person he was and how lucky we were to have him!
November 27, 2021
I could not have become who I am without you, Bob.
Boss, friend, mentor, colleague, family, I knew you in everyway.
Hoke
November 25, 2021
Hands down , the best family and friends Chuck & Don and the rest of the family I could of met back in 1975 when moving to York County and knowing no one.Memories with Dr,D and his wife, I still talk about today ,and still pass the home where they all lived in. Thanks for the fun times.
November 22, 2021
I remember Bob Denoncourt and his big, black, Newfoundland well. Bob was an established and respected professor when I showed up as a newbie to the York College faculty. Bob was very pleasant to me and I recall having attended a faculty party hosted by Bob and Ann at their home.
November 22, 2021
We are so sorry for your loss. I first met Dr. D in our karate class in Harrisburg. He was an excellent partner to work with and his teacher side would pop out assisting me with moves. I worked with his family as his son Don was one of my instructors, his son, Robert, was one of my partners, his son-in-law was an advanced student and also one of my teachers. I also hold a bachelor's degree in biology which gave us another topic to discuss. This especially came to the forefront as he invited my brother Jack and I to accompany him on trips with some York College students to study marine life in Bonaire, Jamaica, and the Bahamas! He kept an eye on me on my first dives, sharing his experience and safety tips (my first experience with fire coral). He saw that I was nervous flying for the first time, especially changing to the small prop island hopper. He told me not to worry, that if we lost power in both engines, we would just glide in…making me laugh. He was a fantastic person on so many levels, leaving us with moments in our lives we still talk about and will never forget! He will be missed. We are honored to have shared a small part of his life!
Patty Lipsett
November 22, 2021
Dr. D was a tremendous teacher! I had him for a couple of classes in the late 70s and learned more than I ever thought I could or would since his classes were not my major. I'll always remember the anatomy final. In person, with him, naming bones, muscles, etc on a skeleton……… scared to death, but i did it!
JOEL SEEGER
November 20, 2021
It's unusual to meet a person that changes your life forever, but Dr Robert Denoncourt was that magical infulence for me. I enjoyed every moment ever spent in his class and in the field at York College as a biology major. I had the opportunity to travel to Alaska and the Bahamas with him for the most memorable experiences of my life. I've missed his company since graduation in 1982.
He deserved the good life and the good wife that he had! You guys were lucky to have him until 89 years of age.
Rest in peace. May we meet again.
Dr Charles Gerlach '82
November 19, 2021
As one who shared an office with Professor, Dr. D. (Bob) for many years at YCP and also shared team teaching with him in the classroom, lab or in the field (stream), or attending conferences, or consulting with him conducting surveys to provide data for environmental impact statements, or hiking trails in New Hampshire, or working on Committees at YCP, we did many things together. It wasn't always just Bob and I, for my beloved wife Joan and his beloved Ann, also did many things together. Joan and Ann were very active in the Faculty Wives in the YCP family. While both Ann and Bob have completed their experiences on Planet Earth we can believe that they are both now enjoying benefits that are out of this World based on the way they conducted themselves in this World. While they are no longer with us amongst the living on this Earth they shall live with us in our memories and in our hearts and prayers.