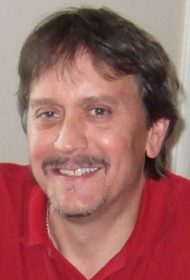 Dr. Raymond William "Bill" Nissley, 64
April 04, 2021
Dr. Bill Nissley entered Heaven on Easter Sunday, April 4, 2021 at age 64, only eleven days after a diagnosis of pancreatic cancer.
Born on June 17, 1956 in the city of Lancaster, Bill was the last of his immediate family. He was preceded in death by his parents, Raymond Leo Nissley and Mary Catherine Trapnell, along with his sister, Dorothy Anne, widow of Ralph Edward Chandler.
President of Lancaster Catholic High School Class of '74, Bill graduated from the Univ. of Notre Dame on an ROTC scholarship. He enjoyed the campus community and traditions and remained a devoted fan of Fighting Irish football. After serving as a Captain in the US Army in Germany and Massachusetts, Bill returned to Pennsylvania to earn his Doctorate in Osteopathic Medicine at Philadelphia College of Osteopathic Medicine, and completed a residency in Family Medicine in Western Pennsylvania before working as a primary care physician in the Orlando Florida area.
Bill returned to his family home in the city of Lancaster to care for his mother until her death in 2010. He then developed his skill as an artist and created cubist abstract paintings. Bill enjoyed long bicycle rides through the county's back roads where he discovered every beautiful view Lancaster has to offer. A lifelong bachelor, he was surrounded by a circle of friends; good conversations and golf were the joys of his retirement.
Survived locally by Margaret Devaney, a maternal cousin, and Sylvia N. Terry, a paternal cousin, Bill also has an uncle, Charles Trapnell of Los Angeles, and many cousins and their children in various parts of the country. Always a source of comfort and support to those he loved, Bill will be greatly missed.
In respect of his wishes, a small memorial will be held at a later time. In lieu of flowers, a donation may be made in Bill's name to Lancaster Catholic High School, 650 Juliette Ave, Lancaster, PA 17601.
Leave a condolence on this Memorial Page
Condolences to the Family
July 14, 2022
You know how a name pops into your head…my wife and I were reminiscing about a trip to Pennsylvania, and I thought of Bill (as he spoke fondly of Lancaster)…I worked in his Orlando office, and sadly found this…he was a great person, terrific mentor, and pretty darn good golfer! Bill, you are resting with God…and you will always be remembered.
Ronald Stewart
January 12, 2022
I just learned of the passing of Dr. Bill. I saw Dr.Bill several times In Winter Springs Fl. One time really stands out. I was stressed out about starting a new job and developed a bad case of hives. Not only did Dr. Bill treat me but it was how kind he was. As I was exiting Dr. Bill was on the phone, he put the phone down and said to me" don't worry William, what I gave you will clear up those hives.He also said " you're going to do just fine at your new job. I'll never forget his kindness. God bless Dr. Bill. May he Rest In Peace.
October 04, 2021
OMG. Bill and I were roommates @ Notre Dame and remaining friends on and off for many years. I only spoke with him about 9 months ago. This is so tragic. He was taken too soon. I will miss him. Sorry Bill that I didn't come out to Lancaster to visit you one more time. Rest in peacee. You're now with you mom and Dad and sister now.

Your friend,
John O.
May 20, 2021
It was such a pleasure to work with Bill over the years and I will always remember him as being such a kind soul. He will truly be missed. Fondly, Lisa Troupe
May 03, 2021
Rest In Peace Bill. Ann Pautler, Class of '74
April 17, 2021
Fran Sirico-Kelly and Jack Kelly
the sad news is out. Bill was a very nice guy and good Doc. He was a good classmate. RIP
Fran Sirico-Kelly
April 15, 2021
Between "Wall Ball" and punting competitions on Reynolds schoolyard (way back when, before it became a parking lot…), we had many a good time in our youth. Go find Joel, he'll be waiting to see you!
John Zerphey
April 11, 2021
I'm so very sorry to hear about the passing of Bill. He was such a great guy in medical school and a dear friend. May he rest in peace. My condolences to his family.
John Moore
April 09, 2021
My dear friend Bill may you Rest In Peace. Love,
Mary Lynn Hobday DiPaolo
April 08, 2021
RIP Billy, I have known Billy for over 50 years, he was my childhood friend from Sacred Heart School to LCHS. He always hung out with my brother Joel Pugliese, Patrick Bostick and John Zerphy. They were always together. I will miss Billy coming over and hanging out with our family and in the summer time porch sitting and talking about everything under the sun . Now my brother has a new friend in heaven and they can once again hang out !!!!!! And this is an inside joke that only Billy and Joel and Patrick will understand , Hand breaks Billy , hand breaks!!!!!! You will be missed
Ann Pugliese-Burkhart
April 07, 2021
Rest in peace my classmate
Maggie Bankus Ernst
April 07, 2021
Bill was a classmate of mine for 12 years, at SHS and LCHS. He was so bright and gifted in art as well. Bill was a friend to many and will be remembered as a special classmate who served as a strong leader. He will be missed.
Helen (Balasavage) Long
April 07, 2021
RIP Peace my friend. Until we meet again . Sue Segro Herr💔💔
April 07, 2021
Very sad to hear of the passing of Bill. He was a best friend and confidant to my brother Mark Hoseley. RIP
Valerie DuBois