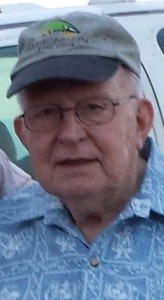 Dr. Karl F. Arbogast, Jr., 88
January 19, 2015
Dr. Karl F. Arbogast, Jr., 88 of Luther Acres, formerly of Wilkes-Barre, PA passed away Monday, January 19, 2015. Born in Wilkes-Barre, PA he was the son of the late Karl F. Arbogast, Sr. and the late Elsie J. (Brandon) Arbogast. He was married to Charlotte (Muschlitz) Arbogast for over 60 years.
He graduated from Forty Fort High School in the early 40's and then was a graduate of Lafayette College in Easton, PA and received his Doctorate in Dentistry from the University of Penn Dental School. After working in a private practice, Dr. Karl went on to work for the VA Administration in Wilkes-Barre for over 21 years.
Karl was a lifetime member of Harvey's Lake Yacht Club in Wilkes-Barre and was a 40 year member of the Lancaster Torch club and previously served as secretary for the Wilkes-Barre Torch club for over 25 years. He was also on the Board of Health at the Kirby Health Center in Wilkes-Barre.
Karl was a member of the Kingston Masonic Lodge No. 395
He proudly served in the US Navy in WWII aboard the USS Lexington during the Pacific theatre campaign.
He is survived by two sons, Karl F. Arbogast, husband of Susan of Plains, PA and Mark A. Arbogast of Lancaster. In addition to his parents, he was preceded in death by a sister, Jeanne A. Hiles.
Funeral Services will be held at 11AM on Monday, January 26, 2015 in the Good Samaritan chapel of Luther Acres, 600 E. Main St, Lititz, PA 17543 with Chaplain Walt Cleckley officiating. Friends will be received one hour prior to the service at the chapel on Monday. Interment in Union Cemetery, Slatington, PA on Tuesday, January 27, 2015 at 11AM. In lieu of flowers, contributions may be made to Luther Acres at the above address.
Leave a condolence on this Memorial Page
Condolences to the Family
April 20, 2015
I just heard about your loss yesterday from my sister. My parents, Rita and Charles Mathews, lived next door to Karl in the cottages at Luther Acres. He was a very kind man, and helped them a great deal. I saw him when visiting from Utah, and was glad that they had him for a neighbor. He will be missed
Louise Mathews, Salt Lake City
February 02, 2015
Mark, So sorry to you and your family Ann and Charlie Dugan
January 28, 2015
I am so sorry for your loss. I worked with Dr. Arbogast many years ago as I began my VA Career. He was a mentor to all. God Bless.
Sally Kaszowicz
January 26, 2015
Mark –
So sorry to hear about your Dad's passing. May the memories of his life sustain you at this difficult time.
Heidi Reyburn – Lititz, PA.
January 24, 2015
So sorry for your loss. Karl helped me restore a Comet & taught me a lot about boats & wood working. A great guy always ready to help.
J. Aaimo
January 23, 2015
Dear Charlotte, I was so sorry to read Karl's obit in the Wilkes-Barre Times Leader. It brought back memories of the good times we had at house parties and at Dental Society functions. Karl was such a sweet gentle man. Dave (who passed away in 2005) and I were so fond of you both. My thoughts are with you. Fondly, Naomi Meyer
January 23, 2015
Sincere condolences Micky Nieman. Harveys Lake Yacht Clubjmc
January 22, 2015
Karl & Mark,
Sorry to hear of the passing of your dad – I had not seen him recently, but a fellow Lafayette grad, successful dentist who assisted vets at the VA for 21 years, repaired my sailboat after being "stoved-in" while rebuilding a canoe once owned by a Governor of Maine, a caring husband, and a WWII vet having served on the "Lady-Lex" is something sure to be proud of. My most sincere condolences…
George Conyngham – Shavertown PA
January 22, 2015
Dear Charlottte: Our thoughts and prayers are with you and your family. Karl was a wonderful person and dentist. My mother, Ruth Gallagher, his cousin, was so fond of him as were we. My mother's been gone now 9 years and it never gets easier as I miss her so much. Take care.
Love, Ellen Zimich
Mulligan9@aol.com
January 22, 2015
Karl & Mark,
My heartfelt sympathy on the loss of your father. What a wonderful legacy he left. Brings back fond memories! Sincerely, Kathy McManus
January 22, 2015
Dear Karl and Mark,
I am so sorry to read of your dad's death. After your folks moved to Lititz, he and I emailed off and on for a while. I loved keeping in touch. He and your mother were such good friends to my parents. They loved you and were so proud of both of you. Know that you are in my thoughts and prayers now and in the days and weeks to come. Remember the good times you all shared.
Sincerely,
Camilla Ayers (camillayers@hotmail.com)
January 22, 2015
Mark,
Our codolences to you on the loss of your father.
Trudy & Dave
January 22, 2015
Karl, I am so very sorry to learn that your dad has passed away. May he rest in peace. My thoughts and prayers are with you.
Hugs, Joanie Brenton
January 22, 2015
Our thoughts and prayers are with you now. Millie & Dick Hogoboom
Visitation

Monday, January 26, 2015
10:00 AM - 11:00 AM
Good Samaritan Chapel of Luther Acres Retirement Community
600 E. Main St.
Lititz, PA 17543

Map and Directions

Services

Monday, January 26, 2015
11:00 AM
Good Samaritan Chapel of Luther Acres Retirement Community
600 E. Main St.
Lititz, PA 17543

Map and Directions