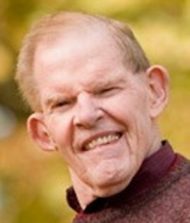 Dr. Haddon W. Robinson
July 22, 2017
Dr. Haddon W. Robinson, former President of Denver Seminary and Gordon-Conwell Theological Seminary, noted teacher and champion for Biblical preaching, went to be with the Lord on July 22, 2017 after a prolonged battle with Parkinson's Disease.
Born on March 21, 1931, Haddon grew up in Harlem, in New York City. He received a Bachelor's Degree from Bob Jones University, Master of Theology from Dallas Theological Seminary, Master of Arts from Southern Methodist University and a Doctor of Philosophy degree from the University of Illinois. He was also awarded honorary degrees from Gordon College and McMaster Divinity College.
With a burden to help pastors learn how to communicate God's truth effectively, Haddon taught preaching for 19 years at Dallas Theological Seminary. He was recruited as President of Denver Seminary in 1979. Robinson led the school 12 years before Gordon Conwell Theological Seminary offered him the Harold John Ockenga Distinguished Professor of Preaching Chair. Subsequently, he served as president at Gordon Conwell. During the course of his long and distinguished career, he also served as Associate Pastor of the First Baptist Church in Medford, Oregon, Instructor of Speech at the University of Illinois, and General Director of the Christian Medical and Dental Society.
In 1996, a Baylor University poll named Haddon one of the "12 Most Effective Preachers in the English-Speaking World." In 2006, Christianity Today recognized him in the top 10 of its "25 Most Influential Preachers of the Past 50 Years." In 2008, he received the E.K. Bailey "Living Legend Award." In 2010, Preaching magazine named him among the "25 Most Influential Preachers of the Past 25 Years."
Always looking for creative ways to reach more people for Christ, Haddon was drawn to broadcast media. With Mart DeHann and Dr. Alice Mathews, he hosted "Discover the Word," for over 23 years. This radio program broadcast 600 times daily to two million listeners throughout North America and other nations.
A prolific writer, Robinson wrote more than a dozen books, including his hallmark text, Biblical Preaching, still used by seminaries and Bible colleges around the world. His articles appeared regularly in Christianity Today, Bibliotheca Sacra, Moody Monthly, The American Lutheran Magazine, Leadership, Decision, and in the Our Daily Bread devotional. He edited the Christian Medical Society Journal and the Theological Annual, and served on the editorial boards of Preaching and Christianity Today.
Despite the great demands on his time, his family always felt he put them first. Haddon is survived by Bonnie, his devoted wife of 66 years; his daughter, Vicki Hitzges, a motivational speaker; his son Torrey Robinson, Senior Pastor of the First Baptist Church of Tarrytown, New York, Torrey's wife, Sue, and two grandsons, Carey William and his wife, Lindsay, and Carl Haddon and his wife Joanna.
In lieu of flowers, the Robinson family requests that memorial gifts be given to the Haddon Robinson Chair of Preaching at Denver Seminary in Denver, Colorado or the Haddon Robinson Center for Preaching at Gordon-Conwell Theological Seminary. A memorial service to celebrate Haddon's life is scheduled for September 7, 2017 at 7:00 pm. at the chapel of Gordon-Conwell Theological Seminary in South Hamilton, Massachusetts.
Leave a condolence on this Memorial Page
Condolences to the Family
June 07, 2018
I was going to reconnect with this great man today from my correspondence he and I had when I did ministry in Spokane, Washington some years ago. When I looked online for his address, I discovered he had already transditioned to Heaven! Thanks to his wife and family for sharing him with so many of us "little unknown people"!
Chaplain Ed Udell, Sr.
Spring, Texas
edudellsr5@gmail.com
www.bridgeministriesinternational.org
December 24, 2017
Haddon was an inspirational speaker for several reasons, including his ability to teach us the finer points of bible study. I will miss his power voice for Christianity.
D Douds

November 03, 2017
Haddon Robinson was the president of CBTS when I began there right out of Bible College in 1979. It was a difficult task to follow Vernon Grounds, but Dr. R was his own man. I haven't been in the preaching ministry, I'm a counselor, but I still remember one line from a sermon he preached in chapel. The gospel story about the good Samaritan. The point he made to the question,"And who is my neighbor?" He kept coming back to the point of his sermon – "Your neighbor is anyone whose need you see; whose need you're in a position to meet." He gave me some excellent counsel once through a letter. I'll never forget him. Although he was not a counselor I'd choose him over any counselor I know today. He's always been such a man or character and is so Biblically oriented and directed. I will miss him. I used to love to listen to his radio Bible class with Alice Matthews and Mart DeHaan. Dr. Robinson was such a wise man of the Word. Condolences to the Robinson Family. Rick McKain CBTS grad in 1982.
November 02, 2017
October 21, 2017
Dr. Haddon W. Robinson was extremely well liked and admired by the students in my four yeaqrs at Dallas Theological Sewminary. He always had time to talk aand help students with their problems, both personal and seminary studies. His parents gave him the first name of Haddon becasue of the great Englsih Bible teacher, Charles Haddon Spurgeon. It was my privilege to know Dr. Robinson. (1963 – 1967)
Respectfully, Adam Wm. Fisher, M.Th. ( B.S., M.Ed., Ed.D., Ph.D., Ph.D.)
November 02, 2017
July 30, 2017
With heartfelt sympathy and prayers. We are thankful for you, Bonnie, and Haddon, as my
Youth Director in Medford. Letting me babyset Vicki and Torrey was an honor. As one of
Harold's Proffessors at Seminary, Haddon, gave us wise training and direction.
Because of Jesus, Harold and Roma Brown
October 28, 2017
Haddon Robinson was a great inspiration for me in my early days of preaching. His influence still marks my speaking. When I listened to his sermons, his biblical insight and his clear and funny communication showed me how preaching God's Word can touch people. Thank you, Haddon. – David Morehouse, The Journey Church, Moncton, New Brunswick, Canada.
October 14, 2017
Dr. Robinson was the man who marked my life more than any other man for preaching God's Word while I was a student at Dallas Theological Seminary (class of 1970). – David R. Bancroft, D.Min.
October 12, 2017
Dear Bonnie and Family,
It was my privilege to be a student in Dr. Robinson's very last DMin course. He also did me the honor of asking me to serve as the song leader for our cohort. I remember his love for the old hymns, and that "When I Survey the Wondrous Cross" was especially meaningful to him. Haddon would lean back his head and narrow his eyes as if he were singing to the Lord in Person. It is a blessing to know that now he can.
I remember Haddon's last class lecture and how we gathered round him to lay hands on and pray for him. It was one of the great privileges of my life, second only to simply being in his class and soaking up his wisdom, humor and immense kindness.
He told us that a man in his position (at that time) thought of two main concerns. The first was the question of whether or not he would end up alone. The other was whether or not he would be forgotten.
I know that all of you, especially his dear love Bonnie, took care of the first. And it is my pledge to you that in every way possible, I will do my feeble best to take care of the second.
May the Lord bless you and keep your family. And may the light of God's glory shine on Haddon now and forever.
Jonathan Boling
Winston-Salem, NC

October 06, 2017

Dear Robinson Family,
I had the privilege of "knowing" your father through his radio ministry, Radio Bible Class. I was drawn to his honest and frank discussions of God's work in our lives. The Word of God always came alive in practical ways when I listened in on Alice, Mart and Haddon. I still remember him beginning one of the programs with "Have you ever wondered if Jesus is ever going to come back? It's been a long time…" I thought, "Why yes I have but I never thought anyone would have the guts to say that out loud." That was his gift, he was willing to be vulnerable, to say what we were afraid to say. He brought it into the light of Christ and in doing so dispelled the power that these thoughts had over us.
I felt like I lost a dear friend when he had to leave the radio program. I feel a deep sadness for you at this time but great joy in knowing where he has gone. Praise be to God for His great work through this beautiful life. I was privileged to hear God work through Haddon's words for many years and continue to be blessed by it.
Sue Tilden
October 01, 2017
Dear Robinson Family,
I just today discovered that your Husband and Father "Haddon" past away this past July.
I first discovered Haddon when listening to preaching messages via the Moody Bible Institute – Prooclaim channel on the internet, I think it was in the year of 2009 or 2010. I am Kentucky country boy and was able to very easily relate to and connect with Haddon's method of preaching and was so very blessed with his insight and straight forward preaching. I could go on and on for a long time about how the many messages that I have listened to from that time to now have blessed and help me.
I do have a heart that is heavy now but I will continue to listen to Haddon's messages and allow my spirit to be lifted as I am sure he would want.
My condolences to each of you and yours.

PS
I listened to the Memorial Service today. I was so very blessed to be able to do this.

Thank you,
Ron Wolfe

August 21, 2017
Bonnie, Vicki, Torrey and the Robinson Family,
Haddon transformed my life and my preaching and I am so grateful. I read Haddon's Biblical Preaching book as a young chaplain on Okinawa, serving as a Marine Corps chaplain. I studied with Haddon as a DMIN student years later and got to meet Bonnie and. Vicky. I was living in Briarcliff Manor when Haddon spoke tomme about Torrey and I read Torrey's book. I still recall Vicky coming to our DMIN class, I sat next to her and saying in her dialect: Rejoice in the Lord Always, and I say it again .. REJOICE!
I am privileged to be able to say I was alive when Haddon Robinson was alive and how grateful i am to have heard his voice, listen to his opreaching and be a student of his preaching. I hope the Robinson family will find comfort in knowing Haddon has gradutaed from the Church Militant to ther Church Victorious. And that you will finmd joy in knowing he has transformed the lives of so many, and certainly me.
The Rev. Dr. Bernard R. Wilson DMIN 2004, CAPT USN (ret)
Senior Minister, Norfield Congregational Church
Weston, CT 06883
July 31, 2017
Bonnie, Vicki, this last week has been filled with wonderful memories of times we have had enjoying you two and Haddon and his inspirational preaching. He was truly a humble man that made everyone feel important. You all have enriched our lives and we thank you and love you.
Eulalie and Jim Hartman
July 31, 2017
Dear Robinson Family,
I wanted to write and let you know you are in our thoughts and prayers. I was a student of Dr. Robinson's at DTS and met him (and Bonnie) several times outside the classroom both before I attended DTS and after. Dr Robinson was always gracious and generous with his time and encouragement. The first time my wife and I heard Dr Robinson preach he spoke on the book of Ecclesiastes. The message was over an hour. My wife 45 years later still remembers it and says it was like 20 minutes! May God bless you in your time of loss.
In the light of His glory and grace,
Douglas & Connie Hornok

July 31, 2017
Bonnie, Vicki, Torrey (the whole family)
I struggle to articulate how thankful I am for the impact your husband, your dad has had on my life. I cannot open up the Scriptures and prepare to speak, without hearing his voice. His encouragement, his challenge, humor, and his counsel continue to hone my speaking gifts as well as my walk with Christ. My ministry and family bear the marks of his time and investment. I am thankful to our God for the privilege of sitting under his guidance; seeing his love for all of you (especially you Bonnie); and experiencing the opportunity to know a man, who above all else, knew the transforming power of Christ and was not ashamed to let it be seen. I miss him. Thank you for sharing Haddon with us. May God Keep us faithful!
Ramona Spilman
July 29, 2017
Bonnie, Vicki, and Torrey,
Know our continued love and time with HIM for you all as we await with you THE GRAND REUNION with Haddon.
Kathy and Joe (Ludders)
July 29, 2017
Dear Robinson family,
I really can't put into words what Haddon has meant to my life and ministry. I just want to thank all of you for sharing him with us. Like so many others, I would not be the pastor or preacher I am today without Him. I have often wondered why I had such help, such privilege. We are all indebted to our Lord for how He loved us through Haddon. I am so grateful we will see him again.
Bill Goans
July 28, 2017
Dear Sis. Robinson: Please accept my condolences as well as those of my family and the congregations who have unknowingly been blessed by your husband's ministry at GCTS! Not only did he give perspective to the exposition of the text, he also showed us how to preach it. I thank the Lord for Dr. Robinson's influence and inspiration.
Rev. Lorne Bean, Richard Allen AME Church, St. George's Bermuda
July 28, 2017
Jul 28 2017
Dear Bonnie:
Together with my wife May, I send you and your family our deepest condolences. We first met you and Haddon in 1992 in Singapore when Haddon was invited to minister to pastors in this region. We last met in the fall of 2001 in South Hamilton (G-CTS) where I spent six months on my D.Min. dissertation under Haddon's supervision. From the time we knew both of you, we have been richly blessed by your friendship, and love and care expressed to us in so many ways. To me, Haddon has been an inspiring preacher and teacher, and a humble and sincere servant of God. I am sad that he is no longer with us.

I recall how God had providentially brought me to learn so much from Haddon. I am deeply grateful to God for using Haddon to teach and encourage me through his Expositapes ministry when I was a younger pastor in the early 90s. Subsequently he even granted me the opportunity to audit a D.Min. Expository Preaching seminar at Denver Seminary. We chanced upon each other again in Dallas Seminary campus in late 1998 when May and I were students there. Again he encouraged me to enrol in the D. Min. program in G-CTS.

Since the time of my calling in 1985, Haddon has made the most indelible mark upon my life in expository preaching, and in teaching homiletics in the seminary setting. I am indebted to God for using Haddon to impact me from the beginning of my ministry till today. I praise God for using both of your lives to show us the fine example of faithful, loving, encouraging, and supportive husband-wife relationship. And I praise God that Haddon has left behind a legacy that lives on in the lives of so many people.

With grateful memories,
Gary Choong
Singapore

July 27, 2017
I just want to let the Robinson family know that I am praying for them. I was in the first cohort in the Haddon Robinson School of Preaching and really enjoyed the classes that Dr. Robinson taught. I must confess that these classes changed the way that I preach the Word to my congregation in Terre Hill and they have benefitted from his ministry as well. Dr. Robinson effected the lives of literally millions because of his teaching and writing. I want to thank Torrey and the rest of the family for letting us borrow him so that we can learn from him.
Blessings,
Pastor Kevin Kirkpatrick, Terre Hill PA Haddon Robinson School of Preaching '08
July 27, 2017
Dr Robinson marked my life and ministry during the years I had at DTS from 1976 to 1980. Though I didn't get to know him closely, I was impacted by his passion to teach the Word clearly — so it stuck!! Our prayers are with all of you as you celebrate his life and ministry and grieve his homegoing. David Muchmore
July 26, 2017
4 years after I finished the D.Min. program at GCTS our oldest boy passed away. Even though Dr. Robinson had temporarily assumed the presidency of the seminary he still found time to write my wife and I an incredibly touching as well as encouraging note. One of the joys of my life was returning to the National Preaching Conference and touching base with him as well as the other professors at Gordon. I will always be grateful for his encouragement to me as a preacher. I've learned to not count my critics but to weigh them. What Dr. Robinson said still continues to have a profound influence on my ministry and, more importantly, my walk with our Lord. Like Abel, though he is dead, he still speaks (Heb. 11:4). Thank you Lord for the privilege of learning ministry and life from this man. And thank you Lord for his family that was willing to share him with so many of us.
July 26, 2017
Dr. Haddon Robinson had the greatest impact in my ministry of preaching. I was honored to be in his last Preaching DMin cohort. His last commencement address before his retirement was at my graduation. My church had the honor of hosting him as the preacher for our Adventures in Faith weekend, and he was in my home. What an honor! He will deeply missed. The best way to honor him is to apply what we have learned from him. Condolences to Bonnie and the whole family. Pastor Paul Muresan

July 26, 2017
Dr Haddon Robinson has impacted my life tremendously in 2 areas, ministry and life.
He is a master in fixing my wobbling preaching skills in my early climb as a preacher. He is always ready to break to fix and till now every piece of advice is a living treasure in my heart. His sermons are more than a product of eloquence, wisdom and hardwork, they tell of his life in Chirst and his depth conviction of reviving His church through preaching and proclamation.
His life has shaped my view on ministry. I have not forgotten his practical holiness expressed in full view when he opens his Bible at 6am daily in the hallway of a retreat, leaning towards the light next to him, reading, meditating and drinking from the wisdom from the Lord. He brought a message during my installation service that strengthens my conviction and encourages my heart.
His life is an expression of God's majestic redemption, a wonderful redeemed life and a worthy servant of God.
I miss him dearly,
Timothy Chan
July 26, 2017
Julie and I are in India, but our hearts are there with you, Bonnie! We all loved Haddon and I will always be indebted to how you both helped us at the start of my first sabbatical. Later, as we sparredand collaborated on the Gordon-Conwell faculty will be cherished memories. The wonderful conversations, his wise counsel when I became President of Asbury, and his infectious sense of humor will also be with us. He may have given us the "big idea" but to us, He was the "big man" – the giant of the faith who helped us at every turn. He will be so missed!
Tim and Julie Tennent
July 26, 2017
Torrey,
I knew your dad only through the phone conversations we had when I was coordinating the study week at Covenant Harbor for several years, but he always had encouraging words for me and quips that would make me laugh. I felt as though I got a little glimpse into who he was and could see why he was loved by so many. I'm sorry for your loss and grateful that we grieve not as those without hope but with the wonderful assurance that "the best is yet to be." Raydell Tedder – Greenville, SC
July 25, 2017
Dr. Robinson was one of my favorite professors; Obviously, I'm not alone in those feelings.
http://www.preachingtoday.com/skills/2017/july/honoring-haddon-robinson.html
My preaching still has his fingerprints all over it. I write "subject" and "complement" at the top of the first page of each of my manuscripts (something he taught us). He was one of the reasons why I went to Gordon Conwell. May the Lord bless you, his family, during this time of loss and may you sense the comfort of the Holy Spirit. (John 14:27)
July 25, 2017
As a DMin mentee of Dr. Robinson, I can confidently say no one has impacted my preaching and public communication more than him. I was 27 years old when I started coursework, and on my first day meeting this 77 year-old modern-day pillar of faith, he tells us to throw away our notes, get rid of all pulpits, and that we needed to preach more creatively. And that was just a warmup for what was to come…
July 25, 2017
May God grant you all comfort in your time of loss, yet joy in the hope of the resurrection through Christ our Lord. I was one of so many of his students (in the late 90's, visiting from Andover Newton through BTI) and Dr. Robinson's class was invaluable. Of course I felt as if I already knew him well from years of listening to Radio Bible Class!
Bradford Townley
July 25, 2017
It has been one of the greatest privileges of my life to not only say that I studied under Dr. Haddon W. Robinson, but that I also had him as a mentor and a friend. I offer Bonnie and the family my sincerest sympathy and prayers. Pastor Steve Speichinger
July 24, 2017
I served on the board of Denver Seminary while Haddon was President. He was an incredible encourager and helped shaped my leadership style in many ways. Our love, sympathy, and prayers to Bonnie and the rest of the family. Haddon's legacy will live on in my life as well as many other lives, until eternity. Sincerely, Gary Gulbranson
July 24, 2017
I am one of thousands of preachers who have been impacted by Dr. Haddon Robinson. When I first went to seminary, I was an undergraduate student. I told myself "if I ever get to study with Haddon Robinson I'm going to do it." Studying with him at Gordon-Conwell in the doctoral program was the capstone experience of all the education I received before.
While the education experience was enough, the amazing thing I remember are the personal touches of Haddon and Bonnie. Even though they had just met me they made me feel like they had known me my entire life.
My prayers are with the Robinson family. Haddon Robinson did it the Jesus way. He discipled where it mattered that many would be saved.
Alan Stoddard
Ruidoso, New Mexico
July 24, 2017
I also was a student of Dr. Robinson at DTS. His attention to economy of words left an indelible impression. Pulpit time was not to be wasted. I also recall his invitation to a small group of students to sit in his home on the carpet and just talk about preaching. He gave living proof to the adage "you can impress people from a distance (which he certainly did by preaching) but you impact up close. A truly great man and superb mentor. He will be remembered. Gene Wood Anaheim Hills CA.
July 24, 2017
It was my privilege to be one of Dr. Robinson's D.Min. students. My time in with him was one of the most encouraging experiences of my life. He was remarkably gifted and accomplished in many areas! What I liked most was the closer I got to him, the more I saw a life consist with his profession of Faith. Countless thousands benefit from what he taught so many of us. One of his axioms comes to mind now, "Less is more." So with that, I offer prayers for God to give special grace to the family and friends of this man who was a such a blessing to so many!
July 24, 2017
It was difficult to get to sleep last night after reading of Haddon's passing away. Though Ginger and I have had no contact with you and him for so many years, you have always been in our thoughts and prayers, remembering the good times we had with you. We are thinking of you now as well asking our Lord to give you the promised grace to help in the time of need. Chick Sell
July 23, 2017
I met Haddon Robinson for the first time as a young pastor in a D.Min. program at Denver Seminary in 1990. Not only did he change the way I understood and approached the homiletical task, but he took time to meet with me personally on several occasions in those years of study. He lived humbly and wisely before God, out of a deep appreciation for the grace of God in Christ. His love for the gospel and preaching has indelibly impacted my life and ministry. I have had the occasion to meet with him intermittently thoughout the years and each encounter has resulted in a greater love for Christ and the preaching of the Word. I visited him for the last time at Willow Valley about two years ago. Although his health was waning, he continued to demonstrate insight about life, ministry, and preaching. He will be greatly missed by the evangelical community. May God be praised for giving us such a gift.
Doug Finkbeiner
July 23, 2017
I want to express my condolence to the family of Haddon Robinson. While departing this world is sure for us all it non-the-less hurts each of us deeply. Dr. Robinson was my preaching professor at Dallas Seminary and I, along with my fellow students, learned about The Big Idea. We loved to listen to his sermons because he preached what he taught. What a great debt I (we) own to this unique and passionate man. May the God of all grace sustain your family as you grieve his departure to glory. The hope of the resurrection to eternal life gives this hope-a hope that does not fade but rather grows all the more when those we love and respect go on before us.
July 23, 2017
I had the privilege to take care of Dr. Robinson as a nurse at Willow Valley. My husband is studying to be a preacher at Fruitland Baptist Bible College and they are using Dr. Robinson's book for Homiletics. A very kind and loving man with a super sweet wife. I have truly been blessed to have known him. My prayers are with the family. Until we meet again in Glory. Lorrie Johnson, LPN
July 22, 2017
I am grateful to Dr. Robinson for his encouragment and wisdom and teaching. I attended Denver Seminary b/c he was there. May his legacy of communicating the grace of Jesus live on for generations.
David Bateman, Charleston, SC
Services

Thursday, September 07, 2017
7:00 PM
chapel of Gordon-Conwell Theological Seminary
130 Essex St.
South Hamilton, MA

Map and Directions