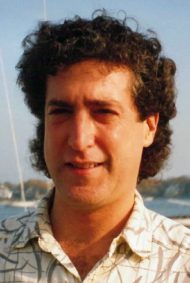 Dr. David M. Loss, 68
May 23, 2021
Dr. David M. Loss, 68, of Leola, passed away peacefully at his home on May 23 surrounded by his loving family. He was born in Lancaster, PA to the late Tobye and Ralph Loss. David graduated from McCaskey High School in 1970 before continuing his education at Elizabethtown College, graduating cum laude in 1974. David then graduated with honors, at the top of his class, from Philadelphia College of Osteopathic Medicine in 1978.
David retired in 2014 after practicing cardiology for 32 years with The Heart Group at Lancaster General Hospital. David's introduction into medicine was as an orderly at Lancaster Osteopathic Hospital with David Mumma, his friend of 50 years who was like a brother to him. After graduating medical school, David began an internship at Lancaster Osteopathic Hospital from 1978 to 1979, and completed an internal medicine residency from 1979 to 1981. Following his internship and residency, he then pursued a cardiology fellowship at the Deborah Heart and Lung Center from 1981 to 1983. David's foray into medicine started with a multispecialty group with Dr. Vincent Glielmi and Dr. Jeffrey Levine, who became a very close friend. In 1989, he started The Heart Specialists with Dr. Scott Deron at Community Hospital of Lancaster, who also became a lifelong friend. In 1996, The Heart Specialists merged with CVAL to become The Heart Group, where he practiced with and maintained close friendships with John Slovak, Neil Clark, and Rolf Anderson. He practiced interventional cardiology until 2004 when he stopped due to illness.
David had many passions in life that he enjoyed, but family was of the utmost importance to him. His two pugs, Buster and Roger, were also close to his heart. In 1993, he married the love of his life, Kathy. They enjoyed traveling the world together, with their favorite trips including Scotch School in Scotland, seeing The Galapagos, walking with gorillas in Rwanda, and an animal safari in Tanzania. He loved photography, including his own collection of tens of thousands of photographs taken during his life. He was an avid sports fan of the San Francisco Giants and The Philadelphia Flyers. He was his children's biggest fan, and always attended their hockey and soccer events and loved playing golf with his sons; above all he was committed to anything they needed. He was a voracious reader, and a study of all things history related. He was immensely proud of his Jewish heritage. David loved music and collecting art from around the world. David was a true people person, in his practice and his personal life; he could make friends with anyone.
David is survived by his wife Kathy, and his four children: Derek, Erik and his spouse Rachel, Helen and her spouse Devin, and Matt and his spouse Laura. He was a grandfather to seven grandchildren: Ethan and Liam, Noah and one on the way, Blake and Luke, Eloise and Axel. He is also survived by his sister, Beth and her spouse Ken and their children Ian, Andrew and Conor, and his brother Mike and his spouse Marci. Friends will be received by David's family on Sunday, May 30, 2021 at the Charles F. Snyder Jr.
Funeral Home & Crematory, 3110 Lititz Pike, Lititz, PA from 12:30-2PM, with a memorial service and time of sharing to follow at 2:00 PM. Those attending are encouraged to wear black and orange. Black to mourn his passing and orange, his favorite color, to celebrate his life. In lieu of flowers, please make contribution in David's memory to the Central PA Food Bank, 3908 Corey Rd., Harrisburg, PA 17109.
Watch the tribute video
Leave a condolence on this Memorial Page
Condolences to the Family
July 11, 2021
Dear Kathy and family, I am sending my deepest condolences upon hearing about David's passing. I don't know if you remember me but you and David came for an Indian meal in our home when I was a teenager. He worked with my mom and before that, my mom's sister. When I was a young married woman in my 20's he was my neighbor at Greenfield Estates. I remember him speeding into the complex super fast with his fancy green Jaguar (and his British plates), so characteristic of him at that time.
Educationally, he was a top honors student. Professionally, he was an excellent Cardiologist and earned deep respect from everyone. When I knew him in PA, he was very confident and had great charisma which made him a little intimidating to approach, yet he was also friendly. He was a Man's man. Women appreciated his dark curly locks and the Men were in total awe of him and wanted to be just like him (my husband at the time included)!
Dr. Loss graduated from Elizabethtown College in 1974 and I graduated in 1992. What I still find fascinating is his diverse interests. I always thought of Science and Medicine on one side of the spectrum and the Arts at the polar opposite. He managed to bend that spectrum and excelled in both. I don't know how he did it, but if anyone could, it was Dr. Loss.
I was delighted when he reached out to me recently. It was after his mother, Tobye, passed. He found a college Anthology paper she kept in her personal belongings. I wrote that paper 30 years ago and I don't know if he was aware I wrote it at the time. I interviewed and wrote about his mother who was a remarkable woman with so much love in her heart for her children. That paper meant so much to him he said he would cherish it until the end of his days.
I know 2 generations have passed and I can tell David passed Tobye's same love and passion of family to you, the kids, grandkids, and pets.
He will be so deeply missed.
Sujatha Puppala ❤️
July 11, 2021
Condolences to Kathy and family. The obituary captures the essence of Dr. Loss completely. He was truly an amazing person and will be missed by many. My family, Jagadeesh, Shaym, Sujatha, and I have always enjoyed his friendship. I always enjoyed working with him as nurse to doctor. Somehow I could never call him David… he was always Dr. Loss to me with all due respect. We loved him.
Doris & Jagadeesh Puppala
June 07, 2021
Please accept my most sincere sympathies for your loss . I worked with Dr. David Loss at Community Hospital during the three years of my internship and family practice residency. I always had a special interest in cardiology and Dr. Loss was always willing to teach. I used the things I learned from him in my family practice over the past 30 years! I was glad I had the opportunity to see him at the Jewish Food Festival a few short years ago. He was already retired but I enjoyed the opportunity to reconnect . There will be a huge void in many lives; he touched so many in a positive way. Deb Hagey D.O.
June 07, 2021
My sincere condolences to the Loss family. I was shocked and saddened to learn of his passing. My respect for Dr. Loss as a phenomenal physician and an overall great guy comes from both my professional experience- having worked next to him at Community Hospital as a nurse intern in the ICU years ago and the amazing care he provided to my sister Cindy, who developed a rare heart condition in the early 1990's and was his patient through his retirement in 2014.
I remember him during my nurse internship as being helpful to us as students, easy to approach, kind, funny, always conveying a sense of empathy and compassion to his patients and families. The nurses enjoyed working with him- and he respected nurses as equal colleagues when facing difficult cases requiring collaborative solutions. He was well-liked at Community, and even after I started my first nursing position at Community in 1995, he was a smiling familiar face, respected and appreciated.
As a family member of his patient, he was equally as patient, kind, informative and caring- my sister's heart condition started as an emergency in 1994 when she was just 29, and her condition was quite the "mystery" to the heart surgeon and specialists for some time. I always felt confident that Cindy was in the best, most capable hands with Dr. Loss managing her cardiac care over the last 20 years. I also appreciated Cindy had a great rapport with Dr. Loss and appreciated his sense of humor, his caring disposition and his listening ear.
It sounds like he lived well in his 68 years, with family, interests, hobbies, travels and friends. A well-respected career as a physician, loving husband, father, grandfather, friend and all-around great guy. But it still just seems much too soon for him to go……
He is missed. May his memory be with you, comforting you always. I am so grateful to have known him, worked with him and watched him care for so many folks, including my dear sister, as a trusted physician and a great human being.
Sherry (Hutto) Williamson
June 07, 2021
I had the honor of meeting Dr. Loss after being diagnosed with a rare form of heart disease in 1994. Fast forward to 2001 he and I were invited to appear on WGAL to do a show on the topic "Women with Heart Disease". Due to having further heart complications, I remained in his care until 2014. Dr. Loss was pleasant, compassionate, supportive and very thorough- doing all he could to protect and improve my heart condition. He was the epitome of an excellent cardiologist. I will always miss him at The Heart Group. His passing is shocking and leaves me filled with great sadness. He was truly an awesome human being whose zest for life ended way too soon. My heartfelt condolences and prayers go out to his wife Kathy and the entire Loss family.
Cindy Hutto
May 31, 2021
My condolences on your loss. Your Husband was a wonderful doctor always putting his patience in a restful mood of hope. He was held in esteem by The nursing staff at Community Hospital taking our teasing with a good chuckle.
Linda M Morrison LPN.
May 30, 2021
Very sad to hear this. I was one of his classmates from Lafayette thru McCaskey. He was a kind, witty, gentle soul. We connected more recently, & when my husband passed last year, he said to me "I'm sorry for the loss of the love of your life". And now I say to you: "sorry for the loss of the love of your life" – and peace and comfort to the rest of the family.
Bernita Wardrop Stadler
May 29, 2021
My fondest memories of David are when we were children. Despite the distance from Lancaster to Phila., the family always managed to get together. David and his siblings were always there and we had such good times. I am heartbroken now and wish his family comfort and peace. He was so loved by friends and family. We will have to deal with the pain of losing David. May he rest in peace.
Cousins June and Sonny
May 29, 2021
Dear Kathy, I am so shocked and saddened to hear of David's passing. I worked in the CCL at St Joe's and remember him fondly. Your family has lost an outstanding husband, Dad, father, uncle , brother , grandfather, friend. I'll miss his posts and his stories . God Bless.
Karen Flounlacker
May 28, 2021
We were blessed when we met Dr. Loss in the Emergency Room at LGH on May 30, 2007. Jim was rushed there after suffering a aortic dissection. Dr. Loss made the diagnosis. He put together a wonderful team of doctors. In fact a procedure was performed that had never been done at LGH. He saved Jim's life and he is still going strong 14 years later. In the many office visits that followed, Dr. Loss was always pleasant and treated Jim as though he was his only patient. The Lancaster community has lost a gem of a Cardiologist.
James and Sandra Koser
May 28, 2021
Kathy, Mike & family, we are so very sorry to hear about David, I worked with him many years ago , he was an excellent doctor and a wonderful human being. Tobye & Ralph raised him well. Prayers to you all in this time of sorrow.
Brenda Busansky & family
May 28, 2021
Shocked to hear of David's death. My sympathies to Kathy and family. Sought and respected his opinion many times during my years as a pharmacuetical sales representative in Lancaster. May he rest in peace.
Hubert Curristin
May 28, 2021
Lancaster has lost one of it's finest Doctor's. I remember Dr. Loss so well. My Mother was a patient of his back in the 1980's. February 26, 1986 to be exact, my Mother passed away. I will NEVER forget how Dr. Loss sat in the waiting room and told my family that we had lost her. This young Doctor sat, along with us, and cried, literally. My Mother and he had grown such a bond, for the 5 years or so that she suffered with heart disease. He showed so much comfort and compassion to her. I will never forget him. May he rest in peace.
Lugene Wagner Pasker
May 28, 2021
Dear Kathy and family,
We are so sorry for the loss of David. He was a lovely, kind, accepting man. We always enjoyed family gatherings and feel blessed that we got to know him. He will be greatly missed.
Dan and Jan Krull
May 27, 2021
I was devastated to read about Dr. Loss passing away! He was such a fun spirited witty guy. I met him when he was an intern and we remained friends and did business with him for over 20yrs. His love for his family was forever! May God watch over all of you!
Janyce Chalfant
May 27, 2021
I am a friend of David's daughter, Helen, and know what a tremendous loss this is for her. Having David in her life will influence the next generation…her Blake and Luke. I am so sorry for the family's loss. David was clearly a light in this world. May he Rest In Peace and his family heal.
Annie Kurtz
May 27, 2021
I fondly remember working with Dr. Loss at Community/Osteopathic Hospital from his orderly days to his cardiology practice. He was a great man with a quick wit. He will be greatly missed I am truly sorry for your pain.
Pat Klugh
May 27, 2021
I want to offer my condolences on the passing of Dr. Loss. He was my first doctor at The Heart Group and he was so caring and kind. He also made me laugh a few times which made the whole thing a lot less scary. Because of him, I was able to be evaluated and then get with Dr. Pulliam who was able to correct my heart problem. I thank Dr. Loss for taking the time needed to figure out a tough situation with my heart. I will always remember him fondly.
Dee Englehart
May 27, 2021
Dear Mrs. Loss and family,
I am so sorry for your loss. I was talking to my dad about how deeply meaningful his friendship was with Dr. Loss and I'm so sad to hear of his passing. I have fun memories of our two families getting together when I was younger. I hope there is peace and comfort as you mourn and celebrate Dr. Loss' life.
Blessings to you all, Sarah Mumma
May 27, 2021
He was funny, he was free spirited but above all, he was as kind as any person can be. He was a perfect example of humility and kindness and I will miss him. My deepest sympathies and prayers to Kathy and the family he loved.
Kevin R.
May 27, 2021
Dear Kathy and Family,
I am very saddened to hear about Dave. He and I went back to our great days at the Osteopathic Hospital. He was such a talented physician who taught me a lot. I always loved working with him, and also considered him a friend. He will be missed by many. Rest In Peace. Dee Spayd
May 27, 2021
Dr. Loss was a great person and careing person.Loss was my doctor at the Heart Group.The world will miss him and his knowledge.Sorry for all your heart ache.
allen styer
May 27, 2021
I was deeply saddened to hear of David's passing. Although I haven't spoken to him for several years, we were close friends in high school. I'll always remember David driving his blue VW bug to Penn State for a football game, taking the bus from Clay Street to Samson Street and South Street in Philly, and David attending one of my football games in West Virginia. My prayers go out to the entire Loss family. Rest in peace my friend and may God bless. Joe Wysock
May 27, 2021
Dr. Dave,
When I saw you in the hospital, n your white doctor coat, I knew I was in good hands. Rest in peace, my friend, and my Doctor. Blessings for Kathy and kids. See you soon…….
John "Jack" Sauders
May 27, 2021
I wish you peace and comfort. Dr David Loss was always one of my favorite Cardiologists. Loved his humor and easy spirit and purple scrubs. 😊 His presence was missed when he retired. Enjoyed seeing his photos on FB. He is missed even more now. Well lived. Well loved. Well respected. Rest gently my friend. Until we round again.
Rebecca M (RN)
May 26, 2021
We are so sad to hear of Dave's passing. We both worked with him at LGH and at Community. He was a dedicated and deeply caring physician. He was a good man always treating those around him with respect and collegeality. We are so glad to hear of how he got to enjoy his time with his family who those that worked with him knew well through his stories and words of love. Our thoughts are with them.
Stacey and Robert Youcis
May 26, 2021
I remember when I was training to be a nurse at osteopathic hospitals and he was an external. He shared his passion for medicine with me and took all the students under his wing. He was such a wonderful person! Kind, compassionate, and so down to earth.
Nelleke
May 26, 2021
Kathy and family,
My deepest condolences to you. Although I write this with great sadness, I have so many wonderful memories of David and our long friendship. Community Hospital days when he was my resident, my attending, and my colleague. Friendly competitors on the racquetball court and teammates in indoor soccer. Many Flyers games together. Shared memories of England and Scotland. Building his dock on his property together. His family time at our Poconos house and a shared weekend with Kathy and Marian. Dinner together and an evening sharing photos of his trips. Conversations about his Dad's time in WWII in Suffolk, UK where we lived for four years, flying in B-17 bombers. His care of my father and Marian's mother, and my care of Ralph and Tobye. Discussions about our children through the years. A wonderful man and a great friendship. I will miss him greatly. We were all fortunate to have him in our lives. Pat Anderson
May 26, 2021
Dr Loss was a phenomenal cardiologist and when I had to become the patient instead of being a nurse I knew exactly which Cardiologist I wanted as my doctor. He would always teach my staff various things and I learned so much from him. He will be greatly missed!
Brandy G
May 26, 2021
Linda and I are truly saddened by David's passing away. Our heart goes out to Kathy and the children and grandchildren. You are in our thoughts and prayers. With Love, Cousins Alan and Linda
Visitation

Sunday, May 30, 2021
12:30 PM - 2:00 PM
Charles F. Snyder Funeral Home & Crematory
3110 Lititz Pike
Lititz, PA 17543

Map and Directions

Services

Sunday, May 30, 2021
2:00 PM
Charles F. Snyder Funeral Home & Crematory
3110 Lititz Pike
Lititz, PA 17543

Map and Directions