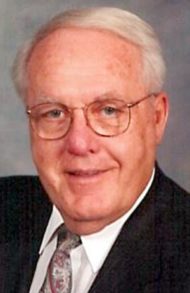 Dr. Barry D. Walp, 89
August 26, 2018
Dr. Barry D. Walp, 89, of Lancaster, Pennsylvania passed away peacefully on August 26, 2018 at the Mennonite Home. He was born in Elmira, New York, on April 22, 1929 to Meryn and Frank Walp. Barry's parents were both teachers having graduated from Bloomsburg University and Penn State University, respectively.
Barry graduated from Forty-Fort High School in Pennsylvania, and was active in school athletics, band, church and achieved the rank of Eagle Scout. Barry graduated from Franklin & Marshall College in 1951 and from the Philadelphia College of Osteopathic Medicine in 1956 and served a rotation internship at Lancaster Osteopathic Hospital. Barry met his wife, Jane Young while she was a nursing student at Lancaster General Hospital. Barry and Jane were married in 1954 while Barry was a student at Philadelphia College of Osteopathic Medicine. Jane and Barry returned to Lancaster where he began his General Practice in 1957. During his 46 years of medical practice, Barry served as Chief of Staff at the Lancaster Osteopathic Hospital, was on the Board of Directors, and was an active staff member from 1957 until his retirement in 2003. Barry was a member of the American Academy of Family Physicians, Pennsylvania Osteopathic Family Physicians and the Lancaster Osteopathic Medical Society where he served as president for 2 terms. Barry was granted a life membership in 1999 to both the Pennsylvania Osteopathic Association as well as the American Osteopathic Medical Association.
Barry was appointed a Lancaster County Deputy Coroner in 1967 and served until 1973 when he became the Chief Deputy Coroner. In 1983 Barry was elected as the Lancaster County Coroner and was re-elected for five four-year terms until 2003. While serving as the County coroner, Barry was President of the Pennsylvania State Coroners' Association and on the board of Directors. Barry was also the Chief Liaison Officer for the PA Coroners' Association and the Pennsylvania State Police. In 1997, Pennsylvania Governor, Tom Ridge, appointed Barry to serve on the State Coroners' Education Board.
During his many years of practice and serving as Lancaster County Coroner, Barry was an examining physician for the Hempfield School District, Penfield Corporation, Dutch Gold Honey, Nationwide Insurance Company, and Midland Mutual Insurance Company. Barry was a Board Member of Life Belt Lancaster, and original Board Member of Hospice of Lancaster where he served on the Medical Committee. Barry was an active member of the Lancaster Sertoma Club where he was a life member and served as president of the Sertoma Club with perfect meeting attendance for 47 years. Barry was a Mason for 32 years with membership in Lancaster Lodge # 43, the Lancaster Lodge of Perfection, Harrisburg Consistory, Zembo Temple, Lancaster Shrine Club, and Tall Cedars of Lebanon-Lancaster Forest #27.
Barry attended Manor Brethren in Christ Church for many years where he was also in a small group which he enjoyed.
Those who were blessed to have known Barry knew him as a kind and gentle person with a quick wit and a great sense of humor. He was very active with his many years of Medical Practice and Lancaster County Corner roles, but he always made time to listen and spend time with his family. Barry had a love of reading and especially enjoyed western novels.
Barry is survived by his wife of 64 years; three children: son Jeffrey (wife Crystal); daughter, Kimberly Zimmerman (husband Don); and daughter, Susan Zeller (husband Bob). Barry had six grandchildren, Steven Walp (wife Jennifer), Jennifer Eberly (husband Casey), Michael Zimmerman, Matthew Zimmerman (wife Ally), Nicole Zeller, and Kayla Resh (husband Mike). Barry was blessed to have three great grandchildren, Logan, Lily, and Layne.
Friends will be received on Saturday, September 1, 2018 at the Charles F. Snyder Jr. Funeral Home & Crematory, 3110 Lititz Pike, Lititz, PA from 9-11AM, with the Funeral Service to follow at 11AM. Interment will be in Conestoga Memorial Park. In lieu of flowers, please make contributions in Dr. Walp's memory to Hospice & Community Care, 685 Good Drive, P.O. Box 4125, Lancaster, PA 17604-4125.
Watch the tribute video
Leave a condolence on this Memorial Page
Condolences to the Family
September 21, 2018
Dearest Jane,
We were saddened to hear the news of Barry's recent passing at our retired Coroners get together last week. We often talk of and memories we have shared over the years with the PA Coroner's. We sure have missed you and that we care.
God bless,
Tom & Candy Streams, Indiana , PA
September 13, 2018
To the family of Dr. Barry Walp,
I met Dr. Walp during my internship and family practice residency at Community Hospital of Lancaster. I was introduced to him by my mentor Dr. Miles Newman of Elizabethtown. As I was making plans to open my own family practice in Reinholds, in Northern Lancaster County, both Dr. Newman and Dr. Walp approached me about serving as a deputy coroner in my area. I accepted. I served as deputy coroner under Dr. Walp from 1990-2002. I served in West Cocalico, East Cocalico, Denver and Adamstown. I can still hear his enthusiastic voice saying "What you got Deb." It was a privilege to work with Dr. Walp in that role for all of those years. I saw Dr. Walp at numerous educational programs over the later years and he always had kind words for me; he was always such an encourager to those coming behind him.
Please accept my most sincere condolences on your loss. He was a great man.
Most sincerely,
Deborah Hagey D.O.
August 30, 2018
Dr Walp. What can I say? He was my doctor from about 1961 until he retired. He was also my kids doctor from 1995 on. He was missed dearly by my family when he retired. He was my mother and my father's doctor as well. Nothing can prepare you for this loss. My thoughts and prayers are with his family. Hugs and prayers to all of you. God Bless.
August 30, 2018
Jane and family,
I am saddened to learn of Barry's passing. May you find comfort and healing knowing that Barry touched so many lives in his personal life, and in the many years of service to the community as a physician and coroner. I always knew Barry to be compassionate and dedicated in my association with him as a funeral director, and his wonderful sense of humor.
Fred Didyoung
August 30, 2018
Very sorry to hear about the news, I took care of Mr Walp when I worked in mennonite home. May he rest in peace with the Lord.
August 30, 2018
Wow unbelievable it's my POPPYWALP this is a Nick name I gave him when I was taking care of his Mother in law Rhoda Young at Manor Care it would always make him laugh. He also performed my father's autopsy and bc I knew him I was able to call and talk to him about the autopsy. He will be missed. From Donna Reese
August 29, 2018
Sue and Bob,
It's never easy to lose a parent, but we are the fortunate ones to have had them in our lives for a long time. I know you have wonderful memories that will be with you always. Joyce Caskey
August 29, 2018
Dr,Walp was our family dr. For many years, he delivered our son Brian, he also helped me through a serious situation we my husband came home from Vietnam. I am so grateful and thankful he was part of my life, God bless and help you through your time of loss.
Sidney fraelich
August 29, 2018
Sue and Kim and family,
I am so sorry for your loss. I was just by your old house last week and was thinking of you. Thoughts and prayers to all of you during this difficult time.
Trish (Pierce) Mountain
August 29, 2018
Our love and prayers are with ALL of you!!!
Jonathan and Sue Finefrock
August 29, 2018
To Dr Walp's Family…… deepest sympathy! I was a longtime RN at the former Lancaster Osteopathic Hospital from 1972-2002. I had the greatest respect for Dr W. He was a good doctor and a fine person. May he Rest In Peace!

Donna Carr
Lancaster PA

August 29, 2018
Have good memories of Dr Barry Walp. Will pray for your family. Alice, John, Eric Gibble
August 29, 2018
Rest in Peace Dr. Walp. Thank you for everything you did to keep me healthy and my family in my younger years. I am sorry for your families loss. God Bless you and them!
Jon Bruce
August 29, 2018
My best wishes for getting through this next week. I know it's going to be a tough one. The few times I was in his company, he really really was a very comfortable person to be around. I am so sorry for your loss.
Chris
Visitation

Saturday, September 01, 2018
9:00 AM - 11:00 AM
Charles F. Snyder Funeral Home & Crematory
3110 Lititz Pike
Lititz, PA 17543

Map and Directions

Services

Saturday, September 01, 2018
11:00 AM
Charles F. Snyder Funeral Home & Crematory
3110 Lititz Pike
Lititz, PA 17543

Map and Directions