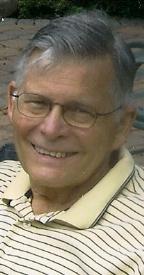 Dr. A. Lawrence Gagnon, 80
Dr. A Lawrence Gagnon, 80, died April 3, 2010, at Hospice of Lancaster County.He was born August. 1, 1929, in Detroit Michigan, to Andrew L. Gagnon and Clara (Seron) Gagnon.
Larry received his B.S from Michigan State University in 1951; he earned an M.A from Michigan State in 1953, and completed his Ed.D at Wayne State University in 1965.
Dr. Gagnon was retired from Manheim Township School district where he was the Superintendant. Dr. Gagnon was formerly a Special Education Advisor in the Bureau of Special Education at the Department of Education in Harrisburg.
Larry was an active member in the community, he was the past President of the North East Rotary Club, and was a current Board member of the Manheim Township Library Committee.
Dr. Gagnon is survived by his wife, Mary Lou Gagnon; daughter Rene Herman, son Marc Gagnon, step-son Sean McSweeney, and step daughter Kerry Roberts; son-in-law, Stephen Herman; daughters-in-law, Laura Gagnon, and Jennifer McSweeney; and 8 grandchildren; Stephen Herman, Amanda Herman, Andrew Gagnon, Kimberly Gagnon, Daniel Gagnon, Juliet McSweeney, Derek McSweeney, and Shane McSweeney; nephew Darrell Weinert.
A celebration of his life will held on Wednesday, April 7th at the Charles Snyder Funeral Home and Chapel, 3110 Lititz Pike, Lititz Pike PA at 7pm. In lieu of flowers the family has request donations be made to the Manheim Township Public Library for the Dr. Gagnon book collection at 2121 Oregon Pike, Lancaster, PA 17601, to Crossroads Wesleyan Church, 2323 Marietta Ave., Lancaster, PA 17603, or Hospice of Lancaster County, 685 Good Drive, Box 4125, Lancaster, PA 17604-4125.
Larry will be laid to rest St Charles Resurrection Cemeteries in Farmingdale, New York.
Leave a condolence on this Memorial Page
Condolences to the Family
August 22, 2019
To MaryLou. I thought of you today and did a research. Sorry to hear about Larry. If you want to get in touch I'm here.

Randy Moyer
Dear Mary Lou and family,
we all lost a wonderful, warm-hearted person. So our thoughts and prayers are with you. Our golden ajugas this year are growing better than ever before and we think they pay the last honour to Larry. In the future we will take a special care of them as a remembrance of Larry.
Our thoughts are with you
Herbert, Ingrid and Christian Klamm
Dear Mary Lou,
Sally and I wish to express our sympathy to you and your family on Larry's passing. I always appreciated his positive encouragement as I worked at Manheim Township. He was kind to our family and supportive of me, knowing first hand the demands of the job.
Larry was also a great supporter and volunteer with our Rotary chapter. He helped me work on the flag project that is now part of the campus at MTHS. It is a source of pride for the district and community, and Larry's Rotary leadership was important in making it happen.
We will keep you and your family in our thoughts and prayers.
Kevin Singer
A beautiful man has left this world. I was fortunate to be reacquainted with my 6th grade teacher in Longboat Key 5 years ago. As Spartans we shared some good memories and watch many Spartan victories together. He was a teacher, a student would never forget. May peace be with him.
Larry Shanker
East Lansing, Michigan
Dear Mary Lou and family
a beautiful person is dead, he is in our thoughts and we pray for you.
We are very sorry to loss.
His very special friend Otto, Christoph and Martina are with you.
We had a special flower in goodvilla, so w're remembering everytime.
Hugs and Love to you, in our thoughts we are with you.
Dear Mary Lou and family,
My prayers are with you. May you take comfort in knowing an angel is watching over you.
Your cousin, Ernestine
Mary Lou, Sean, Marc, and Rene…..what a loss…Larry has always been "Doc" to me and the rest of the Yeates', going way back to my Dad introducing "Doc" to Wantagh. Doc made the world a better place, I am sure glad to have known him. Our deepest sympathy to you all……….
Love,
Chris & Cindy Yeates
Dear Mary Lou and Family,
I was a student at Manheim Township while Dr. Gagnon served as Superintendent. My favorite memory of him was of my Dad bringing me to your home, and Dr. Gagnon "interviewing" me as a preparation for my interviews for college. I have gone on to always remember to focus on being aware of and building my strengths and energy in whatever I do, whether in teaching, serving at church or in the home with my own family. I have the confidence to do that partly from Larry's example.
Please accept my condolences at this time. You have my warmest sympathy and great respect.
Jennifer (Wilson) Siek
MTHS Class of 1988
Mary Lou
Wish I could be with you in this time of sorrow. My prayers are with you.
Hugs Hugs and more hugs to you. Bob and I will miss him. We will put a chair for him under the Palm in Longboat Key.
Love Betty Ann and Bob……..
Dear Mary Lou and family
We are very sorry for your loss. Thinking of you. Wishing you hope in the midst of sorrow, comfort in the midst of pain. Someone so special….can never be forgotten.
With love from Barb McFarlane and the Thunder Bay Gagnon family.
I was blessed to have the opportunity to transport Larry from Rotary several weeks ago. That completes my memory book on Larry. Larry and I commuted to Harrisburg together for many years. That was time I spent knowing and growing in respect for the man, the educator, the father, and loving husband. His passion for education was neverending and was the foremost topic of our last conversations.
My sincerest message of sympathy is extended to Mary Lou and all of the Ganyon children and family members as you morn the loss and celebrate the life.
"In God We Trust"
Tom Winters, Ph.D.
Dear Mary Lou and Family,
Our thoughts and prayers are with you.
Aunt Mary Lou, Rene & Marc,
You are in my thoughts and prayers during this difficult time. Uncle Larry was a very special man with whom I have shared many great times through the years. I learned from him many things for which I am grateful and will carry with me for the rest of my life.
With deepest sympathy,
Darrell Weinert