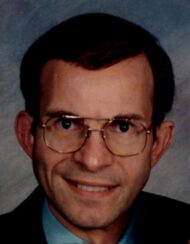 Douglas W. Stoner, 71
July 17, 2022
Douglas W. Stoner, age 71, passed away on July 17, 2022. He was the son of Benjamin F. and Betty Weidler Stoner. At one time Douglas was employed by Lancaster County's Children and Youth Agency as a bookkeeper. He was the Poster Boy for two years running for the Lancaster County Crippled Children's Society's Buck-A-Cup/ Brace-A-Child Coffee Day Campaign.
Douglas was a member of the Zion Lutheran Church of Landisville. He was also a member of the Casiphia Masonic Lodge #551 of Mount Joy, the Lancaster Kennel Club, the Hempfield Sertoma Club, the Hempfield Jaycees, Treasurer of the Lancaster Junior Miss Pageant, President of the Salunga Fire Company and Secretary Treasurer/ Charter member of the Landisville Old Main Street & Historical Association.
Douglas had many hobbies. He enjoyed reading non-fiction, MatchBox toys, trains, marbles and antiques.
In addition to his mother, Betty, Douglas is survived by his sister Jody Stoner Erb, wife of John Roy Erb, of Neffsville; his niece Erica Whitley, wife of Chris; nephews Bryan Erb, husband of Julie, and Jared Erb, husband of Kimberly. He also enjoyed the company of his 14 great nieces and nephews.
A private service will be held by the family at their convenience.
Leave a condolence on this Memorial Page
Condolences to the Family
August 16, 2022
Dear Betty, Jody, and Family,
I was so sad to read of Doug's passing. What a shining example he was to all! We will keep you all in our thoughts and prayers. I miss seeing you at the doctor's office, as I am now working from home.
Again, our deepest sympathy to you all.

August 08, 2022
Sorry to hear about a classmate of mine passing away. I remember carrying Doug's books to his first period class because he was in my home room. We played little league baseball and after the games his father would sometimes take us kids to the Pub on Rt. 230 for ice cream! I have many memories of Doug!
August 05, 2022
I was so sorry to hear of Doug's passing when I made my annual birthday call. His dear mother told me the sad news. We worked together in the 70s and kept in touch these many years. He was a dear man who never forgot his friends. I will miss him.
July 25, 2022
I was so sorry to read of Doug's death. I have so many great memories of my childhood buddy. He would sit on the milk box and me at my bedroom window to make our special call out. I also enjoyed our afternoons at the Nissley pool. My deepest sympathy to all the family

July 24, 2022
I was sad to see that Doug had passed away. I have great menories of beening with Doug at Beechwood. I will keepthe family in my prayers.
July 24, 2022
My condolences to Doug's mother and sister. I remember Doug as a student at Hempfield, he was always pleasant, focused, independent and incredibly courageous. He exemplified strength of character and determination.
Lewis E. Jury
July 24, 2022
Dear Betty, JoAnn and family,
It was with sadness that I read the obituary for Doug in the newspaper this morning. I am sorry for your loss. He was a good man who suffered a great deal throughout his life, for which we all felt immense sorrow. I am thinking of you.
July 20, 2022
Doug was such a good neighbor when we lived on Elizabeth St. John, our sons and I enjoyed spending time with the Stoner family. Extending our condolences. John and Robin Kline.
July 19, 2022
MY CONDOLENCES AND PRAYERS TO THE FAMILY OF A BROTHER MASON. MAY HE REST IN PEACE. KARL F SCHUBERT 32RD OXFORD PA LODGE #353