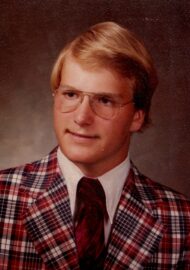 Douglas K. Olsen, 59
March 26, 1962 - September 27, 2021
Douglas K. Olsen, 59, of Lititz, passed away at Hospice & Community Care on Monday, September 27, 2021. He was born in Abington, PA to the late Kenneth L. and Helen (Willig) Olsen.
A 1981 graduate of Warwick High School, Doug completed his studies at Lancaster Business School. He worked for the Lancaster IU-13, Stoner Bunting Advertising, as well as Turkey Hill in East Petersburg.
Doug was a very active member of St. Luke's U.C.C. in Lititz, and he was previously active in the Lititz Jaycees. A very kindhearted man, he loved helping people. Doug loved to mountain bike and loved to help people with their lawncare. Over the years he had many beloved cats, most recently Spaz.
Surviving Doug is his brother, David S. Olsen, husband of Debra A. (Greatti) of Manheim, and his niece, Jennifer L. (Olsen), wife of Brandon M. Stewart of Lititz.
A celebration of Doug's life will take place on Friday, October 15, 2021 at 11 A.M. with the Rev. Dr. James R. Haun officiating, at St. Luke's U.C.C., 222 N. Broad Street, Lititz, PA 17543. The family will greet friends from 10 to11 A.M. A private interment will take place at William Penn Cemetery, Philadelphia, PA.
In lieu of flowers, kindly consider a memorial contribution to Hospice & Community Care, P.O. Box 4125, Lancaster, PA 17604-4125.
Leave a condolence on this Memorial Page
Condolences to the Family
October 14, 2021
Thank you all for these gracious and kind words about my Uncle. Our family is very grateful that you all have such fund memories of Doug and that you shared them with us. So many thanks to all of you!
-Jennifer Olsen
October 11, 2021
I am so sad to hear this news. I worked with Doug for many years at Stoner Bunting. He was truly a unique person that would do anything asked of him, and then some. I have such fond memories of him, and I am very sorry for your loss.
October 11, 2021
We were so sorry to read about Doug"s passing,he really was the nicest person,He used to come sit on my porch and tell me stories about Scott,truely a very sweet person! Prayers for the family
October 07, 2021
Doug was one of the sweetest people I know. He was a regular customer at Turkey Hill and then become a coworker. He was thoughtful and kind and always kept us smiling. Rest in peace buddy.
Erin Turner-Bowers
October 07, 2021
My deepest condolences for The Olsen Family, Doug was such a sweet loving person. So genuine. He did things from the heart ! Always! You could truly count on him for anything. He always went out of his way to help others. May he Rest In Peace.
Janet Medina
October 02, 2021
My prayers for Doug's family and friends. I have many fond memories of Doug while we were in High School. He was always thoughtful kind and genuinely interested.
john-david Wissler
October 01, 2021
Doug's sweet and kind personality was infectious. When I saw him last, he spoke about how he was writing daily and how even though he had struggled with medical issues for a long time – he was blessed with family and church friends and he was grateful. He knew all those that he was living with and was so patient and kind to them. He was a good man and a gentle soul. Rest easy, Doug and enjoy reuniting with Mom and Dad.
Teresa Greatti
Visitation

Friday, October 15, 2021
10:00 AM - 11:00 AM
St. Luke's United Church of Christ
222 N. Broad Street
Lititz, PA 17543

Map and Directions

Services

Friday, October 15, 2021
11:00 AM
St. Luke's United Church of Christ
222 North Broad Street
Lititz, PA 17543

Map and Directions