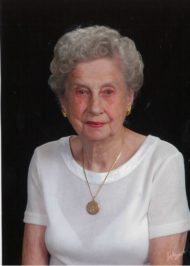 Dorothy M. Rebman, 98
March 11, 2020
Dorothy M. Rebman, lovingly known as "Dot" or "Nanny" to many, passed away peacefully on Wednesday, March 11, 2020. Born in Lancaster, she was the fifth of eight children, born to the late Francis X. and Catherine (Work) Markert.
Dorothy was devoted to the Catholic faith and her beloved St. Mary's Church.
Dot was a 1940 graduate of Sacred Heart Academy, where she was crowned May Queen in her senior year. Dorothy married Bob Rebman and they were blessed with four children. She excelled as a homemaker and paid attention to the little details that made a house a home. Dorothy was supportive of her husband Bob with the family business. She supported her children by taking them to countless activities like Junior Achievement, art lessons, band performances, and Girl Scouts. Dot found time to keep the home running smoothly in addition to helping make Easter candy, selling Christmas decorations, and working at fundraising carnivals for fire companies and churches. Nanny always made her kids feel special on their birthdays by cooking their favorite meal. There was always room for one more at Dot's dining table. She was best known for her famous cheesecake that she shared with the world. Dot found much solace and joy in gardening, reading and needle work. And for the record she NEVER liked Bingo.
Nanny loved all children and could quickly calm even the fussiest of babies. Dot was somehow able to understand their language. She knew that "Chocolate Hands" really meant "Butterfinger Candy Bars", "Mother and Child" meant "May I please have oatmeal?" and "I want pump on a new piece." meant "May I please have a piece of pumpkin pie?".
She was preceded in death by her husband Bob, her son Bobby, and her daughter Kathy Rebman-Pontz.
Dorothy is survived by her son-in-law John D. Pontz, widower of Kathy, her daughters Louise Metzel, widow of Tim, Eileen Redinger, wife of Randy, her seven grandchildren, nine great-grandchildren and one great-great-grandchild.
Services for Nanny will be private. A Mass of Christian Burial will be announced at a later date.
You can honor Nanny's memory by doing random acts of kindness, thanking veterans for their service and doing what you can to move closer to peace on Earth. Dot made a difference. Memorial donations may be made in her name to Mom's House of Lancaster, 415 S Queen St, Lancaster, PA 17603.
Leave a condolence on this Memorial Page
Condolences to the Family
March 28, 2020
Louise and Family, So sorry to hear of your loss. My deepest sympathy to you and your family.
Chris Baxter, Your Hospice Group Friend
March 21, 2020
so sorry to hear the news of Aunt Dot's passing…Aunt Dot always brightened the day, and some of my favorite childhood memories include those fantastic picnics at Aunt Dot &Uncle Bob's house, especially her incredible cheese cake…She will be missed dearly.
Jon Rebman
March 19, 2020
Mrs.Rebman and Bob ment so much to me when I was young and worked the store and festivals. They spent time taking myself and many others roots market and for ice cream and many other adventurers. Their kindness and advice stuck with me my entire life and taught me to pay it forward. Dot always enjoyed seeing the young people they took under their wings , areal angel on earth. A great family that ment so much to me . Thank you and rest in peace.
Douglas Wickenheiser
March 17, 2020
The entire Trauger family sends our condolences and love to Dot's family. Dot went to school with our mom and they were great friends. Most of us Trauger siblings went to school with Dot's children. We have many fond memories. And yes, no-one could make a better cheese cake than hers!

Joan (Trauger) Doiron
March 17, 2020
What a wonderful tribute to Dot's life! It is a lovely testimony to a good life. May you be comforted by the fact that your dear Mother lives with her dear LORD JESUS and all her loved one who went before her. "Eye has not seen and ear has not heard the marvelous things God has prepared for those who love Him."
Annie Norment
March 16, 2020
Rebman family she's a great person I'm so glad and honored that we were neighbors. My wife (Elsie R.I.P.) our 2 children (David and Nicole)and my parents. She and Bob had the biggest hearts! Prayers, Hugs for all.🌹🙏🏻🤗 Duane Doyle
March 16, 2020
Mrs. Rebman, Were like my other grandmother. I lived next to them for my whole childhood. She always had her amazing cheesecake waiting anytime we would come and visit. They treated my brother and I like we were one of their own. How can anyone forget the store! The trains, the decortations, but let us never forget the candy!! You and Mr. Rebman would always give my family new piece of decoration for our front yard! Rest In Peace its time for you to be with your husband! Much love and prayers to the family.
Love, Nicki Doyle
March 16, 2020
Remembering you Mom and keeping you all in my thoughts and prayers. I have such good memories with your family for so many years.
Love Kathy Carey
March 16, 2020
Aunt Dot was my Godmother and my confirmation sponsor all those years ago. She gave me a beautiful crystal rosary that I carried in my wedding bouquet, and it hangs above my bed to this very day. I remember many visits to her home when I was a child, and lots of laughter and kindness. She and Uncle Bob were always very good to me, and I am so glad for those memories. Aunt Dot lived a good life, and even after so much loss she was one of the strongest women, her faith truly did sustain her! It has been many years since I last saw her, it was at my own son's mass, but she gave me such comfort.God bless you, Aunt Dot, I can only imagine the joy you felt reuniting wirh Uncle Bob, Bobby and Kathy! My sincerest sympathy to my cousins Louise and Eileen, and their families.
Wendy Lefever
March 15, 2020
The world lost a wonderful woman, who made a huge impact on all who got to know her,even if for a short while. I know I loved her.
Kathleen Hoover
March 15, 2020
Holy Cross Alumnae of Sacred Heart Academy has now lost its oldest alumna. Dot will be missed by many people. Thanks, Louise, for sharing the obit. There's another Academy angel in heaven.
Sincerely, Dianne
March 15, 2020
Louise, Eileen and john: your mother truly did make a difference. Here life ws a powerfull example of the loving kindness of our Heavenly Father. My family and I are thankful for her service. In His Love
Kent Tina Tim Ben + Nathan Rebman
March 15, 2020
So very sorry to hear of Dorothy's passing. My wife and I along with our large Leonberger dogs would visit every other Wednesday at the Masonic Village. Dorothy would always smile and offer us her chocolate Hersey kisses. We loved to talk with her and listen to her stories. We so much enjoyed her smile when we would give her some Rebman & Co. items we would find on our garage sale ventures. She will be missed.
George Parola
March 15, 2020
Carnivals, doublemint gum, playing with your jewelry, feeding us kids until we were sick (that cheese), peanut butter fudge, red and purple, cheesecakes, making bread filling, setting your table, raking leaves, hot spiced punch, spinning in copper pots, Wednesday dinners at your house, corn roasts, sledding down the hill, patriotism, your excitement over me becoming a mother. Grace, strength, faith. Thank you for everything, beauty. You were the best. Love, Valerie
March 15, 2020
Dear Louise and Eileen,
We know you were both wonderful daughters and am sure you were with your Mom as often as possible.
We have so many fond memories of your family and the Newspsper write up brought back many of them.
We have been blessed to be part of the Markert Family and because of Aunt Dot we shared in the Rebman Family too.
Our sincere sympathy to both of you and your families.
Our love,
Dece and Joe
March 15, 2020
Louise and Eileen … My thoughts are with you and your family. I have such nice memories of your mother … Jan and I were fortunate enough to be included in some of your family dinners. Your family was always special to Jan growing up as a childhood friend of Bobby and Bobby being Jan's best man at our wedding. May you find peace in your many memories of a special person. I also listened to Gabriel's oboe … So calming and peaceful … Thanks for sharing!!
Janet McComsey
March 15, 2020
Aunt Dot was the kindest, sweetest person. I'll always remember the family gatherings in her and Uncle Bob's backyard on S. Queen St., her famously delicious cheesecakes and her love of all people. My sincere sympathy.
Cindi Rebman Hammons