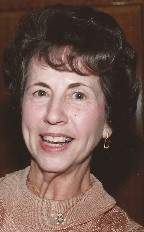 Dorothy M. Rader, 95
Dorothy M. Rader, 95, of Woodcrest Villa, Lancaster, died Tuesday, May 7, 2013, at the Mennonite Home. Born in Lancaster, she was the daughter of the late John and Sarah Kelly Rottmund. Dorothy was married to Richard T. "Dick" Funk, who died in 1975, and then to Fred E. Rader, who died in 2002.
A lady of many talents, she worked as an inspector at Hamilton Watch (6 years), taught business for RCA in New Jersey (6 years), was the bookkeeper and restaurant manager at Indian Springs Golf Course, now Four Seasons, while her husband built the course (5 years), and worked part time in student services at Millersville University (11 years). Dorothy was a member of St. John's Episcopal Church. She was previously active in the Lancaster Silver Threads Association and Conestoga Country Club. She enjoyed travelling with AAA and doing crafts.
Dorothy is survived by her son Richard J. Funk of Lancaster, grandchildren Toby Funk, husband of Stephanie of Lancaster and LeAnne M. Funk of New Providence, and he daughter-in-law Carol J. Funk of New Providence. In addition to her husbands, Dorothy's son Gary R. Funk preceded her in death in 2010.
The Funeral will be held 11 AM Tuesday, May 14, 2013, at St. John's Episcopal Church, with Rev. Jennifer E. Looker officiating. A viewing will take place 10-11 AM on Tuesday at church. Interment in Millersville Mennonite Cemetery. Please omit flowers. Memorial contributions may be made to St. John's Episcopal Church, 321 W. Chestnut St., Lancaster, PA 17603 or to Hospice & Community Care, PO Box 4125, Lancaster, PA 17604-4152. To send the family online condolences, please visit SnyderFuneralHome.com. Charles F. Snyder Funeral Home & Crematory 717-393-9661
Leave a condolence on this Memorial Page