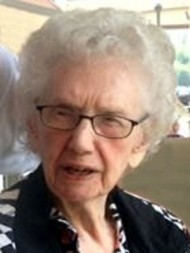 Dorothy Jane Albright, 92
April 06, 2016
Dorothy Jane Albright, 92, formerly of W. Roseville Rd., passed away on Wednesday, April 6, 2016 at the Mennonite Home.
She was the wife of William F. Albright, Jr., with whom she celebrated 64 years of marriage this past May 12th. Born in Lancaster, she was the only child of the late J. Frank and Rose Gigl Heidlauf.
She graduated in June, 1941 from J.P. McCaskey High School and was employed at RCA in the Accounting department after graduation for 16 years, became a homemaker for many years and then returned to work at St. Joseph Hospital in the Data Processing department for 14 years before retiring.
Mrs. Albright was a parishioner of St. John Neumann Catholic Church. She was a former member of the Carousel Dance Club and the St. Joseph Hospital Junior Auxiliary. In her later years, she was a member of St. Anne and St. John Neumann Senior Citizens group, the Silver Threads. She enjoyed golf and was an avid bridge player.
She is survived, in addition to her husband, by her 3 sons: Thomas B. husband of Lecia Rogers Albright of Spotsylvania, VA, David J. husband of Rebecca Albright of St. Louis, MO, and Andrew husband of Kelly Albright of Manheim. She is also survived by her granddaughter, Katharine L. Albright of Chattanooga, TN.
Friends will be received on Monday, April 11, 2016 from 10-11AM at St. John Neumann Catholic Church,
601 E. Delp Rd., Lancaster, PA, 17601 with the Mass to follow at 11AM. Interment will be private in St. Joseph New Catholic Cemetery. In lieu of flowers, please make contributions in Dorothy's memory to the St. John Neumann Building Fund at the above church address.
Leave a condolence on this Memorial Page
Condolences to the Family
April 16, 2016
To Bill, Tom, David, and Andy and your families. I got to know Dorothy while working will Bill at DeWalt Div. of Black& Decker in the early 1980's in the Purchasing Department. You all have lost a great wife and mother and I want to send my condolences to you because of the great wife and mother she was. My favorite memory of Dorothy was when she and Bill made Sand Tarts every Christmas season – they were the best I ever had in my 65 years of life! I ask the folllowing favor of you boys – where can I locate your father? The last time I was with him was over 10 years ago when I took him to a Veterans Day program in Millersville. He still had that great humor which often had me falling off my office chair. Please let me know. Again, my regards to you at this sad time.
Ed Lull 24 South Fulton Street, Manheim, PA 17545 717/769-0060
April 11, 2016
Just an old friend wanting to send thoughts and prayers to the albright family. It has been a long time, but you never forget friends from growing up. I had the privilege of meeting dorothy several times and she always made me feel welcome in her home. I will be thinking of all of you during this time.
April 09, 2016
Bill:
I saw the news concerning Dorthy's passing and want to extend to you my deepest sympathy. It has been a while since we have seen each other. I do recall those times when we traveled together to Lebanon for support group or at BVA events locally and at VAMCs here or Philadelphia. It was always a good time with both of you. Our prayers are with you and your family.

Sincerely,

Raymond A. Acker
Chaplain (LTC)USA, Retired
Calvary Fellowship Homes
502 Elizabeth Drive
Lancaster, PA 17601-4406

April 09, 2016
So sorry to hear about the death of your mother. Dotty was the nicest person. I'll always remember how thrilled she was to find out she was pregnant with all of you you were wanted and loved. Former Roseville Road neighbor. Judy Frantz Sloden.
April 09, 2016
To the family of Mrs. Albright,
Please accept our deepest sympathies and condolences in the loss of your Mother. Our families are connected by these folks we so deservedly call "The Greatest Generation". They gave us freedom and they gave us life. We will always be thankful to them and will always remember them. We have great memories of them at Greenfield and enjoyed the stories and the sharing of their life.
Ray & Sue Hottenstein & Family
April 09, 2016
Hello Albright men,
I am sorry to hear about your mom. I remember her and your dad from many years ago enjoying playing cards in my parents home, The Heilbron's. And, having barbeque picnics in the summer months. Bless you all and your families during a most difficult time. Patsy Heilbron Lavinia
Visitation

Monday, April 11, 2016
10:00 AM - 11:00 AM
St. John Neumann Catholic Church
601 E. Delp Rd.
Lancaster, PA

Map and Directions

Services

Monday, April 11, 2016
11:00 AM
St. John Neumann Catholic Church
601 E. Delp Rd.
Lancaster, PA

Map and Directions