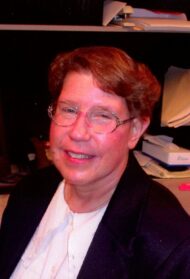 Dorothea Mae "Dotti" Lugar, 75
September 04, 2022
Dorothea Mae "Dotti" Lugar, 75, of Lancaster, went into the arms of the Lord, September 4, 2022. Born in Reading, she was the daughter of the late Frederick and Verna (Keiser) Large.
Dotti was very devoted to her faith. She was a member of the Ross Steet United Methodist Church before transitioning to Wesley United Methodist Church in Strasburg. At Ross Street UMC, she was in the Clown Ministry, a Christian outreach ministry for children and elderly and would visit those in the hospital. At Wesley UMC, she participated in the Disciple Bible Study that became a close group of friends for her.
At Evergreen Estates, she was a dedicated employee for over 14 years. Evergreen was a special place where she was appreciated; and people she worked with became like family. She wore many hats throughout her time including personal care nursing supervisor and at her retirement she was an administrator.
She enjoyed reading in her spare time, as well as with her grandchildren. Dotti treasured the time she was able to spend with her grandchildren and loved reliving those memories through photos. She will be remembered for her carrying on a family tradition of being a great baker and cook from recipes passed down through the family. Her red velvet cake and homemade icing and taco salad were family and friend's favorites.
Dotti's memory will live on in all who knew and loved her. She is survived by her sons: David Lugar, husband of Jennifer, of Lititz and Thomas Lugar of Lancaster; grandchildren: Grant, Lily, Hayden, and Annalise Mae; and a sister, Fredericka Cannon.
A Memorial Service will be held at 7 PM on Thursday, September 15 at the Wesley United Methodist Church, 40 W. Main St., Strasburg, PA 17579. Fellowship and a time of sharing memories will follow the service.
In lieu of flowers, please donate to Lupus Foundation of America or Alzheimer's Association.
Leave a condolence on this Memorial Page
Condolences to the Family
October 26, 2022
I am so sorry for your loss. Dottie used to babysit for me (and my brother) when we were little. I will never forget when my brother got his head stuck between the bars of the crib while my parents were out. Dottie's mom, Aunt Verna, worked for Dr. Spannuth, who was my grandfather, I found this while I was searching the Internet for Dottie's phone number, to let her know my mother passed away.
God bless your family.
September 14, 2022
David and Tommy your mom was so kind and understanding to everyone. She was a great person. Dottie along time ago taught me never use a knife to cut lettuce when making a large bowl salad which I never forgot!! She is now in heaven no more pain!!
September 14, 2022
David, Thomas and Family,
Our Heartfelt Condolences go out to you and your fAMILY. We will be in Denver at the time of the
service. We will keep all of you in our hearts and prayers. We loved our times at Wesley with
Her during our Deciple classes.
Janet & Pete Kingsey
September 13, 2022
Dottie was the sweetest all around person I have ever known. She was always there to lend a hand!! She was the person in my life many many years ago that taught me
how to mix a large salad without cutting the head of the lettuce with a knife!!! She is now at rest and peace in heaven!
Lynn A Kassander
September 10, 2022
I am so sorry for your loss! What a special woman! She seemed to always have a smile and a kind word, even though you knew she wasn't feeling her best. Dotti's love of the lord was such an inspiration to me. My sincerest sympathy to the family.
September 10, 2022
So sorry for your loss.
Services

Thursday, September 15, 2022
7:00 PM
Wesley United Methodist Church
40 W. Main St.
Strasburg, PA 17579

Map and Directions