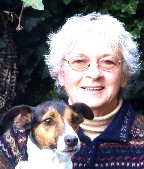 Donna M. Rathman, 61
Donna M. Rathman, 61 of Lititz passed away on Tuesday, December 25, 2012 at Masonic Village surrounded by her family after a courageous 2 year battle of lung cancer. Born in Lancaster, PA she is the daughter of E. Jean (Bush) Kline and the late Richard D. Rathman and the step daughter of the late Robert W. Kline.
She had worked at IDenticard for over 30 years and was a dog groomer for many years. Donna attended Speedwell Heights Brethren in Christ Church in Lititz. She enjoyed crafts, painting, the outdoors, gardening, and all animals, especially her dog, Silas.
In addition to her mother, she is survived by her sisters: Carol Kramer, wife of David, Robin Unangst, wife of Brian and Valerie Lookenbill, wife of Don all of Lititz, PA, along with 9 nieces and nephews and 7 great nieces and nephews.
A Memorial Service will be at 4PM on Wednesday, January 2, 2013 at the Charles F. Snyder, Jr. Funeral Home & Crematory, 3110 Lititz Pike, Lititz, PA 17543 with Rev. Adam K. Forry officiating. A visitation will be held from 3-4PM at the funeral home on Wednesday. Interment will be private and at the convenience of the family. In lieu of flowers, contributions can be made in Donna's memory to the Water Street Rescue Mission, 210 S. Prince St., Lancaster, PA 17603 or to the Humane League of Lancaster County, 2195 Lincoln Highway East, Lancaster, PA 17602. To send the family online condolences, please visit SnyderFuneralHome.com. Charles F. Snyder, Jr. Funeral Home & Crematory 717-560-5100
Leave a condolence on this Memorial Page
We attended the Crossings Church with Donna. Donna was always smiling. She was the perfect greeter. We enjoyed hearing her stories and advice. She had many artistic talents including painting and flower arranging that she often used to contribute to the church. We remember her as a selfless, positive person who never complained. She always wanted to hear about our lives and often offered prayer. We will always remember and miss Donna.
Chad and Marisa Fulmer
I'm sorry to hear about Donna's passing. I remember her as a true flower child of the 60's with a very sweet heart. A memory moment: One day when she was with us, we were at Pincho Park. She had made a very interesting discovery – the remains of bats' dinners. The two of us bagged them up and she toted them off to school. I remember her telling me how disappointed she was that her teacher threw them out!!! And another memory was all of the times that we "shared" a piece of pie…she would eat the crust & I would eat the filling. Donna will always hold a very special place in my heart.
Sue Weber Smith (her step-sister)
FROM BARRY AND SANDY GISH AND SILAS. OUR THOUGHTS AND PRAYERS ARE WITH THE ENTIRE FAMILY. DONNA WILL BE MISSED ON SO MANY LEVELS BUT SHE LEAVES A LEGACY OF CHRISTIAN LOVE AND HUMILITY GIVEN FREELY OVER MANY YEARS. SILAS HER CANINE PARTNER IS THE PERFECT BEAUTIFUL REMINDER OF GENUINE KINDNESS AND GOODWILL. WE ARE HAPPY THAT HER PASSING ALSO BRINGS A NEW BEGINNING, A PERFECT RESTART IN GOD'S WORLD – HEAVEN. CAN'T WAIT TO SEE HER AGAIN
Donna my dear friend.Remembered for Bible study,leading prayer,laughing,love of animals,hard working,crazy vacations, war protest in Washington D.C.,sleeping under the Wild-Wood board-walk,campfires on Rehoboth beach,stringing beads,sewing, American Indian pow-wows,bird watching,living in Agnes-flooded apartment ,dancing all night,singing,camping,intricate art work,painting,crafts,volunteering,baking,gardening and the love of all nature. "OH-DONNA",FLOWER CHILD, I WILL MISS YOU! December 25th a GREAT DAY to enter HEAVEN!!!
Susan N. Evans
Donna and I went to Conestoga Valley High School together. She was a little sweetheart with a beautiful smile. Always friendly to every one. She lived in Eden Manor back then,and I lived at the Humane League and she said she was envious of me being around dogs and cats. She was an animal lover back then. My thoughts and prayers are with all of you.
Claudia Noden Kling
May Donna now be in gods hands, God Bless you Donna. I have only fond memories of you.
Louis R. Matters
I got to know Donna when she attended the Worship Center and became part of a small group I led for awhile. She was such a sweet woman and was a blessing to me and the entire group. Life wasn't easy for her during that time but she was always smiling and remained upbeat and positive. She was always concerned about what others were going through more than her own difficulties. We've not kept in touch when life took us in different directions and I'm sorry to hear of her passing but I know she is rejoicing in heaven with her Savior. She was a special person and I'm glad to have had the opportunity to know her.
Brenda (Shultz) Elson
Jean & family, so sorry to read of Donna's passing. You are all in my prayers.
Joanie Braungard Cashdollar