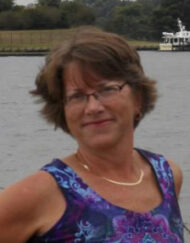 Donna L. Neff, 61
December 23, 2021
Donna L. Neff, 61, of Quarryville, passed away Thursday, December 23, 2021 at Chester County Hospital following a brief illness. Born in Ashtabula, OH, she was the daughter of Marjorie (Service) Fenton and the late Earl R. Fenton. She was the loving wife of Robert W. Neff with whom she celebrated 30 years of marriage on December 13.
A graduate of A.I. Dupont High School, Wilmington, DE, she went on to earn her degree as a registered nurse through Geisinger Medical Center School of Nursing, Danville, PA. She practiced nursing for 41 years until her retirement this past September. Her career in nursing started at St. Francis Hospital in Wilmington, DE. She was a charter member of Medic 94 in Southern Chester County, and then finished her career at Lancaster General Hospital where she worked from 1990-2021.
A member of Memorial United Methodist Church and a life member at West Grove Fire Co. She was an avid Eagles and Phillies fan, she loved to watch Penn State football, and enjoyed watching her daughter play softball. Donna also enjoyed traveling to Cape Henlopen, Lewes DE, Ocean City, MD, Indian Rocks. FL, and the Finger Lakes, NY. A jokester at heart, she loved watching butterflies and enjoyed working in her flower gardens.
In addition to her husband, Donna is survived by her daughter: Haley Neff, companion of Timothy Albertini, of Oxford; sister: Gail Fenton Cochoff, wife of Steve, of Hudson, OH; niece: Katrina Cochoff Sheaffer, wife of Jared, of Littleton, CO; and nephew: Chris Cochoff, of Salt Lake City, UT.
A public viewing will be held from 2PM to 4PM, Sunday, January 2, 2022 at Bachman Snyder Funeral Home & Crematory, 7 S. Decatur St., Strasburg, PA 17579. Memorial services will be held at a later date to be announced. In lieu of flowers, memorial contributions may be made to Memorial United Methodist Church, 101 S Hess St, Quarryville, PA 17566 or to Boxers Rescue, PO Box 826, Lancaster, PA 17608.
Watch the tribute video
Leave a condolence on this Memorial Page
Condolences to the Family
January 01, 2022
Our sympathy for the loss of your wife. Our hearts are sad and we lift you up in our prayers. May god comfort you and give you peace. God Bless.
Brian and Pam Herr
January 01, 2022
Dear Haley,
I worked with your mother for many years in the emergency room. She tended to be humble and laconic, but would speak of your accomplishments with great pride and joy. Her love for you was the one topic that burst through her modest and task-oriented demeanor.
She was my wise woman on so many topics, trusted by all as a clinical resource, and always prepared to pitch in with any task no matter how complex or menial. Donna was liked and respected by a tough crowd of emergency staff with high standards regarding integrity. I always appreciated both her directness and kind tactfulness.
When my daughter was a toddler, your mother helped me navigate the difficult time of deciding to send her to pre-school. Among the things she shared was a book, The Kissing Hand by Audrey Penn. I am guessing you will remember the book and the message that you take her love with you always.
May the Peace of God be with you and your family during this difficult time,
Deanna Winterling


December 31, 2021
Donna was one of the best nurses I worked with in the ER. We spent many nights talking about Haley's softball games and her family trips. She is the reason I took my nieces to Cape Henlopen. She loved her family and was so proud of her daughter. Donna will he missed by many.
Jane Howett Groff
December 29, 2021
Dear Haley, I am so sorry for your loss. I remember your wonderful mom when you were in first grade, and how we shared so many dog stories about Booker and Rosco. Every now and then I would see her somewhere in the neighborhood and she would tell me about what you were doing. She was so proud of you! May your memories and God's love give you strength during this difficult time.
Brenda Roark
December 29, 2021
So sad, Donna was the best nurse, I loved working with her and her fun personality, we worked together for many years at LGH. May God bless her husband and daughter they were greatly loved by Donna.
Raylene Berkman
December 29, 2021
So sorry for your loss. I always enjoyed working with Donna in the ER. She was pleasant and professional and I could always count on her. She will be missed. Dr K
December 29, 2021
Our deepest condolences and sympathy extended to Haley and Bob. There are many fond, cheerful memories of Haley's mom, Donna, in the stands watching and cheering at softball games. She always seemed to have the energy and passion for time to talk and smile. May we all find solace knowing her life has created so many memories for so many people. With warmth and prayers to all. Brett & Joan Miller
December 28, 2021
My heart goes out to friends and family of Donna. I knew her from Zumba classes at the Y and online these past couple of years. She and I shared many laughs while having fun dancing. Donna was such a kind-hearted and wonderful person who obviously loved life. She will be missed. My thoughts and prayers are with her family and friends.
Karen Revelt
December 28, 2021
My condolences to Donna's family and close friends. I worked with Donna for many years at LGH and always had great respect for her as a nurse. She will be missed by many. Danielle Jones
December 27, 2021
Toni and Dean Hoopes

Haley and Neffy we are so sorry for your loss you are in our thoughts and prayers
December 27, 2021
I am truly sorry..Your mom and I got to know each other at the Y Zumba class in Lampeter Strasburg .. she would always stand right beside me..we would roll our eyes when songs came on that we didn't like. My heart hurts..I will miss her..
God Bless You

December 26, 2021
Hands down one of the most understanding, laid back, and exceptional nurse's I've ever worked with. Truly an amazing person. I'll cherish all the knowledge, and great times of working with her.
December 26, 2021
Dear Bob and Haley…
Our hearts r hurting..we are so very sorry…please know you are in our thoughts and.prayers. Donna called me when I was sick with covid. She was such a caring, sweet person. Love u both…
Visitation

Sunday, January 02, 2022
2:00 PM - 4:00 PM
Bachman Snyder Funeral Home & Crematory
7 S. Decatur St.
Strasburg, Pennsylvania 17579

Map and Directions