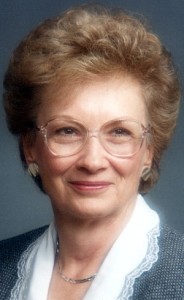 Donna E. Wall, 90
September 10, 2015
Donna E. Wall, 90, passed away at her Leola home on Thursday, September 10, 2015. She was born in Fort Wayne, IN, to the late Joseph C. and Blanche (Jordan) Ellert. Donna's husband of 50 years, Charles R. Wall, Jr., died in 2008.
She owned and operated Wickercraft at Meadowbrook Farmers Market in Leola for more than 20 years. Along with Charles, Donna enjoyed sailing on the Susquehanna at Long Level, York County, and traveling throughout the United States and internationally. She loved dogs, gardening, reading, and doing needlecrafts and charcoal drawings. Donna was a devoted stay at home mother while her children were young.
Donna is survived by her sons: Bruce MacQueen, husband of Elaine of Lexington, VA, and Craig MacQueen, husband of Rhonda of Montpelier, VA; daughter Janet Wall of Midlothian, VA, and step-daughter Cheryl Dormer of Lancaster; and 7 grandchildren: Allison, Evan, Adam, Alima, Leslie, Rob and Ed, and several great-grandchildren.
Services were private for the family. In lieu of flowers, memorial contributions may be made to Hospice & Community Care, PO Box 4125, Lancaster, PA 17604-4125
Leave a condolence on this Memorial Page
Condolences to the Family
September 25, 2015
The loss of a loved one is never easy. I would like offer my deepest condolences to all the family and friends. May her memories always live in your hearts. While our loved ones sleep in death, I have found great comfort in the words of Isaiah 25:8: "He will swallow up death forever, And the Sovereign Lord Jehovah will wipe away the tears from all faces." What a beatiful promise that God will soon put an end to death, and that we will be able to see our dead loved ones again in the near future. (John 5:28,29)
Sincerly, Harriet
September 15, 2015
Donna was always remembered fondly by Susquehanna Yacht Club members, who are happy now that she's reunired with Charlie, sailing on the big pond up in the sky. Fred Bush
September 14, 2015
So sorry for your loss, Donna and I would talk about our dogs! I work at General Internal Medicine. Blessings to her family. Bonnie Herr