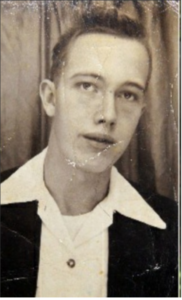 Donald Mylin Born, 19
Donald Mylin Born was born June 5, 1931 and died July 30, 1950 in Chinju, Republic of Korea. The son of the late Kathryne Schultz, he grew up in Lancaster and attended Reynolds Junior High School.
Donald enlisted in the Army June 16, 1948 and trained at Ft. Dix, New Jersey. After completing training, PVT. Born was stationed in Japan as part of the First Calvary in 1949. He was later assigned to the 31st Infantry Regiment, Seventh Division and was sent to South Korea. He was last accounted for July 28, 1950 and declared MIA August 30, 1950.
On June 21, 2022, Defense POW/MIA Accounting Agency reported a finding of a DNA match to PVT Born's remains. It is with great reward that the family will welcome him home and lay him to rest.
Donald is survived by two nieces Donna M. Shue and Deborah A. Seiz (wife of Jeffrey); one nephew William L. Shue, Jr; a great-niece Amber J. Hogan (wife of David) as well as other numerous great nieces and nephews.
Donald is preceded in death by his mother Kathryne Schultz, two sisters: Mary Gentzler and Betty J. Shue and a brother-in-law William L. Shue, Sr. in addition to other siblings.
Family will receive friends at Charles F. Snyder Funeral Home, 3110 Lititz Pike, Lititz, PA on Tuesday August 30, 2022 from 10:00am-11:00am with services starting at 11:00am. A graveside service with military honors will be held at Indiantown Gap National Cemetery at 1pm.
Watch the tribute video
Leave a condolence on this Memorial Page
Condolences to the Family
August 31, 2022
My dad and I just received the news this morning about Donnie being found and his ceremony. We are so sorry that we missed this important tribute, but thank the family, friends, and Veterans for honoring Donnie. My paternal grandmother was Kathryne Schultz (Nanny), Donnie's mother. Gary Schmalhofer is my dad, the son of Helen Schultz Fisher, Kathryne's daughter. Kathryne lived with us until she passed away when I was about 5 years old. She shared the story about Donnie with me when we would sit in her room. I remember learning about the MIA bracelets worn to remember brave heroes like Donnie. The unknown of what happened to Donnie was so worrisome for her. Gary, my dad, was raised by Kathryne and grew up 9 years younger than Donnie. God Bless Donnie for his bravery, and service. He gave the ultimate sacrifice for others. We would love to connect to the family. My dad, Gary Schmalhofer's email is FranksGarage653@aol.com. With Deepest Sympathy, Theresa Schmalhofer Ellis
August 29, 2022
My deepest condolances to the family of this brave yound soldier who was so long without a place to call home. May he finally find his eternal peace.
August 29, 2022
After all these years I'm very happy Donald is coming home. I only wish that Betty could be there. This weighed on her for years. I know Betty is looking down at our family and smiling ear to ear. It's an honor to have a loved one return from the Korean War after all this time. He sacrificed himself to protect each and every one of us. Thanks, Donald for your service. God Bless You.
August 27, 2022
My sincere sympathy and condolences to your family. May he finally rest in peace after all these years.
August 26, 2022
It is with great pleasure that I will be able to Honor your loved one on his return from the Korean War. I am a former Green Beret Sergeant who served during the Viet Nam conflict. You have my sincerest condolences!
August 24, 2022
Donald Born was my Grandfathers half brother.That makes him my Mothers and my Aunts, Uncle and makes him my Great Uncle. Never knew of this side of family but my condolences to those amongst the family who did. Thank you Donald for your sacrifice and service to your Country.

August 11, 2022
RIP. Condolences to the family for living so long without closure. Our nation and Korea can never repay your sacrifice.
August 02, 2022
Thank you young man for your ultimate sacrifice. RIP
Priscilla Krause Kaiser
Visitation

Tuesday, August 30, 2022
10:00 AM - 11:00 AM
Charles F. Snyder Funeral Home & Crematory
3110 Lititz Pike
Lititz, PA 17543

Map and Directions

Services

Tuesday, August 30, 2022
11:00 AM - 12:00 PM
Charles F. Snyder Funeral Home & Crematory
3110 Lititz Pike
Lititz, PA 17543

Map and Directions