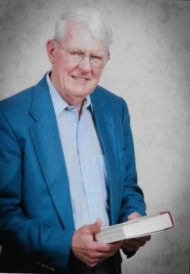 Donald L. Walters, 84
April 26, 2021
Donald L. Walters, 84, of Willow Valley, passed away on April 26, 2021. Dr. Walters was born in 1937 in Indiana. He received the bachelor's and master's degree from Indiana University and the Doctor of Education from the University of Miami, Florida. He joined Temple University in 1966 where he served as a professor of educational administration and held the Charles G. Erny professorship in Education. His service included head of the Department of Educational Administration and president of the Temple University Faculty Senate.
Upon retiring, Dr. Walters lectured for community course at the University of South Carolina-Beaufort and volunteered at the Coastal Discovery Museum, Hilton Head Island. While residing in Lancaster, he enjoyed volunteering at Wheatland, Rock Ford, Boehm's Chapel and Historic Walking Tours.
He was married to the late Nina Cyhanenko. He survived by a son, Mark, who resides in Maryland. He served as a captain in the US Army Reserve and was a member of the United Methodist Church. In lieu of flowers, gifts may be made to any of the above organizations. "Praise God from whom all blessings flow."
A Memorial Service will be held at 10AM on West Willow United Methodist Church on Thursday, May 20, 2021 at West Willow Valley United Methodist Church, 118 West Willow Road, Willow Street, PA 17584. Family and friends will be received from 930AM until the time of service. Interment will follow at 1PM at Glenwood Memorial Gardens, 2321 West Chester Pike, Broomall, PA.
Leave a condolence on this Memorial Page
Condolences to the Family
May 26, 2021
Mark, I was sorry to hear of your father's death. I am sure his soul has merged with your mother's in heaven. Your father and then your mother…and then you…was a part of my life for a long time. I last saw your father when he was a docent at a Lancaster historical home. It was a surprise to us both as we had not been in touch. Please accept my condolences and know that the memory of both your parents as well as you remain a pleasant part of my life,
Judie Elliott
May 21, 2021
Dear Mark and Family,
On behalf of the entire Temple University family, I want to extend to you our most sincere condolences on your loss. We will keep him in our prayers.
I first met Don when I arrived at Temple University in 1976. We were in the same Educational Administration department. I quickly learned that he was not only a real gentleman but also a skilled professional and a valued colleague. I admired his calmness under pressure and his dedication to our students. He was a model for me as a thoughtful and effective administrator. His colleagues showed their trust in his leadership and judgment in electing him to a number of significant roles including Department Chair and president of the Faculty Senate for the entire university. He definitely made his mark and left a legacy for generations to follow. Personally, I know that he helped shape my behavior later as Dean of the College of Education, as university provost and now as president. We all mourn the loss of an outstanding human being and friend.
Richard Englert, President, Temple University
May 19, 2021
I connected with Don later in his life when he was a Resident of Willow Valley Communities-where I was an administrator. I enjoyed getting to know him and his love of history during occasional lunches and dinners with him. I also appreciated how he willingly shared his knowledge of local history through presentations to our Residents. And my personal life was enriched having gotten to know him. A fine gentleman indeed!
David Haverstick, retired Chief Operating Officer, Willow Valley Living
May 17, 2021
Dear Mark and family,
Please accept my sincere sympathy on the death of your father. I was one of so many doctoral students at Temple, and Dr. Walters was my advisor. He was wonderful to me. When I moved to Lancaster, I learned that Dr. Walters was at Willow Valley. He invited me to attend some of his lectures at WV, and he was a guest at our home for a birthday dinner for my husband Gary.
He always mentioned you, in reference, usually, to history and/or the presidents. He said that you would accompany him on trips to past Presidents' homesteads. Don was well read, sharp, and congenial.
I am unable to attend on Thursday, but wanted you to know how much of an impact your father made on me in my doctoral work. He came to my rescue when my first advisor died suddenly, and discovering that there were many course requirements that I not taken due to the previous advisor's work, set about with a new plan for me to be able to accomplish my objectives. I ended up taking the equivalent of another master's along with the doctoral work. He passed me in Calculus, which was an act of kindness and charity in itself.
Don will be missed by so many, and I count myself among them. My sincere regards to you and your family at this time and in the future. He was one in a million.
Susan S Leinberger
May 14, 2021
Condolences from the board members of the Boehm's Chapel Society on the loss of our colleague, Don Walters. As a member of our board, Don could always be counted on to promote and participate in our events, telling the story of this 1791 chapel, one of the oldest in American Methodist history and the first official place of Methodist worship in Lancaster County, Pa. You could count on Don to show up in period dress, to match the event. I once said that Don was a man born to wear a top hat.
Don will be missed, but we have great memories of him at Bopehm's.
Marvin I. Adams Jr.
May 11, 2021
Don was a very good and decent colleague, as well as a gentle person. I knew him from our time in the Faculty Senate, College of Education Steering Committee, and many doctoral committees. He participated in many Temple University activities and we were part of many Commencements. His work at Temple was the major part of his life, and was appreciated by his students and graduates.
Dr. Jerome Leventhal
May 11, 2021
Dear Mark,

Jean and I send our condolences to you over your father's passing. It was a privilege to know him and learn from him, as my senior colleague at Temple University and, after his retirement, simply as a dear friend. He was kind, fair minded, curious, and a true gentleman. I think about him often and will continue to do my best to live up to the example he set. Jean and I will miss him a great deal.

Steve Gross
May 07, 2021
My thoughts and prayers are with you, Mark, at this difficult time. Your Dad was a very special person.
Cherish your memories.
Blessings, Charlotte Bauer

Visitation

Thursday, May 20, 2021
9:30 AM - 10:00 AM
West Willow United Methodist Church
118 West Willow Road
Willow Street, PA 17584

Map and Directions

Services

Thursday, May 20, 2021
10:00 AM
West Willow Valley United Methodist Church
118 West Willow Road
Willow Street, PA 17584

Map and Directions