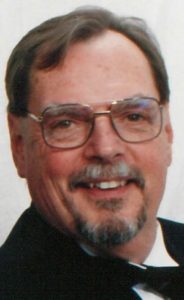 Donald L. Parsons Sr., 75
March 05, 2018
"Twenty years from now, you will be more disappointed by the things you didn't do than those you did. So throw off the bowlines. Sail away from safe harbor. Catch the wind in your sails. Explore, Dream. Discover." Mark Twain
Don had the heart of a sailor. He lived a life filled with adventure and shared his enthusiasm with those he loved. Born November 7, 1942 in St. Louis, MO, Don's parents introduced Don to boating on their Chris Craft on the Mississippi River. Forever a "river rat", Don enjoyed being on the water throughout his life, most recently on the Lady J, a boat named for the love of his life and wife of 54 years, Judy. Don served as Commadore for both the Charlestown and Wellwood Yacht Clubs. Many will fondly remember him as the "King of the Chesapeake" and recall his charismatic smile while sitting on the deck of his boat with a scotch in his hand enjoying a cigar.
After relocating his family to Lancaster, Don enjoyed many years coaching his sons in Manheim Township Little League football and was the voice of Manheim Township High School football, announcing games for over 30 years. As a founding member of the York Rugby Club, he introduced the sport to both his sons, playing together on the same team, affectionately known as Sr., Jr. and Jr. Jr. Whether travelling in their Volkswagen, as members of the Volkswagen Club of Greater St. Louis, riding his Full Dresser Harley-Davidson with Judy on the back, or discovering and exploring new places, together they caught the wind in their sails.
Along with his interest in literature, art, golf, and travel, Don passionately supported his children and grandchildren. He enjoyed spending time with family and sharing in their interests. "Pa" loved and was well loved. He will be deeply missed, but always alive in our hearts.
In his spare time, Don worked as a Supervisor and retired from Harley- Davidson in York, PA.
Don lived fully, untethered by bowlines, despite his diagnosis of Idiopathic Pulmonary Fibrosis. He fought valiantly to stay with the ones he loved and live to explore, dream and discover until his final breath, March 5, 2018, at home surrounded and cared for by his family with the support of Hospice and Community Care.
In addition to his wife Judith Ann Standeford Parsons, Don is survived by his daughter Traci Longenecker Parsons, Sharon Hill, PA, his son Donald L Parsons Jr, husband to Jean Deiter Parsons, parents of Hannah Elizabeth Parsons and Addisan Ann Parsons, Lancaster, PA and his son Michael S Parsons, Lancaster, PA. Don is predeceased by his father Leroy Francis Parsons, mother Wilma Lucille Fitzsimmons Parsons and his beloved grandson Chad David Longenecker.
Relatives and friends are invited to visit with family and will be received on Wednesday, March 14, 2018 from 6-8pm at the Charles F. Snyder Jr. Funeral Home, 3110 Lititz Pike, Lititz, PA 17543. In lieu of flowers, contributions in Don's name can be made to Hospice and Community Care, 685 Good Drive, Lancaster, PA, 17604.
Leave a condolence on this Memorial Page
Condolences to the Family
March 15, 2018
I just heard about Don's passing. My thoughts and prayers go out to you Judy and to your family. I enjoyed the many brisk Friday nights next to Don in the press box.
Sean Burkhart
March 14, 2018
Judy, Traci, Don Jr, and Mike.
I am truely saddened with the loss of one of the greatest friends I could have known. Every one who knew Don will remember the positive attitude, smile and friendship he blessed us all with.
I am sorry I cannot attend the service but my hugs and prayers go out to the family.
March 14, 2018
Judy,
Don's smile was contagious and remembering him, will always put a smile on my face. We shared the love for Harleys, Boats , Family and good friends. I will remember him fondly and am sending my love and support to you and the Parsons Family.
Shelly Speicher Allocco
March 13, 2018
It was a pleasure to know Don (the boater with a big Harley) and Judy as members of the Chesapeake Bay boating and yacht club community. We attended many parties, meetings, and events over the years where Don's big smile, warmth, and enthusiasm were always a welcome addition.
A highlight for many of us was Don's selection (after a unique unforgetable "performance" on stage) and year of service as King of the Chesapeake. Don as "The King" was outstanding as a goodwill ambassador there to remind everyone it is all about fun and friendship and to never take things too seriously.
We know boating was only a part of Don's life well lived. Our condolences to Judy and the Parsons family, but also thanks for sharing him with all of us in the yacht club community.
Joe and Kathy Hellner
March 13, 2018
Judy, You and your family are in my thoughts and prayers. I am confident God has something fun in mind for Don in the great beyond. What wonderful memories I have of you two as my neighbors and friends. Hold tight to the memories and keep them close to your heart. Rest in peace, Don Parsons.
March 12, 2018
SO very sorry to hear of Don's crossing over the bar. Boating has lost another angel. Judy, please stay strong. Remember the good times you shared together.
Fair winds, Irene Witmer (Wit's End, REYC)
March 11, 2018
My condolences go out to the Parsons family. I had the pleasure of golfing on the same team as Don for the past three seasons. My heart goes out to all family members. It was my pleasure to get to know Don over the past few years. He was always encouraging and kept things on the "light side". He will be a BIG loss for our team and Sr League as a whole at Fairview Golf Course in Lebanon, Pa. I will never forget his "hole in one" two years ago. It was my pleasure knowing Don.
1 Thessalonians 4: 13 – 18 Verse 18; "Wherefore comfort one another with these words."
Don Cardin of Palmyra, Pa.
March 11, 2018
Dear Judy and family:
Al and I were so saddened to learn of Don's passing. He will be missed so much! How we had great times when we were together. Reminiscing of the good old days…good ole midget football! He was so respected by our boys! Wish we could be there but in FL.
Our deepest sympathies,
Al and Linda Beasley
Visitation

Wednesday, March 14, 2018
6:00 PM - 8:00 PM
Charles F. Snyder Funeral Home & Crematory
3110 Lititz Pike
Lititz, PA 17543

Map and Directions