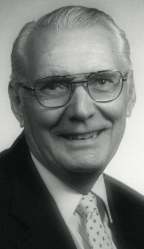 Donald L. Gammache, 83
Donald Louis Gammache, 83, of Lancaster, PA, went home to be with his Heavenly Father on Friday, December 9, 2011.
Don was born on March 17, 1928 to the late Richard and Marie (Myers) Gammache. He was the beloved husband of Joanne (Fry) Gammache, with whom he celebrated 50 years of blessed marriage on April 8th.
Graduate of East Lampeter High School, he attended the University of Miami in hopes of becoming a veterinarian. He joined the US Air Force and served four years in North Africa as an X-ray technician. After his service, at the request of his father, he came back to Lancaster to work with the family business, Machinery Products. Over time he served as quality control manager, electrical systems specialist, government contract administrator, and designer and fabricator of custom machinery. He later became President of Machinery Products in addition to being Vice-President of the sister company, Machined Products. He was also a partner with his brother in Mardon Manufacturing Co. which produced hand tools and floor protectors for Armstrong World Industries. Don was an active member of the National Screw Machine Products Association, on both the board and several committees.
Don enjoyed spending time with his family and sharing the joys of sailing, snow skiing, hunting and travel with them. He and his wife were loving foster parents, and he spent many years as an active participant with Sertoma Club of Lancaster, Millcreek Sportsmen's Club, and Lancaster Power Squadron.
He was a faithful and devoted member of St. John Neumann Church and a former member of St. Anthony of Padua Catholic Church.
He will be lovingly remembered by his wife as well as his daughter, Susan, wife of Legrand Richardson Jr., of Charleston, SC, his son, David J. Gammache, of Lancaster, his brother, Richard Gammache, of Lancaster, and many nieces and nephews. He was preceded in death by his sister, Marie Supplee, of Williamsburg, VA.
He was well loved and known for his patience, kindness and gentle nature, and will be deeply missed by his many family and friends.
Relatives and friends are respectfully invited to attend a Mass of Christian Burial on Thursday, December 15, 2011 at 11am at St. John Neumann Catholic Church 601 E. Delp Rd. Lancaster, PA 17601 with The Rev. Msgr. Richard Youtz as Celebrant. Visitations will be held on Wednesday from 6-8pm in the chapel of the Charles F. Snyder Jr. Funeral Home & Crematory 3110 Lititz Pike and again at the church from 10-11am on Thursday. A recitation of the Holy Rosary will be on Wednesday at 8pm after the visitation. Final farewell and commendation will be in St. Mary's Cemetery with Military Honors rendered by the Red Rose Veterans Honor Guard and Vet-21 Salute Honor Guard. In lieu of flowers, memorials in Don's memory may be made to St. John Neumann Catholic Church c/o Building Fund or The Annunciation Greek Orthodox Church c/o Altar Fund, 64 Hershey Ave. Lancaster, PA 17603. To send the family an online condolence, please visit SnyderFuneralHome.com. Charles F. Snyder Jr. Funeral Home & Crematory 717-560-5100.
Leave a condolence on this Memorial Page
We are very sorry for your loss. Don was a very nice and dear man. Our sincere condolences go out to his family.
Bruce Mahaffey and Family
Many of us here at Machined Products Company have been sharing our memories working alongside Donnie. I have been been reminded by this shop tribute of his legacy how he positively influenced so many of us here. His detailed work & quality driven influence he had instilled in so many of us, imparted the pride of workmanship that exists in us today. Don had such a upbeat and warm personality with the workers that his door was always a welcome threshold to go thru. When it was time to be stern, his skill; as in a leadership statesmen, left no doubt a lesson to be learned. In dealing with outside customers and suppliers, we all noticed that his ability to achieve a win-win situation for all was always important. MPC netted positive results due to his keen insight and ability to communicate precisely . I can hear today echoing in my mind: "It's not what you say nor how it was said that's important; it's what they think you said that is heard. Weigh your words carefully and use your listening skills to the utmost, so as to say the correct thing"!!! Thanks Uncle Don for making so many of us a better person in life.
Joan, David and Susan
I have known your Husband & Father it seems like forever, I have known him since the beginning of my life in manufacturing he is a fantastic friend & employer we have worked together had a lot of fun together at work and as friends he was one of the greatest men I ever new & respected I will miss him greatly.Don has taught me alot over the years too much to say
God has a place for him and is waiting for him ,I hope the family has a wonderful life and great memories I know I will, I have grown from what Don has given me over the years, if it is not for what Don has given me over the years I would not have flourished the way I did.
with all heart felt love
Barry Hart
To Susan & Lee,
We are sorry to hear of your loss. May the Peace that Surpasses All Understanding be with your family at this time.
Jim and Eve Brewer
Easley, SC
jimbrewer@bellsouth.net
Word has finally gotten to me about my Cousin Donald death. The distance and the span of our ages has kept us apart. However for the times through my life that I had the pleasure of being with him. I found him to be a caring and wonderful man. Through the family I have heard so many wonderful stories, over the years about Donald. To Susan and the family, the deepest of sympathy.
Ralph Decker
Brooksville FL.
Joanne and family,
I was very sorry to learn of your loss. Please accept my heartfelt sympathy.
Odessa Shaw