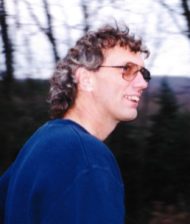 Donald E. Rettew, 59
April 02, 2017
Donald "Don" or "Donny" Rettew, 59, passed away suddenly on April 2, 2017 at Lancaster Regional Hospital.
Born in Lancaster, he was the son of Robert and Lois Rettew, Spring City, Pennsylvania and is also survived by his life partner, Patricia A. Shelly of Lititz.
Donald graduated from Warwick High School in 1976. His life vocation was in printing. After graduating from high school, he began his employment at Wagaman's Printing Company in Lititz and worked there until moving to Utah in 1984. While there he was employed by Herff Year Books for two and a half years. After returning to Lititz, Donald worked with longtime friend, Frank Brown, owner of Lanco Graphics, for a brief time before moving to Wisconsin. In 1988, Donald planted his roots back in Lititz and worked for Lanco Graphics for over 25 years. In 2013, Lanco Graphics was sold to Cornerstone Graphics, Donald continued to work there until his death.
Donald was a gentle soul who was passionate about life, family, friends, music (Bob Dylan in particular), the Philadelphia Eagles and photography.
He will be missed and remembered by all who loved him.
May God Bless and keep you always
May your wishes all come true
May you always do for others
And let others do for you
May you build a ladder to the stars
And climb on every rung.
May you stay forever young.
A celebration of Donald's life will be held in the near future. Memorial contributions can be made to the Lancaster Humane League or Feeding America.
Leave a condolence on this Memorial Page
Condolences to the Family
April 26, 2017
RIP DONALD. You will certainly be missed by a lot of people. May GOD comfort your parents.
THE RUTH FAMILY
April 18, 2017
Patti,
I was so saddened to hear about Donny's passing. He was a good man , and will be missed by so many. He will be be in my thoughts for a long time .
Mike Neuroh

April 15, 2017
Patti and family,
So very sorry to read of Don's passing. A gentle soul, indeed. My deepest sympathies to all of you.

Lynn (Sipe) Golitz
WHS Class of '77
April 15, 2017
On the wings of "Eagles" may you always fly!
God's speed!

Scott "Chubbs" and Cindy Zimmerman

April 13, 2017
Enjoyed having a beer and conversation the past 20 years. You were one of the kindest and most gentle people I have had the pleasure to know. Politically, we differded, but with respect. My biggest problem is "where will I find another Eagles fan to commiserate with"
E-A-G-L-E-S
I miss you every day.
Tom O'Connor