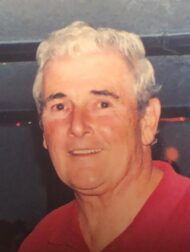 Donald "Don" Kaiser, 85
October 27, 2021
Donald "Don" Kaiser, 85, of Lancaster, passed away peacefully Wednesday morning, October 27, 2021.
Born October 24, 1936, in Lancaster, he was the only child of the late Joseph and Orene Kaiser. Don was a member of St. Joseph and St. Leo the Great Catholic Churches in Lancaster. Additionally he was an honorary member of the Lancaster Liederkranz where he volunteered his manpower and creativity to building projects and events for more than six decades.
Graduating from J.P. McCaskey, Don married his high school sweetheart, Joanne L. Liebl. They recently celebrated their 66th anniversary.
Don and Joanne enjoyed traveling with friends and, for the last 24 years they were snow birds, wintering in their Florida condo.
Completing numerous night courses Don advanced at RCA and Burle Industries to become an accomplished Draftsman/Tool Designer. During the course of his 42 year career Don was awarded 15 patents. Don's professional reputation was that he brought goodness and teamwork to every project.
Don's recreational interests included golf, tennis, horseshoes, woodworking and tinkering. He was a guy who would take anything apart and sometimes even fix it. But Don's real passion was spending quality time with family and friends, helping with every imaginable project or challenge. His involvement in any task resulted in success – and having fun along the way! Don was a genuinely kind person. He derived great pleasure in making someone else's day better.
Don is survived by his wife Joanne L. (Liebl) Kaiser, daughter Kathleen K. wife of John C. Zug of Florissant, CO and son Jeffery J. Kaiser husband of Priscilla K. (Krause) of Downingtown, PA. He is also survived by grandchildren Leslie O. Pennypacker wife of Gustavo Venturim of Brooklyn, NY, Joseph P. Kaiser husband of Danielle L. (Koczirka) of Downingtown, PA, and Sarah K., wife of Vincent M. Adamo of Philadelphia, PA. He is also survived by great grandchildren Elyse L. Venturim, Michael J. Kaiser, Leandro N. Venturim, and Eleanor J. Adamo. He was predeceased by grandson Neal R. Pennypacker.
Relatives and friends are respectfully invited to attend the Mass of Christian Burial at St. Leo the Great Catholic Church, 2427 Marietta Avenue, Lancaster, PA 17601 on Friday, November 5, 2021 at 11:00 a.m. The family will receive friends at the church on Friday, between 10:00-11:00 a.m. Final Commendation and Farewell will be held at the St. Joseph Catholic Cemetery, Lancaster, PA.
In lieu of flowers, please consider making a Memorial Remembrance to Don's favorite non-profit organization, Schreiber Center for Pediatric Development, 625 Community Way, Lancaster, Pennsylvania 17603.
Leave a condolence on this Memorial Page
Condolences to the Family
November 07, 2021
Dear Joanne, Kathy and Jeff. We are sad about Don's passing. We have so many good memories we cherish. We are presently in Florida but we will keep you all in our prayers.
November 05, 2021
Joanne and Family, So sorry to hear of Don's passing. We have many good memories of spending time with you both. Take care and know that others share your grief. We feel so lucky to have known him! Charlie and Sandi Beach
November 02, 2021
To Joanne and family,
We were saddened to hear of Don's passing and wish to extend to you and your family our deepest sympathy and pray God gives you comfort and strength and the love and memories you shared will bring you peace.
November 02, 2021
Joanne & Family: So sorry to read of Don's passing. Can't remember anyone at RCA who didn't enjoy Don's company or commentary. He was always a big help to me with CAD issues. Bob Thompson
November 01, 2021
Joanne, sorry for Don,s passing. He was always friendly person and never to busy to say hello. Prayers for Don, you and the family. God Bless, Mary Anne and Joe Weiss.
November 01, 2021
Joanne and family.
Don was a loss of a great man. Remember all the fun we had together. Your Don and my husband, Don were like brothers working together fixing and building things at the Liederkranz. What fun we had boating. Remember,"Get off my boat!" That was at Annapolis for your son,Jeff'sgraduation from the Naval Academy. I know you will cherish all the memories you had with Don and your wonderful family. These memories will help you with the sorrow of his passing. He will be missed by many.
Peace and love to all your family,
Your friend Lois Seith
October 31, 2021
Dear Kaiser family, we are so sorry to hear of your loss. Growing up I have so many fond memories of our families and parents spending time together. Don and I often talked of the fun him and my dad had. I feel blessed to have known him and so blessed to have been there with you guys on his last birthday. Seeing him so bright and full of spirit on Sunday just warms my heart. Prayers to you all
Love Terry and Laurie Heagy Molkenthin
October 31, 2021
Dear Kaiser family, the Goldbach children have many fond memories of the Kaiser's. Jerry my dad, and Tine, my mom were good friends of Don and Joanne, travel partners, fellow Knights, and partners in crime. Don and Jerry often volunteered at the Liederkrantz and the many Knights of Columbus events. Rest assured your Don most certainly lived a life well lived. The entire Goldbach family sends their condolences to your family at this time.
October 31, 2021
Kathy, so sorry to hear of the passing of your father. (Paul Viscuso)
October 31, 2021
Dear Joanne, Kathy and Jeff,
Please accept our sincere condolences on Don's passing. He was a genuine kind man. We loved the gatherings with the gang and he always made us feel welcome. Rest In Peace Don.
Love, Mary Lynn and Mike DiPaolo
October 31, 2021
Joanne and family — Sorry to hear og Don's passing. I worked with him at RCA/Burle and always found him to be chearful, but serious when that was called for. Good man! Jerry Buchko
October 30, 2021
We are so sorry. Don was a wonderful person loved by many. Love Teresa & Jeff Wiedemer
October 30, 2021
Dear Joanne and family,
I'm just so sorry to see of Don's passing. You are in my prayers, hoping you will find some comfort during a very difficult time. I worked with Don at RCA/Burle for more than 25 years, with the latter years in the same department. He was the best tool/equipment designer I ever worked with, and we had collaborated on many projects, especially vacuum equipment for trolley tube exhaust. Don was a genius for designing specialty tools that could be used for more than one project. He was such a meticulous team worker and a joy to be associated with in getting projects completed. He was also a good friend, even sponsoring me to become a member of the Lancaster Liederkranz. God Speed and Rest-in-Peace my good friend…
Joseph Wright
October 30, 2021
What a special man who will be truly missed. Peace to all of you in your time of sadness. Love, Claire and Jimmy Campbell.
Visitation

Friday, November 05, 2021
10:00 AM - 11:00 AM
St. Leo the Great Catholic Church
2427 Marietta Pike
Lancaster, PA 17603

Map and Directions

Services

Friday, November 05, 2021
11:00 AM - 12:00 PM
St. Leo the Great Catholic Church
2427 Marietta Pike
Lancaster, PA 17601

Map and Directions