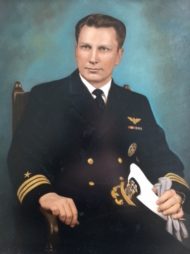 Donald D. Renicky, 89
January 22, 2021
Donald David Renicky (Rzewnicki) CDR USN Ret., 89, set sail for the final time on Friday, January 22, 2021. He passed away peacefully at Moravian Manor, Lititz, Pennsylvania, after a three year stay.
A viewing will be held from 10AM to 11AM, Tuesday, January 26, 2021, at Charles F. Snyder Jr. Funeral Home & Crematory, 3110 Lititz Pike, Lititz, PA 17543. A short memorial service will follow at 11AM.
Donald was born April 29th, 1931 in Freeport, PA to Anna and Nicholas Soback.
He gave his entire adult life in service to the U.S. Navy as a pilot, enlisting at the age of 18. Even after his retirement 22 years later, his Naval career was the anchor of his identity and the source of his pride in all his accomplishments, culminating with his service with the Joint Chiefs of Staff as part of the operational support arm for the very first permanent Air Force One (VC-137C SAM 27000 "Silver Dollar"). After retirement from the Navy, Donald moved his family from Washington D.C. to Manheim, PA, where he continued to work as a field technical representative for GTE Sylvania / North American Phillips until entering full retirement in 1993.
His lifelong interests included military aviation and electronics. The family's Washington D.C. home included a basement electronics lab in which he built the family's first 25" color television set himself.
He is survived by his wife of 69 years, Florence Renicky, Manheim, PA; a daughter, Linda Renicky-Vining, Mount Vernon, OH; a son, Don Renicky, Wilmington, NC; and grandchildren Elizabeth Brandon, Los Angeles, CA; Grace Vining, Colorado Springs, CO; Andrew Renicky, Manheim, PA; and Abigayle Renicky, Manheim, PA.
The family requests that donations in lieu of flowers be sent to the Manheim Public Library, 15 E. High St., Manheim, PA 17545.
Leave a condolence on this Memorial Page
Condolences to the Family
January 25, 2021
Dear Flo,
i am so sorry to hear of Donald's passing. He was always in such good spirits and his "you're looking good" was great. He is now soaring in heaven and free. You were an amazing and wonderful wife and I always looked forward to seeing you in the dining room. You have my deepest sympathy.
Sally Furlow, Bob's wife. He passed Dec. 9
January 25, 2021
To Aunt Flo and family with our deepest sympathy. Uncle Donnie was a fine man and we Thank him for being part of the Greatest Generation in his service to our country. May Uncle Donnie rest in God's eternal peace and may his memory be a blessing too us all.
Jim & Colette
Visitation

Tuesday, January 26, 2021
10:00 AM - 11:00 AM
Charles F. Snyder Funeral Home & Crematory
3110 Lititz Pike
Lititz, PA 17543

Map and Directions

Services

Tuesday, January 26, 2021
11:00 AM - 12:00 PM
Charles F. Snyder Funeral Home & Crematory
3110 Lititz Pike
Lititz, PA 17543

Map and Directions