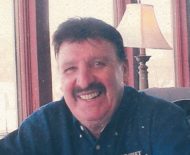 Dominic F. Randisi
July 13, 2017
Dominic F. Randisi, of Lancaster, PA, passed away on July 13, 2017 at his home. Services will be private and at the convenience of the family.
Leave a condolence on this Memorial Page
Condolences to the Family
July 19, 2017
May mick rest in peace and my thoughts and prayers go out to his daughter Renee randisi hope she will find peace Love patti
July 17, 2017
Sharing in your loss of a family member. Mick is leaving fond memories from our neighborhood. From playing baseball, his love of Mickey Mantle and Roger Maris were amazing, to kick the can. The memories continued as Mick and Phil would cut my 2 sons hair, until the era of long hair. Rest In Peace, you left everyone with fond memories.
God Bless the family,


Lynda (Hoffer) Bennett
July 16, 2017
We share in this time of grief but also share in the love and memories of "Mick
Our deepest sympathy
Clyde and Marie Harsh


July 16, 2017
My condolences to the family. As a young boy I have fond memories of getting my haircut on a Saturday morning or afternoon at the shop on E. Lemon St. I got to go first, then my dad. Mick & his brother Phil would be cutting our hair & talk about how good or bad the phillies were playing.Sometimes their dear mother or beautiful sister would come out from the back and see if they needed coffee or something and talk to my dad. A beautiful family they all were. Now they are all joined together again. There is comfort in that for your surviving relatives. May Mick Rest In Peace.
Sincerely, Nick Rose.
July 15, 2017
I really wish we could have been like father and daughter the way it was meant to be even though It wasnt I still always loved you and wish we could have spent more time together it just wasnt to be but always know I will always love you from your daughter Renee Randisi Warren