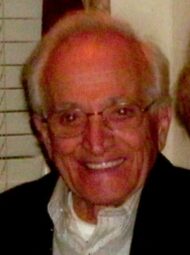 Domenick J. Vitale, 92
September 19, 2022
Domenick J. Vitale, 92, of Leola passed away Monday, September 19, 2022 at his home surrounded by his loving family. Born in Brooklyn, NY he was the son of the late Pasquale and Antionette (Rainone) Vitale. He was the loving husband of Jeanne (DiMario) Vitale with whom he shared over 69 years of marriage.
He was a teacher for the former Vo-Tech and most recently the Lancaster CTC where he retired from.
Domenick was of the Catholic faith. He proudly served in the US Army during the Korean War.
In addition to his wife, he is survived by three daughters, Annette Roda wife of Jack of Lititz, Lisa Hauptman wife of Roger and Jean Brown wife of Richard both of Brownstown. Also surviving are four grandchildren, Dominique Roda, Adam Hauptman, Alexander Brown, Anthony Brown, three great-grandchildren and a brother, Peter Vitale of NY.
Funeral Services will be held at 2PM on Thursday, September 22, 2022 at Charles F. Snyder Jr. Funeral Home & Crematory, 3110 Lititz Pike, Lititz, PA 17543. Interment will follow in Landis Valley Cemetery. Family and friends will be received from 1-2PM at the funeral home on Thursday. In lieu of flowers, contributions in Domenick's memory may be made to Kindred Hospice, 1891 Santa Barbara Dr #201, Lancaster, PA 17601.
Leave a condolence on this Memorial Page
Condolences to the Family
September 30, 2022
Deepest condolences to the Vitale family. My thoughts and prayers are with you all. It has been an absolute pleasure getting to know you both.
Your Bank "Family" – Dawn Marie Boyle
September 25, 2022
It brought me such happiness to see Dom's picture in the paper & such sadness to hear of his passing. I was a student of his at B town Vo Tech in the early 80's. At the time, I was a punk kid who was struggling terribly with school & at home. Dom, graciously, allowed me into his class in the 11'th grade and took me under his wing. What I remember most about Dom was how cool he was; he represented someone & something that I had not experienced in Lancaster County. Dom had an ability to see through my, and others, bratty exteriors and really connect with us. He treated all of his students with respect, which is a necessary quality of a great teacher & mentor. I, truly, attribute my success in life, in part, to the kindness and support that Dom showed me; he always focused on our potential rather than our challenges. I was an electrical contractor for many years until moving solely into real estate development in Missoula, MT. My family has been graced with many funny stories about Dom and the Vo Tech kids over the years. Thank you, Dom, and cheers for all of your great work over the years!
September 23, 2022
My condolences to the Vitale family….
It was truly my honor being mentored during my years at Willow Street Vo-Tech by Mr. Vitale. I loved his humor, smile and moreover his friendship! After graduating in 1974, I credit Mr. Vitale for me obtaining a scholarship to Stevens Trade School and having a wealthy career in the electrical and electronic fields until I retired earlier this year. May many fond memories last you the rest of your lives, for I too have many!!
Kind regards,
Brett Oakwood
September 22, 2022
To the Vitale family,
I am sorry to hear of the passing of Dom. I was very lucky to be one of his students back in the early 1970's. He had a big influence in shaping my future. Because of his teaching and pushing his students I had 40 years in the electrical trade. Your family can be proud of him and the way he shaped his students. I am proud to have had him as a teacher and a friend.
God's Blessings,
Jeff Heming
September 22, 2022
Please accept my deepest condolences to Mr. Vitale's family.
I was a student of Mr. Vitale's at Willow Street Vo-tech from the fall of 1973 until graduation in 1976. Not only did he provide me with a life long trade. He was like a father to me when I lost my father in my sophomore year of high school. Mr. Vitale was a great teacher but an even better mentor.
Barry Snodgrass
September 21, 2022
Hello Jeanne and family.
I had the honor of teaching with Dom for many years. He was a great teacher to his students and a good friend to me.
Although Dom had severe dementia in his last years, please accept my sincere condolences for the loss of you husband, father, grandfather, and great-grandfather.
Dom will always be remembered as a great guy.
Dick Copenhaver
September 21, 2022
Dear Jeanne, Annette, Lisa, and Jean, Peter and I are so sorry for your loss. Domenick was a wonderful husband, father, and grandfather! He had a great sense of humor and an infectious smile which made people happy. We know you will miss him every day❣️
Stella Faranda-Diedrich
Visitation

Thursday, September 22, 2022
1:00 PM - 2:00 PM
Charles F. Snyder Funeral Home & Crematory
3110 Lititz Pike
Lititz, PA 17543

Map and Directions

Services

Thursday, September 22, 2022
2:00 PM - 3:00 PM
Charles F. Snyder Funeral Home & Crematory
3110 Lititz Pike
Lititz, PA 17543

Map and Directions