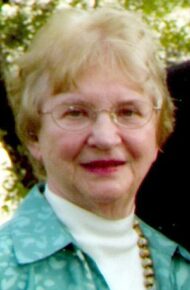 Dolores Gloria Seward, 95
January 04, 2022
Dolores Gloria (Barchick) Seward, Manheim (formerly of Elizabethtown) age 95 died peacefully at the home of her daughter, Mary Haldeman on January 4, 2022.
Besides her daughter, Mary, she's survived by sons John (wife Mary Schultz) Seward, Drumore and David Seward, Elizabethtown.
Dolores was born 1926 to immigrant parents Minnie (Mary) Micetich Barchick and Peter Barchick in Chicago, IL. Over the objections of her mother, her older sister, Evelyn, convinced her to attend college. Alternately working to earn tuition money and attending classes, she graduated Summa Cum Laude from the University of Illinois in 1950.
After serving an internship as a hospital dietician in New England, she moved to Wilmington, DE to be close to her sister and parents and worked as a hospital dietician there.
She met Austen Seward on a European vacation and they married in 1958.
In 1970 Austen took a job at the newly built Hershey Med Center as an Engineer and the family moved to a farm near Elizabethtown two years later.
The farm allowed her to indulge her passion in all things gardening including a small greenhouse for many exotic plants. Even after the farm was sold and she moved to Elizabethtown, she always kept flowers grown for cutting and house plants hanging everywhere.
Always one to stay busy, she held part time jobs at Elizabethtown College in library, personnel and Chaplain's office. After retiring, she continued to work preparing tax returns at the Elizabethtown HR Block, volunteering at the Elizabethtown Public Library and becoming a Silver Life Master of American Contract Bridge League.
When her mother-in-law was confined to a nursing home, she stopped to check on her every day after work. Emphasizing self-reliance and leading by example she was endlessly supportive of any and all adventures her children wished to pursue. Active and independent until nearly 90 she finally and reluctantly agreed to give up driving and moved in with her daughter for her final years. She was a terrific mom and will be greatly missed.
There is no public service planned. The family asks that in lieu of flowers, donations be made to The National Wildlife Federation www.nwf.org or Arbor Day Foundation www.arborday.org.
Leave a condolence on this Memorial Page