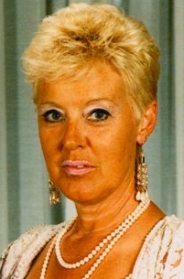 Dianne Gavin, 67
Dianne Gavin, 67, of Lititz, passed away on January 7, 2007 at the Essa Flory Hospice Center after a long illness.
Born in England July 19, 1939, she was the daughter of the late Raymond and Phyllis Fairbrother.
For 49 years she was the wife of Brian O'Neill Gavin. They met and fell in love while he was stationed in Germany, as a member of the United States Air Force.
She was preceded in death by a sister, Mary Fairbrother and a daughter, Kathleen (Katy) Gavin.
She enjoyed arts and crafts, was a passionate gardener and had a great interest in and love for animals.
A homemaker for most of her life, she was totally devoted to her husband, children, grandchildren, and great grandchildren.
She was like by everyone who knew her, and loved by those who knew her best.
"Mama" is survived by: three daughters, Theresa Endicott; Maureen Gavin; and Shelagh Tscheschlog; and two sons, Timothy Gavin, husband of Stacy Gavin; and Brian Patrick Gavin, husband of Adrienne Gavin.
She is also survived by 12 grandchildren, Emma, Tim, Mark, Spencer, Meghan, Erin, Kathleen, Chelsea, Daniel, Michael, John, Brianna, and three great grandchildren, Lou, Mia, Madison, and her beloved Airedale, Mickey.
Funeral services will be held at the Charles F. Snyder Jr. Funeral Home and Chapel, 3110 Lititz Pike, Lititz, on Thursday, January 11 at 11AM. Friends will be received on Wednesday from 7 to 9PM and again on Thursday from 10AM until the time of service at the funeral home.
Leave a condolence on this Memorial Page