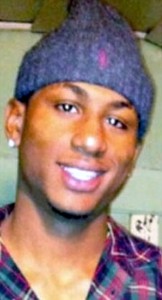 DeVonte W. Gantt, 22
January 04, 2015
DeVonte W. Gantt, 22, of Lancaster City, passed away suddenly on Sunday, January 4, 2015. He was born in Lancaster and was the son of Angie L. Gantt and Keeshond Cole.
DeVonte was a 2012 graduate of J.P. McCaskey High School where he played on the varsity basketball team freshman through senior years. He also attended Lancaster Mennonite High School and Thaddeus Stevens College of Technology.
DeVonte had a dream of being a basketball coach. He will be remembered by his goofy laugh, busting jokes, his smile, and fashion style. His grandmother Ann described him as a respectful and kind person. He loved the Miami Heat and rapper Quilly Millz.
He attended King's Temple and Vineyard Heritage Center.
Surviving in addition to his parents; four children, Christine, Neaveh, Carter, and Jozzear, 9 siblings, Tyrone Jackson, Jr., Darrell Jackson, Laquan Jackson, Keeshond Cole, Jr., Treshaun Cole, Daijha Cole, Dequann "Booman" Gantt, Khalil Jackson, and Anthony "Winky" Jackson, maternal grandmother, Dr. Ann L. Gantt, of Lancaster, maternal grandfather, Kenneth Culbreth, of Lancaster, paternal grandmother, Elizabeth Johnson, of Lancaster, paternal grandfather, Gregory Mack, of Harrisburg, and a host of aunts, uncles, nieces, nephews, and cousins. He was preceded in death by a brother, Ricky Jackson, great grandparents, Anna and Rev. Joseph Gantt (former Associate Pastor of Bethel A.M.E.), and a special aunt Margaret Gantt.
Home Going Services will be Celebrated on Monday, January 12, 2015 at 11AM at Living Hope Community Church 2823 Columbia Ave. Lancaster, PA 17603 with Pastor Ron Ressler officiating. Viewings will be held on Sunday (6-8PM) at Charles F. Snyder Funeral Home & Crematory 414 E. King St. Lancaster, PA 17602 and again Monday at the church (10-11AM). Interment will be in Mellinger Mennonite Cemetery.
Leave a condolence on this Memorial Page
Condolences to the Family
November 05, 2017
I was so sad to hear about DeVonte's passing. I knew him from my time working at McCaskey. I would see him in the halls and he always had a big smile on his face. He will be missed. Loretta Higgins
January 17, 2015
I'm so so sorry to read about this, I remember Devonte when he was was young boy. I'm originally from Melbourne Australia, but Devonte & his younger brothers Khalil and the one after him (sorry I can't remember his name) knew my son Taha. Taha and Khalil were close in age. I stayed with the boys for a short time. I always had good memories of Devonte. I'm in total shock to read about what happened.
My condolences to the family.
Dalal.
Melbourne, Australia
dal71au@hotmail.com
January 14, 2015
Dear Michael and family,

Please accept my humble condolences, and prayers for you.
May the best of DeVonte live on in his family, friends and all who loved him.

Yours truly,
Dana Riccio
January 13, 2015
R.I.P
I DIDNT KNOW YOU BUT I FEEL LIKE I DID. YOU WILL BE MISSED FROM MAHY.
January 12, 2015
SOULJAAAA BOYYEEEEEE!!!!!!!WILL NEVER EVER FORGET YOU AND THE NICKNAME U GAVE ME LOL. SO HURT TO SEE YOU GONE BUT I CAN ONLY SMILE AT THE MEMORIES I SHARED WITH YOU. LOVE ALWAYS

TONISHA "OLDHEAD OF THE YOUNGINGS" COOKS. ♥
January 11, 2015
Dear Angie & family-
I was so sorry to hear about your son . I go to Church with you at Living Hope, and i know we all are saddened and
heart sick with you. Please know your in our thoughts and prayers,and we will continue to hold you up in his loving arms. May God Bless you and your family.
Shelva & Joe Shives
January 10, 2015
Angie, Ann, and Christina, I was saddened to read of DeVonte's death. I remember him as a quiet, respectful young man. I am praying that God will be very near to you as you face life without DeVonte. Sincerely Sharon (Katherine's mother)
January 10, 2015
Ann my prayers and thoughts are with you and your family. The memories of devonte will live forever in your hearts.
January 09, 2015
To the Gantt Family,

We were deeply saddened to hear of DeVonte's passing. Ann, Christina, Micheal and Angie, please know that our prayers and thoughts are with you during this difficulty time. We will remember DeVonte when he rode with Ann to Delaware to bring Christina for her visits. He was such a respectful and very nice young man who had a smile you could not forget. Keep close to God and he will help you through this. Much love to you all.
Reggie, Shawnzetta, Regine and the rest of the Suggs Family
January 09, 2015
I was very saddened when I heard the news… I have known DeVonte since birth. He was a very nice, quiet and respectful young man. I just saw him last week and as we always have done there was a smile exchanged between us. This should not have happened to him. To Ann, Angie and the rest of the family please know that my thoughts and prayers will be with you all during this most difficult time and forever. I wish I could say DeVonte is in a better place but I can't because he should be here to see another day and to be the father to his children, brother to his siblings, uncle, cousin, friend and son and grandson to Angie and Ann. Many tears are flowing… love you all.
Pam Bair-Reever
January 09, 2015
Rest in peace young man, and may your family and friends find comfort and peace in this time of grief.
January 08, 2015
I am sorry for your loss. It hurts my heart to see our young men go early. He will be missed and I pray that his children and family are conforted by a loving God who knows all. He will be missed.
January 08, 2015
So sorry for ur loss may u look to God as ur comforter in this time of need My deepest condolences to ur family
January 08, 2015
R i p your trueley going to be missed bye many
January 08, 2015
My thoughts and prayers are with all of his family and friends. I did not know him but this breaks my heart that such a young promising life was taken. FROM Debbie Phillips
January 08, 2015
My heart hurts knowing that this happened to a very nice person. I have known DeVonte his whole life. He was a very quiet young man but very observant and kind. I just saw him last week and we made the eye contact like we always did and just smiled at each other. This is another senseless act that took the life of an exceptional young man who had his whole life ahead of him. To Angie, Ann and the entire Gantt family please know that my thoughts and prayers are with you all. To say he is in a better place I can't… he should be here with his children, family and friends.
Pam Bair-Reever
January 08, 2015
Devonte….you didnt deserve this…. the day i met you in school before you graduated…you were mah cool… one of the Coolest guys i ever met. It hit me Hard today but i know you in a better place…. It's not right. R.I.P
January 08, 2015
I am so Sorry for your Loss. To The Gantt and Cole Family….
January 08, 2015
I'm so sorry for your loss. Your family is in my thoughts and prayers. May you find some comfort in your memories and from your family and friends.
Kathy Kuhns
January 08, 2015
R.I.P Devonte…You Will Be Missed I Send My Condolences To The Family

Desiree Crenshaw
617 S.Marshall St
Lancaster P.A. 17602
January 08, 2015
It's just crazy to think you can be here one day & gone the next. RIP cousin, your laugh, smile & unending support will never be forgotten ❤️
January 08, 2015
DEVONTE this is from the heart you was a coolest person I ever ran across you keep it real with me no matter what every moment we had together was nothing but laughs you always made sure I was ok when I was mad just knowing that your gone hurts cause nobody ever expected to loose someone like you in there lifetime you will be missed truly watch over your sons an lead them to a positive direction because these streets are careless I just wish i would never have to put RIP beside your name it just don't look right or feel right but sleep easy baby boy we will meet again #livelongslowbuck
January 08, 2015
My name is John L Sayer and I am a long time friend to Dr. Ann Gantt. This message is especially for Ann. I can't begin to tell you how sorry I was to read about your grandson…a promsing young man who just was at the wrong place at the wrong time…how very sad and tragic….sometimes one cannot find the right words to express the sorrow that is felt by such a loss.Know that you are loved by me and many more. Over the years we tend to go our own separate ways and it is so easy to fall behind with correspondence.Perhaps in the near future we can get togeher and reflect back on those lost years of the yesterday . May your love of God and your strong faith sustain you in your time of trouble Ann.. I love you for being a very important person in my life and as I said in the past…always very proud to know Dr Ann Gantt
Visitation

Sunday, January 11, 2015
6:00 PM - 8:00 PM
Charles F. Snyder Funeral Home & Crematory
414 East King Street
Lancaster, PA 17602

Map and Directions

Visitation

Monday, January 12, 2015
10:00 AM - 11:00 AM
Living Hope Community Church
2823 Columbia Ave.
Lancaster, PA 17603

Map and Directions

Services

Monday, January 12, 2015
11:00 AM
Living Hope Community Church
2823 Columbia Ave.
Lancaster, PA 17603

Map and Directions