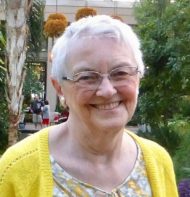 Deone A. Evans, 86
May 03, 2019
Deone A. Evans, 86, of Manor Twp., passed away Friday, May 3, 2019 at the Lancaster General Hospital. Born in Milwaukee, WI, she was the daughter of the late Michael and Alice (Price) McGarry. Deone was the beloved wife of the late Hugh Charles Evans who passed in 2007.
Deone was very fond of animals, gardening and flowers. She enjoyed traveling all over the world. She served as Past President of the League of Women Voters and the Lancaster Chapter of the American Diabetes Association. On her passing, Deone became a private donor with the diabetes research project conducted by the National Disease Research Interchange.
Deone is survived by her nephews, Douglas Vogt of New York, NY, and Gregory Vogt of Houston, TX. In addition to her parents and husband, she was predeceased by 3 siblings.
Family & Friends will be invited to an Open-House Gathering in June 2019. Please visit the Deone Evans Memorial Group Facebook page for date and further information. Please omit flowers. Contributions in Deone's memory may be offered to the League of Women Voters of Lancaster County, P O Box 1261, Lancaster, PA 17608-1261.
Leave a condolence on this Memorial Page
Condolences to the Family
May 11, 2019
I was fortunate enough to have met Deone Evans at Manor Animal Hospital, where I helped care for her beloved Siamese cat "Julius". She loved her cats like family, and each one was very special to her. It warms my heart to think of her reunited with her husband and all the kitties she loved so much. I will never forget her sweet and caring smile that would always greet us first when she walked through our doors. We will all miss her amazing ability to smile through any adversity. She was a true inspiration! My thoughts are with all of her family and friends.
Melissa Showalter
May 08, 2019
Deone was such a life force and presence around the Green Room…always there assisting Hugh until he left us. They are a team once more from the rail behind the last row…they could never sit…once more making theatre together. My thoughts are with the family and all who were lucky enough to know this amazing lady.
David Sitler
May 07, 2019
On behalf of the League of Women Voters of Lancaster County, our deepest condolences to family and friends of Deone Evans. I'm so grateful for having met this beautiful human being who was a powerhouse and amazing advocate. I'll miss her smile and laughter.
Fran
May 07, 2019
What a well-lived life!
We will miss Deone. I spent many an hour with her at her kitchen table, some times with a glass of white wine, looking over and clarifying by-laws for the Lancaster League. What a sharp mind. Thanks, Deone.
Molly Henderson
May 07, 2019
I read Deone's obit with a heavy heart. What an amazing and very special woman!
I retired from F&M College's Development Office five years ago. While there, I got to know Deone while helping her write Hugh's obit and create a garden in his memory next to the College building that houses the Green Room Theatre. I will miss her…
With heartfelt condolences,
Stefanie Valar, Lancaster