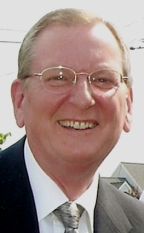 Dennis G. Reick, 56
Dennis G. Reick, 56, of Mountville, died Wednesday, February 4, 2009 after a courageous battle with pancreatic cancer.
Born in Sunbury, PA, Denny was the son of the late Charles F. and Shirley (Cain) Reick. He was married to Janice A. (Scoma) Reick for 34 years.
A 1970 graduate of Lancaster Catholic High School, Denny won a Gold Key Award for his artwork.
Denny was employed as a produce manager by Weis Markets Inc. for 40 years, having worked there since he was 16 years old.
Denny was a member of St. Leo the Great Catholic Church, and also volunteered at St. Anne's Retirement Community, assisting with the annual Fall Fling -"Bringing Down The House."
A handyman, Denny loved working around the house. He was a "people person" who could "shoot the bull" with anybody. Denny was a member of Columbia Fish and Game and was an avid hunter and trap shooter. He enjoyed trips to Atlantic City and sitting on the beach in the Caribbean with a cigar and a pina colada.
In addition to his wife, Denny is survived by his children, George A. Reick of Philadelphia, and Jessie R. Reick of Mountville, and his brother, Charles F. Reick, Jr., husband of Leslie, of Corona, CA.
Relatives and friends are respectfully invited to attend the Mass of Christian Burial on Saturday, February 7, 2009 at 12 noon at St. Leo the Great Catholic Church, 2427 Marietta Ave., Lancaster, PA 17601 with Rev. Peter Hahn as Celebrant. A viewing will be held on Friday evening from 6 until 8 PM at Charles F. Snyder Jr. Funeral Home and Chapel, 3110 Lititz Pike, Lititz, PA. A second viewing will be held Saturday morning from 10:30 until 11:45 AM at the church. Interment will be in St. Joseph New Catholic Cemetery. Please omit flowers. If desired, the family would appreciate contributions in Denny's memory to be sent to St. Anne's Retirement Community, 3952 Columbia Ave., Columbia, PA 17512. To send an online condolence, please visit www.snyderfuneralhome.com.
Leave a condolence on this Memorial Page
You are in my thoughts and prayers during this difficult time.
Gina McHenry
Dear Janice, you and your family are in our thoughts and prayers. Cherish all your memories, and find peace in knowing that his suffering is over and he is at rest.
Cindy & Bob Smith
Dear Janice, Jessie and George.
Our heartfelt thoughts and prayers are with you all. I remember our dinner out Janice when you told me he wasn't feeling well. I know that he gave it his all in these last fourteen months. He loved you all so much. He is with the Lord and if you can't be with your family, it is the Best place in the world. No more suffering, no more pain, he can enjoy that cigar on the beautiful beaches of heaven. We will miss him.
God Bless and keep all of you.
Love
Patti and Mike Stephens
God bless you and your family.
Gerry
Janice and family
Please know that your in our thoughts today all the days to follow .
Take care of each other. I met Denny when he would come in to make your mother smile, she did like her visit it from him. Thanks Denny for make Rosie's day if only for a short time when you felt so bad …
take care all Mary Riley
Janice,George and Jessie, Janice as you know Denny and I go back a long time. He was one of my best friends at LCHS and a co worker at Weis Markets. Denny will be missed by me and anyone who new him. He did love life and even though I didn't see him often, when we were together you could see and here how proud of his family he was. Remember all the good and bad times you had with him. Remember he will always be with you. I thank God that he is finally at peace. You are in my thoughts and prayers, Maggie (Quinn) Anspach
dear family,, i just wanted to let you know how wonderful and "interesting" it was working with denny for over a year at weis markets . i started in the middle of the addition 2 years ago on stoney battery road ( and am still employed there) i can not make the services as i am leaving this am and heading out of town, so i wanted to let you know i ( and the whole store) and amany many customers always think of and ask about him,, he will be missed,god bless to you and your family,,,,,,,,
lorie graham
We will miss Dennis at the Columbia Gun Club. Our prayers are with you and your family. Please know that he will be missed by all his friends at the club. Dennis is now at peace and is in a better place, and rid of all his pain. Just remember the good times and God will take care of the rest.
We got to know Dennis at the gun club.
God Bless you,
Bob & Rita Welcomer
Dear Janice, I am writing to express our sympathy in your loss of Denny. I met him at LCHS reunions and he was a special person. Chip and I wanted to be there for your and your family, but his mom, who is on dialysis and has a trach, spent time in Florida and Chip needed to help to get her home on the plane. Andy expressed how he wanted to be there for your family, and we were confident Andy would handle the services in the utmost professional manner, and Chip needed to be with his mom. I know how hard this was for Chip, as he and Denny were such good LCHS buddies. It met so much to Chip when Denny came to the dedication dinner. Please let us know if you and your family need anything. May his memory be eternal, Fondly, Love Chip , Doreen Chad and Christina Snyder