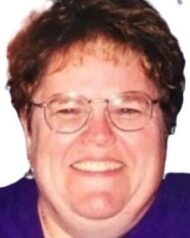 Deborah L. "Deb" Hayes, 74
December 19, 2021
Deborah L. Hayes, 74, of Lancaster, passed away at Lancaster General Hospital, Sunday, December 19, 2021. Born in Lancaster, she was the daughter of the late Eugene and Evelyn (Slick) Hayes.
Deb earned her Associates Degree from F & M College in 1992. She worked as a Computer Systems Analyst for several companies including Donelley Printing, McCrory's Distribution Center, Hanover House Industries, Cardinal Technologies, and the Workers' Compensation Appeal Board, and more recently, Alcoa for 17 years and Visiting Nurses Association for 5 years.
Deb led an interesting life and was very involved politically, having served as a Republican committee woman for 8 years, switching parties in 1999 and running for office as a state representative in 2000. She served as a Democratic committee woman for 18 years.
Deb loved her dogs and ran her own dog grooming business called, Goin' to the Dogs. She also ran a DJ/Karaoke business called Spotlight Entertainment. Deb also enjoyed attending celebrity concerts and shows.
Per Deb's wishes there will be no services. In lieu of flowers, contributions in Deb's memory may be made to the Lancaster County SPCA, 848 S Prince St, Lancaster, PA 17603.
Leave a condolence on this Memorial Page
Condolences to the Family
January 01, 2022
Dear Connie…Please accept my deepest sympathy. Your sister was a good person and will be missed by many. Losing a loved one is never easy but when it happens over the holidays it seems even harder. May faith, family and friends surround you at this time. Prayers, big hugs and love your friend Linda
December 28, 2021
I'm so sorry to learn of Deb's passing! I knew her since McCaskey, and would always see her at any of the 'Class of '65' functions or reunions. She was always upbeat, smiling and giggling. I loved that about her! The most recent time I saw her, but didn't get a chance to talk with her, was at a local Fall Fair, where she was completely enjoying a performance by an "Elvis Impersonator"! She was having a Ball! A good last picture to be carried forward. My deepest sympathies to her family! She was a treasure to be missed!
Eileen M Flick
December 26, 2021
We are sorry to hear of Deb's passing. She was such a vibrant woman with a contagious smile for everyone she met. We send our prayers and condolences to the entire family during this difficult time.
December 26, 2021
So sorry for your family's loss I remember her smile and laughter at events God bless
December 26, 2021
My deepest condolences. The loss of one very energetic and lively woman. May she be line dancing her way around heaven.
December 26, 2021
As a member of the class of 1965 J P McCaskey High School, Deb will be greatly missed she was a great leader in our class reunions over the years.
December 26, 2021
I will be praying for you all. Deb followed me around doing karaoke when I lived in PA and came to visit me in Alabama. She also got a puppy from me, she was a great woman and friend and will be missed .
December 26, 2021
I am so sorry for your loss. I played softball with Deb for many years and have so many wonderful memories! I enjoyed Deb as a teammate. Rest In Peace Deb!