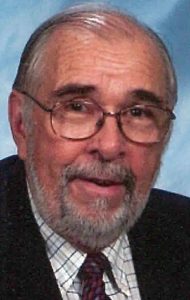 David Willoughby, 86
March 20, 2019
David Willoughby, 86, formerly of Elizabethtown, PA, passed away peacefully Wednesday evening, March 20, 2019, at Brethren Village in Lititz. David was born in Harrisburg on February 23, 1933. He was one of six children born to William A. and Lilian (Falkenstein) Willoughby. David was the beloved husband of Barbara (English) Maris. On December 30, 2018, they celebrated 29 years of marriage.
David married Joyce Hoover, one of three children of Lawrence Hoover and Muriel Frysinger (later Saylor), on August 23, 1956. Dave and Joyce had four daughters, Sharon Willoughby and Sylvia Owen, both of Houston, TX, Cindy Roberts (Ron) of Hobbs, NM, and Suzy Willoughby of San Diego, CA.
David graduated from John Harris High School. He attended Elizabethtown College and obtained degrees from Lebanon Valley College, Miami University of Ohio, and Eastman School of Music (University of Rochester). As a music professor, he held positions at Elizabethtown College, Eastern New Mexico University, where he was Dean of Fine Arts, and Susquehanna University. He worked with the Contemporary Music Project from 1970-1973. This innovative educational project was funded by the Ford Foundation. During his 20 years at ENMU, he presented a weekly public radio program, The Red Back Book, featuring a wide diversity of musical styles from around the world. Dr. Willoughby served as president of The College Music Society, directed several national CMS workshops, and edited the CMS newsletter for many years. He authored eight editions of the college textbook "The World of Music", presenting a global approach to music of various cultures.
David was a longtime member of Elizabethtown Church of the Brethren and held the position of Director of Music. He played double bass in the Roswell, NM and Hershey, PA symphonies. He enjoyed taking photographs, playing racquetball and golf, camping, and traveling across the U.S. and abroad. While living in Portales, NM and Elizabethtown, PA, he was an active member of Rotary International.
In addition to his wife Barbara, David is survived by his four daughters, and two step-daughters, Elizabeth Maris (Howard Baum) of The Bronx, NY, and Cathy Maris (Dave Reiner) of Houston, TX. Also surviving is sister-in-law, Marie (Don) Willoughby; twelve grandchildren, Louis Gonzales (Danielle), Jennifer Willoughby, Daniel Willoughby (Nicky), Justin Roberts, Erin Allen (Daniel), Kristin Draper (Trey), Karalyn Roberts, Mindy, Tyler and Steven Nelissen, and Sarah and Abby Baum; and five great-grandchildren Alexis, Dimitri, Zoe, Callia and Riley. In addition to Dave's parents, he was predeceased by brothers Bill, Bob, Jim, and Don Willoughby, sister Evelyn Bortner, and son-in-law Dave Owen.
Services for David will be held on Sunday, June 30, 2019, at the Elizabethtown Church of the Brethren, 777 South Mt. Joy Street, Elizabethtown, PA 17022. The services will begin with the placement of cremated remains in the Church's Memorial Garden at 1:00 PM, followed by a Celebration of Life Service in the sanctuary at 2:00 PM and a reception thereafter in the Fellowship Hall. Memorial contributions in Dave's memory may be offered to the Brethren Village Good Samaritan Fund, 3001 Lititz Pike, Lititz, PA, 17543, or to the Elizabethtown Church of the Brethren, at the above address, or Hospice and Community Care, 685 Good Dr., Lancaster, PA 17604.
Leave a condolence on this Memorial Page
Condolences to the Family
April 04, 2019
To Sharon, Sylvia, Cindy & Suzy, my condolences to you and your families of your fathers passing. I was your next door neighbor growing up on Lemon Street – Elizabethtown Lynn (Graeff) Mohr
April 02, 2019
Dear Barbara and Family,
Sending you peace, love, and light during this time. May you find comfort in remembering the beauty that Dave brought this world–both with his music and his smile.
Warmly,
Tiffany Young Yannelli, Hershey Symphony Orchestra
April 02, 2019
I knew Dave through the Hershey Symphony. Dr Dackow, our long time music director, praised him for his achievements in the field of music Ed. He was a humble and unassuming man who played a mean bass and whose wife Barbara was an adjudicator for our Young Artist Competition for many years. My heartfelt sympathy to Barbara and to Dave's family. Mike Rusli.
March 31, 2019
I will always remember Dave for his smile, good humor, love of music and love of the outdoors. He introduced me to camping and I remember sleeping in a green tent and sharing time together with good food around the campfire. Dave loved golf and racquetball. I was impressed that he recognized the musical artists I listened to as a young adult. He even cooked! I am grateful for the many years Dave shared with my mom Barbara and for all the joyful moments they had together. I know Dave touched many lives and made this world a better and richer place. I will miss you Dave. Thank you for bringing my mom so much happiness and for the many special memories. Love, Beth Maris
March 31, 2019
Barbara, Thank you for being such a wonderful wife for my dad these 29 years. He loved you with his whole heart, was a better person for knowing you, and you made the greatest team! I will miss him deeply the rest of my life as I know you will. I'm happy to know that you are in such a supportive community at BV and that you still have a rich and full life, however much it is diminished by the loss of this amazing man. I'm very glad to be with you at this time. Love, Sharon
Services

Sunday, June 30, 2019
2:00 PM
Elizabethtown Church of the Brethren
777 South Mt. Joy Street
Elizabethtown, PA

Map and Directions