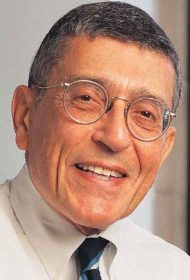 David Walter Adamany, 80
November 10, 2016
David Walter Adamany, scholar, educator, administrator, and civil rights advocate, passed away on November 10, 2016, at the age of 80.
David was born in Janesville, Wisconsin, on September 23, 1936, to Walter Joseph and Dora Marie Adamany, both of Lebanese immigrant descent. He was the oldest of four Adamany children, including one brother and two sisters. After graduating from high school, he received a full scholarship to Harvard University, where he completed his artium baccalaureus (A.B.) degree in government (magna cum laude, 1958) and juris doctor (J.D.) degree from Harvard Law School (1961). He continued his education at the University of Wisconsin at Madison, under the advisement and mentorship of Dr. Leon Epstein, where he received his magister scientiae (M.S.) and philosophiae doctor (Ph.D.) degrees in political science (1963, 1967).
David W. Adamany's early career was marked by a strong commitment to public service and good governance in the state of Wisconsin. He served as special assistant to the attorney general (1961–1963) and pardon counsel to governor John W. Reynolds (1963). At the age of 27, he was appointed as a member of Wisconsin's public service commission (1963–1965), where he made history as the youngest person to have ever served in that role. In Wisconsin governor Patrick J. Lucey's administration, David served as special advisor to the governor and Wisconsin secretary of revenue (1973–1976).
As an academic and educational administrator, David served numerous institutions throughout the country. Soon after graduating from the University of Wisconsin, David joined Wesleyan University, where he served as professor of government (1967–1972) and dean of the college (1969–1970). He returned to the University of Wisconsin, Madison, to serve as professor of political science (1972–1977), before going on to serve California State University at Long Beach as professor of political science and vice president for academic affairs (1977–1980). During 1980–1982, David joined the University of Maryland system, where he served as professor of political science at the College Park and Baltimore County campuses, as well as vice president of academic affairs for the entire university system.
David was a strong proponent of equal access to quality education. He viewed the success of city schools as an essential component of social equity and urban renewal. "I firmly believe that cities will not have a full revitalization until they strengthen their school systems," he once told the Detroit Free Press. As the longest serving president (1982–1997) of Wayne State University in Detroit, Michigan, he led concrete structural reforms, which increased enrollment and transformed the university into a world-class "R1" research institution.
After leaving Wayne State University, David served as Chief Executive Officer of the Detroit Public Schools, 1999–2000, before becoming the eighth president of Temple University in Philadelphia, Pennsylvania. During his six-year tenure at Temple, he is credited by university publications as increasing enrollment by 17 percent, adding 151 new tenure track positions, and introducing a higher standard general education curriculum. He also doubled the institution's net assets, increased unrestricted cash and investments, and raised the university's bond ratings, which laid a solid foundation for the institution's future success. In Temple Now, Board of Trustees Chair Patrick J. O'Connor commented that, "David Adamany pushed Temple University to be its best self… But David never forgot his own roots and made sure Temple remained true to its mission of being affordable, accessible, diverse and high quality, all at the same time."
"Whenever someone asks me why it's important to have high academic standards, I turn the question around," Adamany said in 2006, according to a Temple statement. "Can someone please explain to me why a kid from a working-class or middle-class background shouldn't get the same kind of education as a kid who goes to an Ivy League school?"
During his lifetime, David W. Adamany served on numerous governmental, civic, corporate, hospital, and professional association committees and boards of directors. From 1993 to 1999, he was a member of the Advisory Committee on Institutional Quality and Integrity in the United States Department of Education. From 2004–2016, he served as a member of the Board of Visitors for Political Science at the University of Wisconsin, Madison.
David W. Adamany was widely recognized as a community leader and stalwart civil rights advocate. He was a longtime member of the American Civil Liberties Union and, as a proud gay man, a strong supporter of equal rights for the Lesbian, Gay, Bisexual, and Trans communities. In 1997, he was awarded the Martin Luther King Jr. Award from Detroit's Plymouth United Church of Christ, which is presented "to persons, churches or organizations that… exemplify best the legacy of Dr. King." In 1998, he was recognized with a Distinguished Alumni Award by the University of Wisconsin Alumni Association's Gay, Lesbian, and Bisexual Council. In 2000, the Arab Community Center for Economic and Social Services honored him as Arab American of the Year.
Family and friends remember David as an exceptionally generous, inspirational, loving individual. He is preceded in death by both of his parents. He is survived by his sisters Sandra (Judy Burton) Brusewitz and Doreen Adamany; his brother Thomas (Nancy Widi) Adamany; his three nieces Jennifer (Ken Gadbow) Brusewitz, Stephanie (Joe Kremer) Adamany and Meredith (Anders Pedersen) Holmgren; his three nephews Stephen Brusewitz, Daniel (Kate) Adamany, Peter (Kristin) Holmgren; one grand niece and six grand nephews. He is survived by many longtime friends, including Gabriel Courey, Gilbert Frimet, Joel Skornicka, Tom Bartelt, Allan Gilmour, John Corvino, Mark Lock, Michael Gallagher, and others. He is also survived by special friend Byron J. Franklin.
A memorial service will be in Philadelphia on Thursday, November 17, at 4pm at Temple University, in the Feinstein Lounge, located at 1801 North Broad Street, Philadelphia, PA, 19122. Dates and details of public memorial celebrations in Madison, Wisconsin, and Detroit, Michigan, are also being planned. Memorial Donations may be made to Project Home, an LGBT-friendly housing program for homeless youth, 1515 Fairmount Avenue, Philadelphia, PA 19130 and the American Civil Liberties Union of Wisconsin, 207 E. Buffalo Street, #325, Milwaukee, WI 53202.
Leave a condolence on this Memorial Page
Condolences to the Family
November 18, 2016
TO THE ADAMANY FAMILY
my deepest sympathy at the passing of david. it was for me a pleasure to and work for him at wsu.
iwill miss him greatly. chris moore
November 17, 2016
To Doreen and family…
My deepest condolences to the passing of your brother Walter.
Larry Vollmar
November 16, 2016
My deepest sympathy to the whole family and all those who loved David. I so enjoyed spending time with him and he will be greatly missed. Wishing you and yours strength and warm memories now and in the days ahead.
Love, Love, Love,Florine Mark
November 15, 2016
Dear Adamany family:
i read this online and wanted to express my sympathy on your loss. The death of a loved one is the most difficult thing to endure. I hope that the God of all comfort may give you the strength to cope during this most difficult time.
Jessica Battaglia
peanuttaggs@aol.com
Services

Thursday, November 17, 2016
4:00 PM
Temple University Feinstein Lounge
1801 N. Broad Street
Philadelphia, PA

Map and Directions