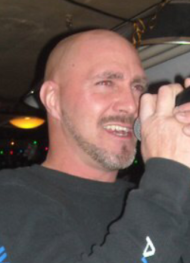 David V. Wagner, 53
November 24, 1965 - September 06, 2019
David V. Wagner, 53, of Lancaster, passed away unexpectedly, Friday, September 6, 2019. Born in Lebanon, he was the son of the late Luke T. Wagner and Josephine (Lilek) Wagner.
David was a 1982 graduate of Lampeter-Strasburg High School. He enjoyed working with his hands as a handyman.
In addition to his mother, he is survived by two brothers, Tim Wagner, of Lebanon and Kevin Wagner, of Lancaster; three children; and two nieces and three nephews.
Memorial Services for David will be held at 3PM, Friday, September 13, 2019 at Charles F. Snyder Jr. Funeral Home & Crematory, 3110 Lititz Pike, Lititz, PA 17543. Family and friends will be received at the funeral home from 1PM to 3PM.
Leave a condolence on this Memorial Page
Condolences to the Family
December 11, 2019
Thank you for all your thoughts, prayers, shared memories and kind words. Dave touched a lot of lives.
Tim Wagner
September 11, 2019
My condolences Dave's family and all those who were close to him. My thoughts and prayers are with you during this difficult time. I will never forget and always cherish our childhood memories.
Peace <><
Scott W. Krause
September 10, 2019
My condolences to Dave's family and friends. Dave was a very nice guy and was married to a friend of mine. He was known by alot of people. Bless you Dave. You will be missed.
Elizabeth Luzar
September 09, 2019
Im very sorry for your loss…during our marriage we had some good times….God Bless you all
Julia Wagner
September 09, 2019
Heartfelt sympathy to David's family and friends. So shocking and I'm so sorry for our loss…💜
Dawn Cubano
September 08, 2019
Dave was a good friend on mine during our L-S days and we spend a lot of time together, particularly during the summers playing baseball and just hanging out. He was always very easy to be around and I enjoyed his company emensely. Although we were in touch recently, I have not seen him in person since our younger years, but I have fond memories of our times. My deepest condolences to Josephine, Tim, Kevin and the rest of relatives. God bless. -Jon Arthur Boxleitner, Lampeter-Strasburg, Class of '83
September 08, 2019
I am truly saddened to hear this news. My heartfelt sympathies to you all.
Lora Zangari
September 08, 2019
So very sorry to hear of Dave's passing. My thoughts and prayers are with you during this difficult time. May all the good memories you have of him bring you comfort in the days ahead.
Kris Dochterman
September 07, 2019
I am sure gonna miss ya and are trips to the Casino….and ur laugh oh man this is gonna be hard… My sincerest condolences to all who knew and cared for Dave.
Tara Frankford Brackbill
September 07, 2019
My Heartfelt sympathy to you all….I only met David few times….He was a warm kindhearted young GENTLEMAN…. May he rest with the Angels…in peace…
🙏🏼🙏🏼🙏🏼for you Kevin,Tim,Josie. And family…for Strength at this sad time…
Fondly ( aunt) ….Jim and Julie's Mother….💔❣️❣️❤️
September 07, 2019
RIP David. You will always hold a special place in my heart ❤️❤️
Melissa
Visitation

Friday, September 13, 2019
1:00 PM - 3:00 PM
Charles F. Snyder Funeral Home & Crematory
3110 Lititz Pike
Lititz, PA 17543

Map and Directions

Services

Friday, September 13, 2019
3:00 PM - 4:00 PM
Charles F. Snyder Funeral Home & Crematory
3110 Lititz Pike
Lititz, PA 17543

Map and Directions