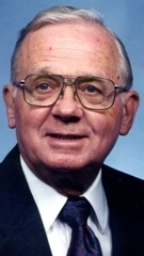 David S. Geissinger, 91
David S. Geissinger, 91, of Lancaster, PA, passed away Saturday, December 17, 2011 at Hospice of Lancaster County. Born in Macungie, PA, he was the son of the late Monroe and Ann Strichter Geissinger. He was married to Janelle Gwinn Geissinger for 66 years last July.
Army Air Forces Cpl. Geissinger served as a radio and radar mechanic in the Ardennnes, Rhineland and Central Europe during WWII. A graduate of Emmaus High School, he earned a civil engineering degree from Lehigh University. David was a civil engineer for the former Dravo Corp. Shipbuilders in Pittsburgh and then for E. I. Du Pont in Newark, DE for 35 years.
David and Janelle lived in Newark for 50 years and were members of Kingswood United Methodist Church, where he served as choir director for 16 years. They moved to Lancaster 10 years ago and are currently members of Otterbein United Methodist Church. David also belonged to the Pennsylvania German Society. He enjoyed music, writing and travelling.
Surviving in addition to his wife Janelle are a son Eric A., husband of the late Dovie Jean Sikes Geissinger, of Flintstone, GA, a daughter Carol J., wife of Thomas Fredian of Littleton, NH, 6 grandchildren, 3 great-grandchildren and a brother Warren, husband of Barbara Geissinger of Concord, NH. David was preceded in death by his son Alan and his brother Harold.
A Memorial Service will be announced at a later date. In lieu of flowers kindly consider making a contribution in David's name to Kingswood United Methodist Church, 300 Marrows Road, Newark, DE 19711 or Hospice of Lancaster County, PO Box 4125, Lancaster, PA 17604-4125, www.hospiceoflancaster.org or the Visiting Nurses Association of Lancaster County, 1181 Olde Homestead Lane, Lancaster, PA 17601. To send the family online condolences, please visit SnyderFuneralHome.com. Charles F. Snyder Jr. Funeral Home & Crematory 717-560-5100
Leave a condolence on this Memorial Page
Dear Friends:
Ann and I moved 1nto 5 Kensington Lane in Brookside on April 1, 1999. It was a quiet neighborhood with lots of wonderful neighbors, among them were the Geissingers. David was a quiet man but he was friendly towards all of his neighbors, We hope and pray that his love for the Lord and his work in the congregations he was part of will inspire those he left behind to continue in his place in other neighborhoods and congregations.
The Rev.r. Robert G. Kelly (Retired/Methodist Minister) and Ann B. Kelly
We are sorry to hear about your loss. David was a very special person and will be missed by so many people. We have so many wonderful memories of him at Kingswood UMC. We especially remember his love of music, stories, and his historical knowledge of the church. You and all of your family remain in our prayers and hearts.
The Kuenzle Family
Newark DE
I was so sorry to hear of David's death. He was a wonderful man and much beloved at Kingswood United Methodist Church. Your family will be in my prayers.
Sincerely,
Christine Hawkins
Dear Janelle,
I am very sorry for your loss. I still miss you even though you and David moved to Lancaster quite a while ago. David was such a fine sterling man. You and your family are very much in my caring thoughts.
With love,
Delma
My sincere condolences for the loss of such a great and true gentleman. I worked with David at Louviers in the early 1980's and always enjoyed him. His retirement was the first retirement party I attended at DuPont. We had a heavy snow storm that night but no one missed that party. David and his family were very appreciative that so many people came out on such a terrible night and that always stayed with me as a wonderful and warm memory of the Geissingers.
May your hearts soon be filled with wonderful memories of joyful times together as you celebrate a life well lived.
Sincerely
Helen McMahon
To the family of Gene at this sad time, God bless you all at this great time of year. May your memories be of every good things remembered by all of you. I really enjoyed working with GENE AT Peach Bottom.
John Hammond (Harry the Hat)
Osprey Florida
Dear Janelle and Family,
Randy and I are so sorry to hear about David. We have so many fond memories of singing under David's direction at Kingswood UMC and the wonderful get-togethers you hosted at your home after our caroling at Christmas. I recall having a lot of fun working with David and the rest of the crew who volunteered for Hope Dining Room. David was a true gentleman. He was so kind and never spoke badly about anyone. We feel blessed to have had him in our lives.
Our hearts and prayers are with you at this difficult time. We pray for strength and peace for you and hope the wonderful memories of David will help you through this.
Love and prayers,
Marti and Randy Olney
so very sorry to hear of Davids passing, i remember how kind david and janelle where to my sister mary and i letting us stay at 5 kensington lane and having the run of the house. David will really be missed.
ms betty neal
w. palm beach,fl