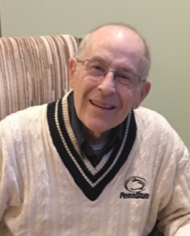 David R. Best, 82
March 07, 2023
David R. Best of Lititz went to be with the Lord on Tuesday, March 7, 2023. He lived 82 years and was a loving husband to his wife and lifelong sweetheart, Patricia "Pat" (Raab) Best. They shared 60 years of marriage and had a blessed life journey together. David was a devoted father to his children: Mark Best (wife Cathy) of Mechanicsburg PA., Karen Best of Lititz PA, and Pamela Zarzynski (husband Tod and granddaughter Lea) of Endicott NY. Born in Toledo, Ohio, David was the son of the late Leon and Mercedes (Mohr) Best. He was preceded in death by his sister, Mona Lee Harmadi.
David was an all-around athlete who played football, basketball, and baseball. He graduated from Penn State University with a Business Administration and Industrial Management degree. He worked 3 years for the Republic Steel Company and transitioned to a career with IBM in the Development Lab and later worked there in management.
David enjoyed "family time", coaching, traveling, gardening, landscaping, hunting, making furniture, playing golf, RVing, and going fishing. He willingly served in helping others with moving, repairs, home improvements, and counseling. Later in life, he liked doing crafts, playing shuffleboard, bocce ball, and enjoyed retirement life. He was a member of Calvary Church in Lancaster and served on church committees.
A Memorial Service will be private at the convenience of the family. In lieu of flowers, donations can be made to Calvary Church Benevolent Fund at www.calvarychurch.org.
Leave a condolence on this Memorial Page
Condolences to the Family
March 14, 2023
We have many happy memories of meals together, evenings by the campfire, and playing many games that Dave invented, from our days in New York to chasing each other to Lititz. We cherish the mounted butterflies he made for us. We rejoice that he is in the presence of our Lord, but also grieve with you. May God surround you all with His comfort and give you peace. With much love,
March 14, 2023
We already miss you Dave although we never got together as much as we had hoped to. We know you are whole and rejoicing in all the beauties of heaven with Jesus, who is Lord of all. We are sending a HUGE HUG to you up there and to your grieving family here.
March 12, 2023
Dearest Pat and family,
Our deepest sympathy is felt for you. Your loss is yet another win for God's gentle loving hand. May David rest in peace.
Sandy and Sterling
March 09, 2023
So sorry for your loss. It was a pleasure reading about this amazing lifetime. Praying for comfort and peace for you family. May you find both in your memories of your husband and father.
Our sincerest condolences,
Darryl and Barbi Metz
March 09, 2023
Dear Sweet Dad:
I miss you immensely but I know you are with Jesus in Heaven, and probably enjoying a round of golf right now. I could not have asked for a more loving, compassionate,caring dad in-law! I know we will be together again one day. Love you with all my heart
Cathy vcc
March 09, 2023
We miss today and always! You were a great man and wonderful dad. I can only imagine and wonder what you are doing in heaven. My heart is happy you are home and at peace. love Karen Best