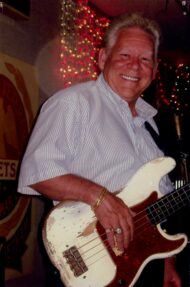 David M. Jenkins, 81
June 27, 1941 - March 05, 2023
David M. Jenkins, 81, of Lancaster, passed away at Lancaster General Hospital on Sunday, March 5, 2023. Dave shared 29 years of marriage with his wife Vickie L. (Rinier) Jenkins. He was the love of Vickie's life.
Born in Lancaster he was the son of the late Everett and Rebecca (Hutchins) Jenkins.
Dave graduated from J. P. McCaskey High School in 1959. He retired from Manheim Auto Auction.
A Bass guitar musician, Dave played with many bands over the years, with his first band being Carl and the Cards. Other bands included Saxy, Sure Gold, Horizon, Joyful Noise, The Goofers, and Outlaw Country. Playing Bass was his passion, and he loved being an entertainer. Dave loved to talk and tell jokes, and he also did impersonations. He was a real piece of work!
Other interests included watching the Phillies and Eagles, NASCAR, and Super Sprint Cars. Dave enjoyed riding his Harley, and going to bike week at Ocean City, MD. Cheese Steaks at Rendezvous Restaurant and Jimmy John's hot dogs were his favorite foods.
In addition to his wife Vickie, Dave is survived by his sons, Kirk Jenkins (Christy) of Warrington, and Brian Jenkins (Michelle) of Lancaster, twin daughters, Karol Mullenax (Chris), and Kelly Kephart (Todd) both of Willow Street, three stepchildren, Michelle King (Thomas), Kristen Ross (John Parker), and Brian Armstrong all of Lancaster, 10 grandchildren, 4 greatgrandchildren, 6 step grandchildren, and 3 step greatgrandchildren.
In addition to his parents, Dave was preceded in death by siblings, Robert, Donna, and Mary Lou.
Dave's family extends their heartfelt thank you to Dr. Latif, Dr. Shirk, and Dr. Davis for the care they gave to him.
Dave's family will receive guests from 1 to 2 pm, followed by a Celebration of his Life at 2 pm, on Friday, March 10, 2023, at Charles F. Snyder III Funeral Home & Crematory, 2421 Willow Street Pike, Willow Steet, PA 17584. Interment will be in Conestoga Memorial Park.
Please omit flowers, and kindly consider a memorial contribution to the Leukemia & Lymphoma Society, PO Box 22324, New York, NY 10087. Leukemia & Lymphoma Society
Leave a condolence on this Memorial Page
Condolences to the Family
March 13, 2023
Dave " Pappy" was like a family member to me. He was my big brother. I loved him so much…he help me get through a lot of tough times with the band. We played side by side for 9 yrs. Hoe can you not get close to people you share the love of music with. I have many happy memories of him. I will miss that raspy voice of his. Rest in peace Pappy……play for the angels.
March 10, 2023
Our condolences to Vicki and family, we loved to hear him sing.Really will be missed! R.IP.Dave, beautiful memories……bands and motorcycles! HUGS AND LOVE TO ALL!! .EARL AND JUNE
March 10, 2023
No words can fully express my Love For Dave. Over the years, he taught me so much. He was my "Big Daddy" and he always will be. Sending Love, Thoughts and Prayer to Vicki, Family and Friends.
Michael Zabatta
March 09, 2023
Dave will light up the heavens with his bass playing now when joining his fellow musicans again
Jimmy & Toni Landis
March 08, 2023
Although we were linked as "friends" on Facebook, it had taken me a while to realize who this "Mahlon" guy was, and now it's my deep regret for having not personally re-connected with you before your passing. "Jenks", you were always a "bright light" among our "East End Gang", either with your jokes, that smile or your Fulton St. stories, as we shared many an evening on Shriener's store steps, consuming Pepsis and chocolate Tastycakes. My deepest condolences to Vickie, the children and extended family. RIP, Davie.
Donald L. Jones
March 08, 2023
I am deeply sorry of the loss of Dave. He was like a second dad to me, got me my first drummers job playing for him and Dale fryberger, and he was godfather to my son John. I will really miss him, and he was the best. I will remember all the good times we had in the bars and clubs we played at.
I will miss you Dave,
Buddy Leakway
March 08, 2023
Our heartfelt sympathy for your loss. Dave was a great guy who wll be missed by all who knew him. He was a good entertainer, a very good bass player and a funny guy who loved his Miss Vickie.
Hugs and prayers to Vicki and his big family, John and Jane – Sure Gold Band

March 08, 2023
Our hearts are broken for you. You will be missed so much! love Agnes and Melanie
March 08, 2023
David was one of a kind. He was kind to everyone. I loved hearing him play and sing with that unique voice of his. He will be missed.
Connie Murphy
March 08, 2023
I am so sorry for your loss. My condolences to Dave's family and friends
Dee Romero
March 08, 2023
RIP Dave
Sonny Wentz
March 08, 2023
We will miss Dave (Pap) dearly. Our prayers and condolences are with you Vickie, and your family.
Susan, Todd, and Nick Miller
March 08, 2023
My deepest sympathy to you, Vickie and family! Jr and I loved hearing Dave play! Cindy Bertz
March 06, 2023
Our deepest sympathy and love and prayers to you all.
Tammi Metzger Lane
Visitation

Friday, March 10, 2023
1:00 PM - 2:00 PM
Charles F. Snyder III Funeral Home & Crematory
2421 Willow Street Pike
Willow Street, PA 17584

Map and Directions

Services

Friday, March 10, 2023
2:00 PM
Charles F. Snyder III Funeral Home & Crematory
2421 Willow Street Pike
Willow Street, PA 17584

Map and Directions