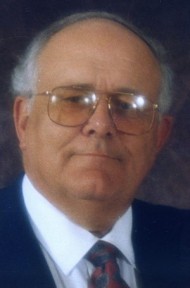 David H. Lynch, Sr., 83
September 14, 2013
David H. Lynch, Sr., 83, of Lancaster, passed away on Saturday, September 14, 2013. He was born on October 4, 1929 in Lancaster, Pennsylvania. The second child of Raymond and Ruth (Brant) Lynch. Raised in Mountville, he graduated from Hempfield School District, Franklin & Marshall College, and Rensselaer Polytechnic Institute. On June 22, 1957, he married his sweetheart and soulmate Dorothy Tragesser and raised four children, one Irish Setter, and six sheep dogs.
A talented architect, David practiced architecture in Lancaster for more than 50 years and a prolific portfolio of his work can be found throughout the region's school districts, colleges, churches, and businesses. He will be remembered by his family and many friends for his charm, generosity, and good humor. And of course, his many canine companions.
In addition to his passion for design and architecture, he was a devoted subscriber to the Wall Street Journal, an avid reader of western fiction, and a life-long Dallas Cowboy fan. David was an exceptional man with a radiant spirit. He enjoyed spending time with his friends and grandchildren. His charming personality and cheerful demeanor were endearing to all who knew him. He was greatly loved and will be deeply missed.
David was preceded in death by his cherished wife, Dorothy. Survived by his sister Elizabeth Sandt, four children: David Lynch, Jr. (MaryJean), Beth (Mark), Barbara, and Bill (Shelly), and six grandchildren: Patrick, Ruth, Adam, Julia, Emma and Penn.
A Mass will be Celebrated at 11 AM on Friday, September 20, 2013 at St. Leo the Great Catholic Church, 2427 Marietta Avenue, Lancaster, Pennsylvania 17601. In lieu of flowers, the family asks that donations on David's behalf be made to St. Leo's the Great, Attn: Building Fund.
Leave a condolence on this Memorial Page
Condolences to the Family
January 09, 2015
I am deeply sorry I've missed attending the Mass for this wonderful man's passing. Mr. Lynch is one of Americas greatest architects and gentleman. Every opportunity I'd ever had to speak with him, I was blessed by his wit, his charm and his general good humor. I would always leave with a greater faith in the world and all its occupants. A gentleman of this caliber will always be remembered with love, and could never be replaced. This world will not be the same, but will be a better place because of Mr.Davil H. Lynch. Our deepest sympathy to all family and friends. Charles and Laura Lefever
October 16, 2013
May God hold your hearts in those times when you feel the void left by your Dad/Granddad/friend. Peace be with you. Sue Weaver
September 24, 2013
My thoughts are with the family as you walk through the valley of the shadow of death. I have warm memories of David and Dorothy as being genuinely interested in me as an individual, not only as one of their employees.
Harry Shenk
September 23, 2013
Mr Lynch was a good man and employer! We will miss him but will remember the good time we had at Lynch's home/work place. Had the pleasure of knowing David Jr and Barb while working there….our sympathy goes out to you all. God Bless~ Mary Jo and Dan Dietrich
September 23, 2013
My deepest sympathy on the loss of your father. Mr. Lynch was a gentle man with a great sense of humor, as well as a extremely talented architect. His ideas for the rehab of my building on East Chestnut Street were genius. I'll always remember him fondly. Fred Teschner
September 23, 2013
Your father was a very kind person as well as a wonderful architect.
September 20, 2013
My condolence on the passing of your father, David Lynch. Together we had some good work and good times.

John R. Smith
Franklin & Marshall, Retired
September 19, 2013
My condolences to David, Beth, Barbara and Bill. Although I have not seen your Dad recently, I still remember the good times we had together when you and my children were growing up. Lancaster and you have lost a very well liked person. He was always nice to be with.
Rosalind Geisenberger
Services

Friday, September 20, 2013
11:00 AM - 12:00 PM
St. Leo the Great Catholic Church
2427 Marietta Avenue
Lancaster, PA 17603

Map and Directions