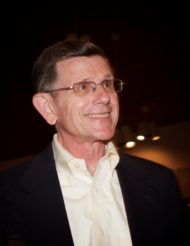 David F. Gaydos, 73
April 25, 2020
David F. Gaydos, 73, of Lititz, passed away at his home on April 25, 2020. Born in Natrona Heights, Pennsylvania, he was the son of the late Frank & Josephine (Hyeck) Gaydos.
A graduate of Penn State with a MS in Chemical Engineering from WVU, David worked 52 years for various companies before retiring in 2018. He was regarded as a process safety expert in the chemical manufacturing and refining industries.
Affectionately known as "Papa Dave", he was often recognized on his daily walks with is beloved dog Abby. He rarely missed a step on his two hour route – rain, snow or shine. He was a selfless and loving grandfather who took every opportunity to provide for and share in the lives of his grandchildren. An avid fisherman, he looked forward to yearly treks to Quetico Provincial Park in Canada. He loved the wilderness adventure, but more importantly loved sharing the experience with his grandchildren.
He will be greatly missed by his loving wife Janice, with whom he shared 53 beautiful years of marriage; his son, Christopher Gaydos and his grandchildren, Jacob, Mycah, Miles and Jonas.
A Memorial Mass will be held later this year at St. John Neumann Catholic Church with Father Daniel F.X. Powell officiating. A private interment will take place at Landis Valley Mennonite Cemetery.
Leave a condolence on this Memorial Page
Condolences to the Family
February 20, 2021
I just learned of Dave's passing and am so sorry I never was able to connect with him earlier. Dave and I were classmates at PSU, first at Mont Alto. I had great respect for Dave. He was a kind and generous friend and I wished we'd kept in touch. My deepest condolences to hi family.
Bonnie Butler Noehr
May 14, 2020
Chris,
I am so sorry to hear about your father's passing. I know he will be missed by you, your mom, and children. Our thoughts and prayers are with you.
Sincerely,
George and Vicki
May 11, 2020
Chris,
I am so sorry to hear of your father's passing. You told me about the trips to Canada and the good times you spent with your father. I hope those good memories can be of some consolation to you and your family at this very difficult time. My thoughts and prayers are with you, your Mom and your entire family.
Tom
May 08, 2020
To Dave's family:
I worked with Dave as a client while he was at Chevron Phillips and then as a colleague while he was at ioMosaic. It was a real privilege to know and work with Dave, an amazing human being and an outstanding chemical engineer and process safety professional. More importantly he was a friend, and I always valued his counsel and advice. We will all miss him.
Please accept my sincere condolences on behalf of myself and all of us at ioMosaic.
Georges
May 04, 2020
Uncle Dave was an inspiration to me for my career, and was a great, kind man. I will surely miss him.
Joseph Babinsack, Jr
April 30, 2020
I am so sorry to hear of Dave's passing. He will always be remembered by me for his calm sweet way of treating everyone. My thoughts and prayers are with you and Christopher and your grand- children. Love Babs